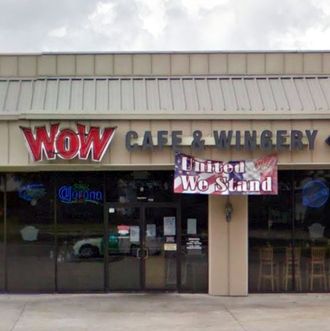 Its position on this matter is pretty clear.
Photo: Google
A Louisiana restaurant with an interesting concept of punishment has decided to stop airing New Orleans Saints games to pay back players who knelt during this weekend's national-anthem protests. WOW Cafe & Wingery, just outside New Orleans, announced right before kickoff yesterday that patrons hoping to watch the Saints play the Panthers at noon should mosey on back home, because the TVs wouldn't be tuned to that game. "I apologize to all of our guests but we will not be viewing the Saints game today," owner Brook Anastasiadis wrote on the café's Facebook page. "Some of our local players chose to sit during the National Anthem, which will not be supported or praised at WOW. Again we apologize for any inconvenience this may cause."
The post went viral fast, drawing trolls on both sides out of the woodwork. Saints players had accounted for about 10 of the roughly 150 NFL players who knelt, locked arms, or were entirely MIA during their respective pregame anthems. Dubbed #TakeAKnee, the protests can be traced back to ex–49ers quarterback Colin Kaepernick, who used his refusal to stand last year to draw attention to the mistreatment of black Americans. Things got even messier this past weekend, though, because President Trump weighed in on Friday, calling any player who followed Kaepernick's lead a "son of a bitch" who should be fired from the NFL. Naturally, this ensured anybody with even a half-formed opinion on kneeling was desperately seeking an outlet to share it by Sunday afternoon.
No surprise that these people have largely gravitated to WOW's Yelp and Facebook pages — at least until Yelp's "active cleanup alert" gets activated and shuts that down. Neither page had more than just a couple reviews before Sunday, but both have been belted in the past few hours by a barrage of one- and five-star entries offering helpful insight into the café — comments like "good job taking a stand against the disrespectful nfl!!!!!" and "I've had their wings before and they are bland. No diversity whatsoever."
Just a small sampling from the Yelp listing: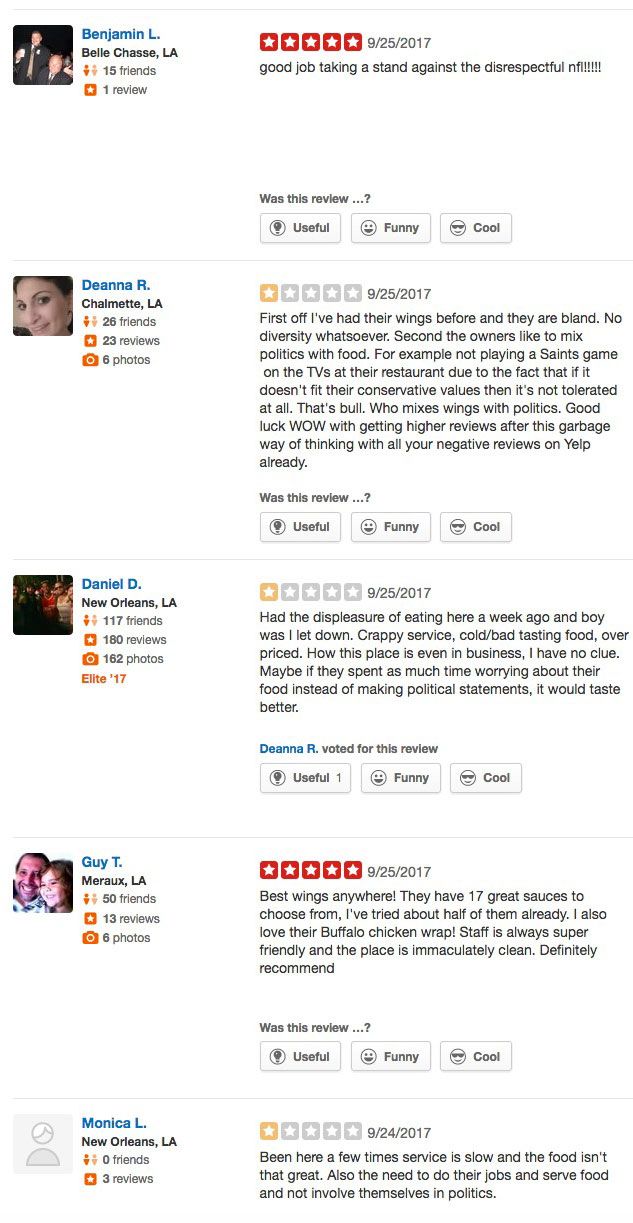 Anastasiadis was back on her soapbox again this morning. "The sole reason that I didn't air the game is because I feel the players disrespected the National Anthem and that is something I hold dear to my heart," she said in a statement defending yesterday's move, which then threw in her spokesperson Ray Sutherlin's two cents: "The players exercised their right not to stand for the National Anthem and she exercised her right not to air the game because of their actions," he adds. "The freedom goes both ways."
The restaurant also tells the New Orleans Advocate that they'll continue to boycott the game "any time the Saints kneel."