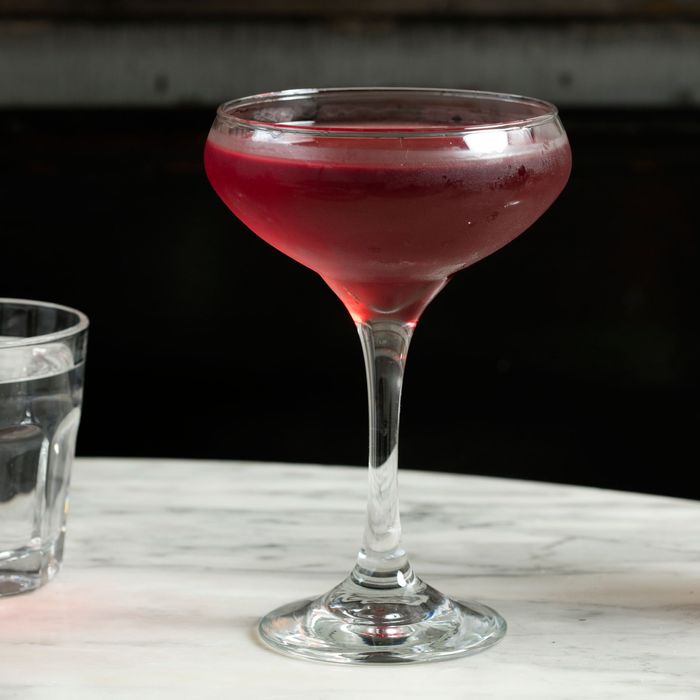 Claro's Casa Famosa.
Photo: Melissa Hom
It's always a good time to drink in New York, but it's particularly good these days. Cocktail culture has spread so that all restaurants of a certain stripe offer interesting original drinks, while loosening its collar and relaxing a bit in recent years. With fall around the corner, many of the city's cocktail bars and restaurants are reworking their menus or adding a few new drinks to their rosters. Here, 14 for you to drink.
Lady Grey
Where: Mettā
Price: $11
The Argentine restaurant just started serving this vodka drink that's made bubbly with cava, and aromatic with lavender, lemon, and the Indian herb ashwagandha.
Casa Famosa
Where: Claro
Price: $12
They're backyard barbecuing barbacoa at this new Gowanus restaurant, where you can eat your goat with this mezcal drink mixed with chamomile syrup, pimento dram, and bitters.
Fancy Free
Where: Popina
Price: $12
They're keeping it simple here with just three cocktails on the menu. Do the same, and order this bourbon drink made with maraschino and bitters.
Lillet Blossom
Where: Oka
Price: $12
Slurp down udon noodles with dashi broth, and chase them with sake in your vodka, Lillet, ginger, and grapefruit cocktail.
Monaco
Where: Shuka
Price: $12
At this Middle Eastern successor to Hundred Acres, rum gets paired with pomegranate, fennel syrup, lemon, vermouth, and Prosecco in this cocktail.
Cosmo
Where: Tokyo Record Bar
Price: $14
It's pink, yes, but that's all this drink has in common with the classic drink of the same name. Here, it's made with sake, the French aperitif Sauvage, lemon, and rose syrup. No Ocean Spray required.
Komfortably Numb
Where: Sweet Polly
Price: $13
The Prospect Heights bar mixes herbaceous génépi and aquavit with three kinds of citrus: sweet and sour kumquats, lemon, and grapefruit bitters.
Garden Bloody Mary
Where: Norman
Price: $12
The Scandinavian spot will start serving an expanded brunch menu this Sunday, with a.m. cocktails like a Bloody Mary made with tomato, cucumber, carrot, horseradish, and sriracha.
Blue Lagoon
Where: Fresh Kills
Price: $15
Craving licorice? Drink some pastis instead in this cocktail, where it's paired with violette, white vermouth, gin, and a lemon twist.
Kyoto Old Fashioned
Where: Bar Goto
Price: $15
If you're going to let a bartender put matcha in your cocktail, let it be Kenta Goto, who pairs the Japanese tea with rice vodka and gin.
Drones Over Brooklyn
Where: Fairfax
Price: $15
The West Village all-day café is a wine bar first and foremost, but it also serves a few cocktails, like this one made with bourbon, China China, Moscatel sherry, Amaro Nonino, and white vermouth.
Waldorf Euphoria
Where: aRoqa
Price: $14
The Indian fusion restaurant gives peppery rye whiskey a dose of nuttiness with walnut liqueur, and mintiness via Fernet-Branca Menta.
Chamomile Masu
Where: Patisserie Chanson
Price: Part of a $52 drinks pairing
It might not be hot-cocktail season yet, but hot sake is on the menu at this Flatiron bakery's downstairs tasting menu. The drinks supplements include a ho sake cocktail that's infused with aromatic ingredients of your choice, including makrut lime and pandan.
Caffe Corretto
Where: Caffe Marchio
Price: $5
Maybe you're at a time in your day when you aren't ready for a cocktail and can still drink coffee, but could use a little extra pep in your step. Head to Danny Meyer's new Italian café, where you can get your espresso spiked with an amaro of your choice.