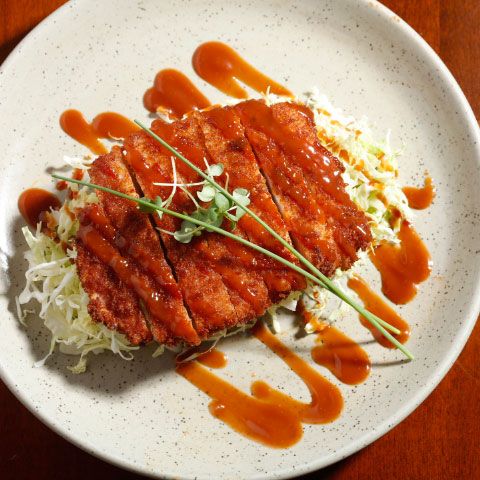 Oka's tonkatsu with yuzu vinaigrette.
Photo: Melissa Hom
New York has recently seen the opening of yet more bars serving quality, creative food, including Oka, Nom Wah Tu, and the Loyal (which opens tonight) most recently. That's more good news for drinkers who like to dine well, who can have their cocktails and eat better snacks, too. Of course, it's not just bars serving better, more interesting bar food, but regular restaurants, too. Here, eight new dishes to try.
Arancini Bites
Where: Loverboy
How Much: $8
Stuffed with crumbled sausage, mozzarella, and some zippy tomato sauce, these arancini taste like little sausage bites à la pizza snacks like Totino's — in the best possible way.
Tonkatsu
Where: Oka
How Much: $15
Pretty much everything at this izakaya-inspired restaurant is good, and that's especially true of its tonkatsu. The crust has that light crispiness of properly fried panko, and the meat is tender, and it's lightened by a yuzu vinaigrette and a bed of napa cabbage.
Pan-fried Chicken Dumplings
Where: Nom Wah Tu
How Much: $6
Nom Wah's owners want to make dim sum a late-night thing, too, and this location is as much a bar as a restaurant. Expect tweaked versions of the restaurant's classics, like these pan-fried dumplings that are made a little more fun and surprising with cumin-chili oil and yogurt-dill sauce for dipping.
Crochette
Where: Martina
How Much: $4.50
Martina is first and foremost a speedy pizzeria, but it also serves a solid list of affordably priced wine. Go there for a quick half-bottle of Champagne, paired with fried potato and chives croquettes (and a complementary bag of Italian potato chips).
Korean Honey-Butter Wings
Where: Piggyback Bar
How Much: $13
This new Jersey City bar infuses tavern food with Southeast and East Asian ingredients, like in this wings inspired by Korea's honey-butter-chip craze and made with a sweet gochujang-garlic sauce.
White-Bean Hummus
Where: Fairfax
Price: $15
Dips are quintessential bar-snack cuisine. Saddle up on one of this all-day restaurant's couches and get a plate of white-bean hummus with cauliflower, pine nuts, and flatbread.
Lobster Tostadas
Where: Claro
How Much: $16
Crunchy tostadas are ideal bar snacks, and this restaurant's quality drinks and nice backyard make it a particularly good place to eat them. Here, the fried tortilla snack is topped with lobster, corn, and husk cherries.
Hotcho "El Galan"
Where: Casa Pública
How Much: $8
After 11 p.m., Thursday through Saturday, the charming Mexican restaurant serves late-night dishes, including a hot dog with the works: escabeche, pico de gallo, queso fresco, and morita chili mayo.