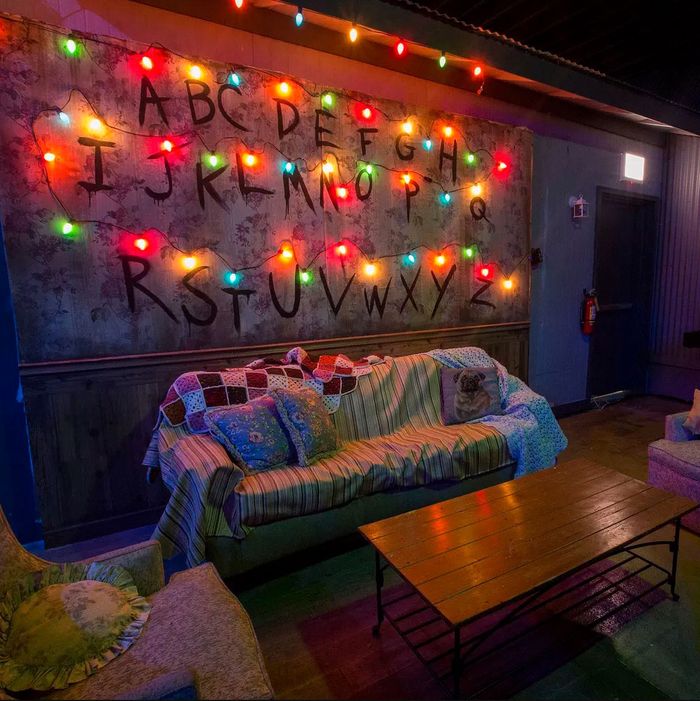 The bar could practically double as the show's set.
Photo: Courtesy of Emporium Popups
Earlier this summer, two Chicago nightlife impresarios who are super into Stranger Things decided to turn one of their bars into the Upside Down, only instead of being a scary alternate reality where you might encounter a Demogorgon, it was just an incredibly elaborate pop-up serving Eggo waffle–garnished cocktails. It quickly turned into a runaway hit with the show's fans around town, but that attention wasn't so good for owners Danny and Doug Marks once Netflix got wind of their unofficial homage: DNAinfo reports that the company's legal counsel has mailed them a letter explaining that Netflix's intellectual property isn't something they can just use without permission.
But you've got to give the geeky attorney who wrote it some credit — firm and to the point, but he stayed in character the entire time:
Danny and Doug,

My walkie-talkie is busted so I had to write this note instead. I heard you launched a Stranger Things pop-up bar at your Logan Square location. Look, I don't want you to think I'm a total wastoid, and I love how much you guys love the show. (Just wait until you see Season 2!) But unless I'm living in the Upside Down, I don't think we did a deal with you for this pop-up. You're obviously creative types, so I'm sure you can appreciate that it's important to us to have a say in how our fans encounter the worlds we build.

We're not going to go full Dr. Brenner on you, but we ask that you please (1) not extend the pop-up beyond its 6 week run ending in September, and (2) reach out to us for permission if you plan to do something like this again. Let me know as soon as possible that you agree to these requests.

We love our fans more than anything, but you should know that the demogorgon is not always as forgiving. So please don't make us call your mom.
Probably the dorkiest cease-and-desist in the history of copyright law. Fans around Chicago — which has really been tribute central lately, with that big Saved by the Bell diner — have been filling the space to capacity for the past month. Understandably, the Markses were already planning to extend the bar's run, but Netflix's cease-and-desist buried any hope of that at basically the worst time: Season two of Stranger Things debuts in a little over a month, but the bar's final day will be October 1.