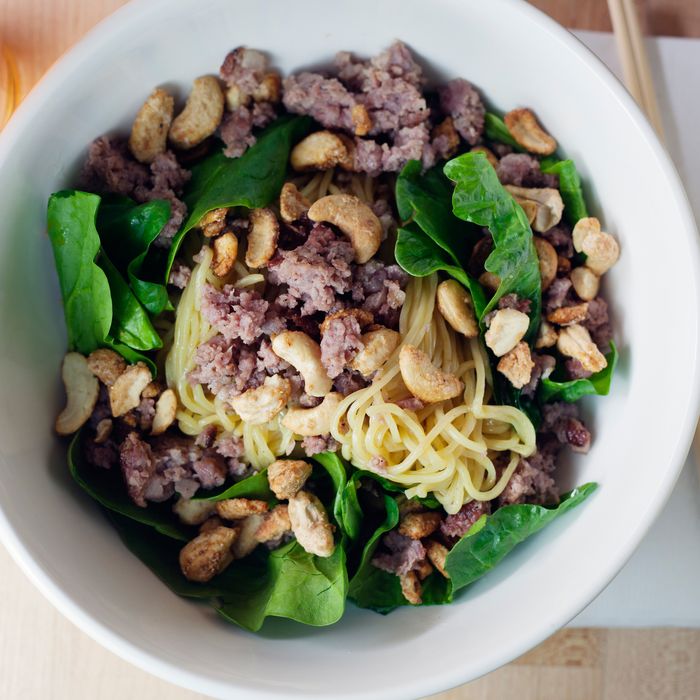 The noodles are headed for midtown.
Photo: Gabriele Stabile
When David Chang opened Momofuku Noodle Bar in 2004, it was occupying a 650-square-foot space that was, aesthetically and conceptually, a far cry from Manhattan's glitzy dining palaces. He's since opened a string of restaurants longer reaching than a tangle of Chinese longevity noodles, going more upscale with Ko and Má Pêche along the way. And next summer, he and chef Tony Kim will bring the original Momofuku concept to Columbus Circle's Time Warner Center, the shopping mall for oligarchs that's home to Per Se and Masa.
The second noodle bar will be 4,000 square feet, more than six times larger than the original, and located on the complex's third floor. It'll be open for both lunch and dinner, with a new menu of noodles, buns, and other dishes from Kim. This is just one of several projects in the works for Momofuku, which will open a restaurant in the Seaport District's Pier 17 here in New York, as well as its first Los Angeles restaurant later this year. The downtown restaurant group has also seen a corporate shake-up this year. Its indie food magazine Lucky Peach folded in March after four decorated years, and the next month, finance guy and former Batali honcho Alex Munoz-Suarez was announced as its new president. Last month, longtime Ssäm Bar chef Matthew Rudofker and his colleague Joshua Pinsky were promoted to oversee culinary development and operators for all of the group's restaurants.