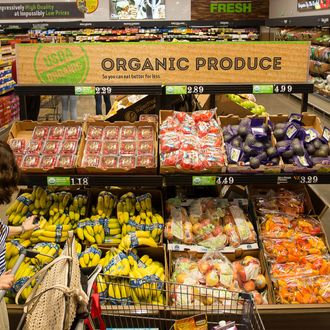 Sounds like your guess is as good as theirs.
Photo: Michael Nagle/Bloomberg via Getty Images
The "USDA Organic" label on your produce aisle might not be as advertised. The inspector general released an audit yesterday that lights into agency officials tasked with overseeing organic standards. It investigated how good a job they're doing with ostensibly "organic" imports, and found that it's way too lax. The report checked to see if imports sold domestically as organic were in fact compliant with the USDA's clear-cut standards.
Unfortunately, it turns out, the agency's Agricultural Marketing Service (the office that monitors compliance) can't "provide reasonable assurance" that those items from abroad are actually "from certified organic foreign farms and business," the report notes. The inspector general's office decided it should look into this mess after alarming reports surfaced back in May that some 21 million pounds of conventional soybeans, plus a few million more of corn, had somehow entered American grocery stores carrying a bogus certified-organic label. Results from this audit suggest that the USDA should find a way to wake its food-monitoring department up.
The report says the AMS can't, simply put, prove that foreign products are from suppliers that follow the USDA's organic standards. In fact, monitoring is such a joke that auditors learned, in a bonus surprise, that there's not even an effective procedure in place to prevent shipments of legit organic food from sometimes getting sprayed with extremely nonorganic insecticides like aluminum phosphide upon arrival, alongside the conventional produce. The report acknowledges that these failures increase "the risk that non-organic products may be imported as organic into the United States," before adding that it can also "create an unfair economic environment for U.S. organic producers."
Several members of Congress wasted no time in blasting the agency. "I'm very concerned by the loopholes USDA Office of Inspector General's found," Representative Chellie Pingree kvetched in her statement. "Integrity is the cornerstone of the organic label." Farmers gripe that they have enough trouble as it is competing with cheaper foreign produce without sham "organic" importers finding ways to cut corners. The USDA failed to say in its report how widespread it thinks this problem is.