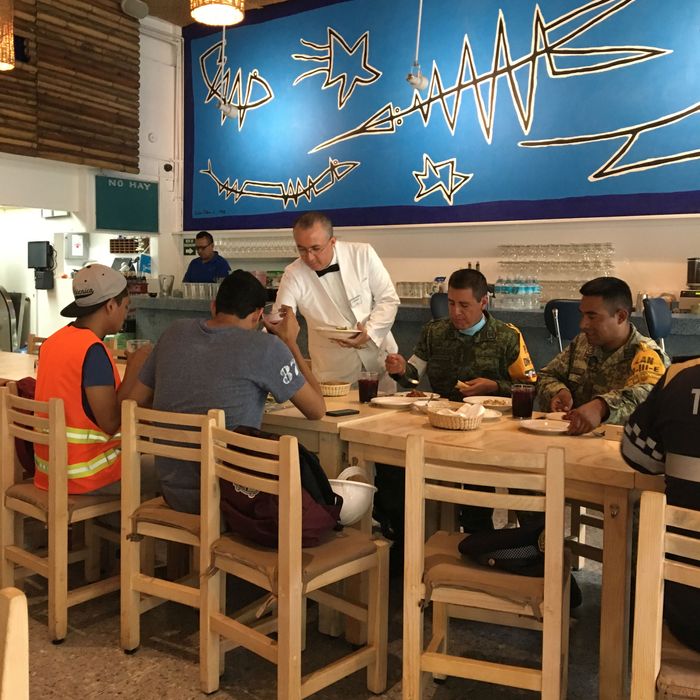 One of Mexico City's most famous restaurants, Contramar, has been serving free meals for rescue workers and neighbors.
Photo: Allegra Ben-Amotz
Food is an essential part of the Mexican identity, so it makes sense that in the days following Tuesday's devastating earthquake, chefs and home cooks sprang into action, taking their place on the front lines of disaster relief in the country's capital.
A man set up his al pastor stand in the middle of a park, deftly carving meat off a spit and piling it into tacos to feed hungry volunteers clad in hard hats. Women zigzagged around glass-littered sidewalks to carry vats of homemade tamales to the sites of collapsed buildings, and teenagers served simple tortas and glasses of water to passersby from the trunks of their cars. By midday Wednesday, impromptu collection centers were piled so high with bottled water, milk, and canned tuna that local organizers redirected donations to parts of the city that needed them more.
And in one of Mexico City's trendiest restaurants, waiters pushed tables together cafeteria-style to serve hot food and icy aguas frescas to rescue workers, military personnel, neighbors whose homes had lost power, and visitors who were shaken by the quake.
Contramar is located in the stylish Roma Norte neighborhood, an area whose buildings suffered particularly extreme damage. On a typical day, well-heeled locals and European tourists clamor for seats, pushing designer sunglasses onto their heads to Instagram the restaurant's signature tuna tostadas and whole grilled snapper.
Soon after tremors rattled the restaurant's doors, Contramar's staff placed a call to chef and owner Gabriela Cámara, in San Francisco tending to her newest restaurant, Cala, to propose their plan: transform the restaurant into a comedor, or dining hall. It wasn't something they had to think about, said Ana Rivas, PR director for Grupo Contramar. "In Spanish, restaurante is restore," she said. "Gabriela has translated to us that we have the potential and the power to restore people's lives through food." Food, she said, is an integral part of Mexican culture. "This is our trench, and this is where we can help from."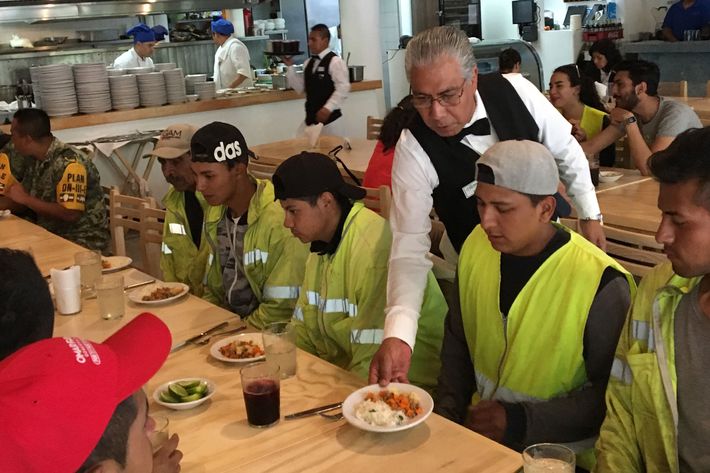 The uniquely Mexican concept of "echar a mano," or lending a hand, came to life as soon as Contramar announced its plan. Neighbors whose lights had gone out came by to drop off ingredients they didn't want to go to waste. The restaurant's fish and vegetable suppliers made huge donations. All 52 of the restaurant's staff showed up in uniform to volunteer on Wednesday by their own choosing, once they had checked on their families and delivered water to rescue workers pulling pieces of rubble off a collapsed building, where people were trapped just blocks from the restaurant.
Neon-orange signs in the neighboring collection centers directed people to eat at Contramar, where on Wednesday, approximately 500 diners sat down to plates of fresh ceviche, fish salpicón with tomatillos, rice, beans, and chewy housemade tortillas, served by the restaurant's bow-tied waitstaff. The next day, the restaurant ran through their food, serving another 600.
Service members came in after laboring around the clock and were puzzled to see fellow workers sitting down to a fancy meal. "They were like, just give me a taco in my hand," Rivas said. "And we said, you're going to sit down and drink water in a glass. Or do you want a Coke? And do you want dessert? We're not giving away leftovers. We're serving people who are helping our country and our city, so why don't we treat them as heroes?"
Rivas pointed out a pair of men wearing hard hats, T-shirts, and boots: Contramar regulars who had taken the day off from their work as jewelry designers to aid in the relief effort. Every half-hour or so, tables of workers with dust masks around their necks and a fine layer of soot coating their neon-yellow jackets, orange mesh jerseys, and camouflage uniforms, rose to toast Contramar's pressed and polished staff. The room erupted in a cacophony of clapping and cheers.
During Thursday's preservice meeting, general manager Mao Bravo spoke in a shaking voice to remind the staff that there were still many areas of the city that needed help. He announced that one of the waiters could be excused from the meeting: He would spend the rest of the day biking supplies back and forth between the restaurant and a building where he'd heard residents were sleeping outside due to interior damage. He thanked the cooks, dishwashers, waiters, and bartenders for their hard work, then said, "What we do is nothing, absolutely nothing, if you compare it to what other people risking their lives are doing. Let's go to work."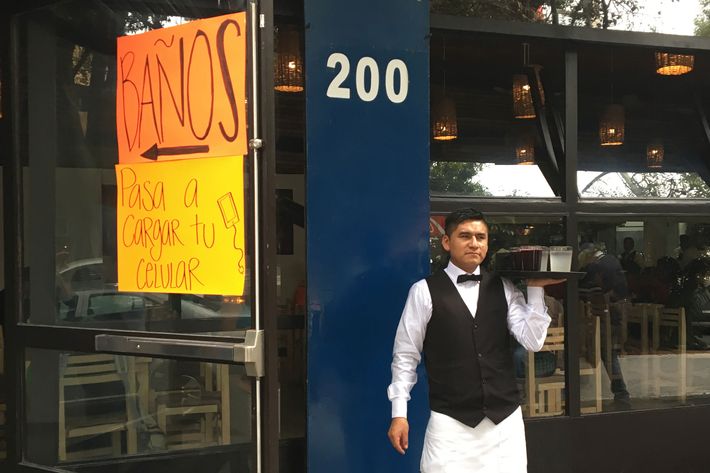 Contramar plans to reopen for business on Friday, but will continue distributing free meals out of their neighboring event space.
On Wednesday morning, nine blocks away from Contramar, Eduardo García — owner of Mexico City hot spots Máximo Bistrot, Lalo, and Havre 77 — worked alongside his staff to assemble thousands of breakfast sandwiches made with local eggs, cheese, and ham to distribute to volunteers.
At 4 a.m., García, his wife, and other chef friends had delivered hot coffee to two of the demolished sites, where search and rescue workers dug through mountains of jagged concrete in the pouring rain to find survivors. By the end of the day, they had more supplies than were needed. Together with the chefs of nearby restaurants Quintonil, Biko, Rokai, and Rosetta, he sent truckloads of supplies to Morelos, a state 50 miles south.
Although his restaurants suffered a major financial loss after closing for three days, García was inspired by the week's spirit of generosity. "Mexicans have always been really kind people," García said. "But over the last 20 to 30 years, globalization has changed us. We're not as warm as we used to be. I think we forgot how to be Mexican."
This spirit has reached New York, too, Mexico City chef Enrique Olvera, who runs New York's Cosme, announced that all proceeds from a dinner on September 25 would go to earthquake-relief funds. Copenhagen's Noma is hosting a benefit dinner with other restaurants, including Hija de Sanchez, and donated wines on September 26, with 100 percent of ticket prices going to the Mexican Red Cross.
Want to know what you can do to help? Don't cancel that upcoming trip to Mexico City, García says. Visit the areas that suffered the most damage, and give local restaurants your business. And don't forget to tip generously.