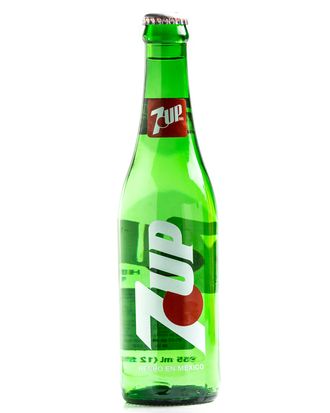 U.S. health officials warn travelers to stay "vigilant."
Photo: Juan Monino/Getty Images
7Up now comes in a troubling new flavor if you're in northwest Mexico. Officials in the Mexican state of Baja California warn that bottles with meth have surfaced. One person has died after consuming the drink from a tainted two-liter bottle, and at least another eight have fallen sick. The bad bottles were traced to stores in the border city of Mexicali, and Baja California's attorney general says 77,125 have been recalled from the PepsiCo plant that produced them. Area merchants also suspended 7Up sales, and have cleared the product from shelves. An investigation is supposedly underway to figure out how the drug could have ended up inside the soda.
In the meantime, U.S. health authorities suggest skipping soda in that area for now. A hospital network in Arizona made a list of meth's symptoms so that people across the border know what to look for, should family or friends get sick. A spiked 7Up might cause nausea, an irregular heartbeat, difficulty breathing, a weird taste in the mouth, or a "burning" sensation in the throat or stomach, it says. The network's poison-control specialist says to obviously check for an original seal as well, and "throw it out" if anything's off about the color, smell, or taste.
While PepsiCo manufactures 7Up down in Mexico, it belongs to Dr Pepper in America. "None of the 7Up products sold in the U.S. are affected by the issue being reported in Mexico," a rep for the soda company has assured consumers.