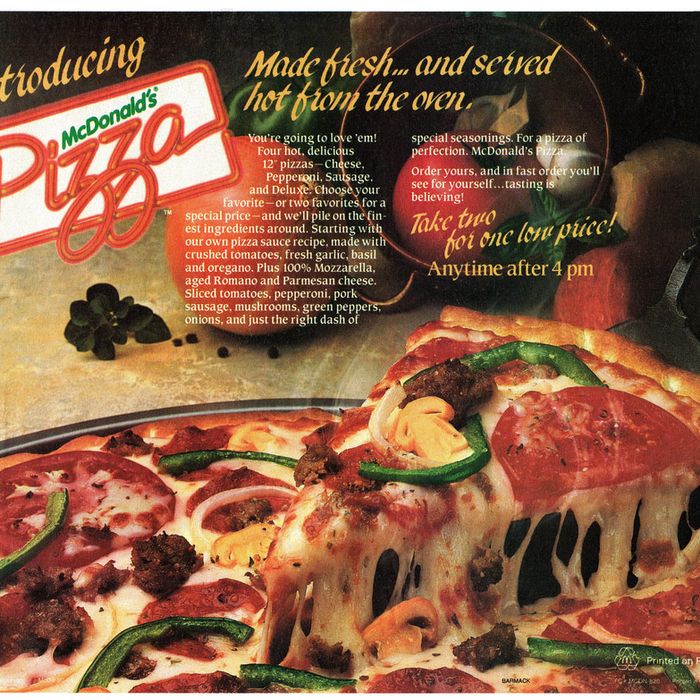 All good things must end, and so it is with one of the oddest items to ever grace a McDonald's menu: McPizza. The all-American culinary fail-safe was introduced with much fanfare in the '80s, and two locations — in Pomeroy, Ohio, and Spencer, West Virginia, run by the same franchisee, Greg Mills — never took them off the menu. At least, that was the case until yesterday, when the era was forced to end by decree from McCorporate.
An official statement from McDonald's explained this move was to streamline the stores' menus, though both locations would "continue to offer a wide variety of items for our customers to try and enjoy." Mills clearly wasn't happy about corporate's eighty-sixing of his nostalgic menu item. According to the local paper, the Pomeroy store posted a sign that read:
Effective August 31st we will no longer be allowed to sell McPizza. This decision was made by McDonald's Corporate office, Not your local staff. It was our Pleasure and Honor to be one of only two McDonalds in The USA to carry this Great product for the past 15 years. We apologize to you our valued Guest and thank you for your support of McPizza over the past 15 years.
The locations basically went out with a McPizza fire sale. It was an all-hands local media event in Pomeroy in particular, and the store's last two pizzas went to a couple who'd flown in from Vancouver. One customer told WSAZ that her family ate there "every day," sometimes "two times a day," because her 5-year-old son "won't eat [pizza] anywhere else."
Technically, the chain never called the item a "McPizza," but whatever you call it, the original plan called for full family-size pies, with hopes of luring customers in for sit-down dinners. The short-lived item was eventually offered in a personal size, and could come with a variety of basic toppings (pepperoni, sausage, mushrooms, green peppers, onions). It was meant to siphon business from Pizza Hut, Domino's, and the other pizza chains, which obviously didn't happen.
You can't say the McDonald's R&D and marketing teams didn't give it their best shot, though. As this ad from 1992 explains, it took the company seven years and sorting through 145 different kinds of pepperoni before they liked the recipe.