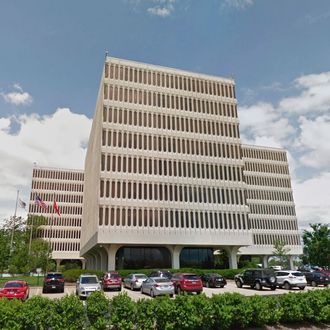 Little-known fact: It forms a swastika-ish shape from above — maybe not its best selling point.
Photo: Google
The sleepy Chicago suburb of Oak Brook says it's got just the thing to beat the approximately 90,000 other cities vying for Amazon's second headquarters. Since 1971, the small Illinois village of 7,883 has been the work home of thousands of McDonald's corporate employees, but the burger chain decamps for Chicago proper sometime in 2018 — conveniently, just in time for Amazon to open "phase one" of HQ2, its new 50,000-job headquarters.
As Village President Gopal Lalmalani tells the Chicago Tribune, "We believe we have a perfect situation for Amazon to come here, with McDonald's getting ready to move." They run a very business-friendly town in Oak Brook, with everything Amazon could need: low taxes, easy airport access, and green space with fancy polo fields and tennis courts that the Greater Oak Brook Chamber of Commerce already points out is "very close to the McDonald's campus."
Next year, McDonald's is headed to Harpo Studios, Oprah's old, yet presumably still cooler, digs inside Chicago's "trendy" West Loop. But the current corporate offices at McDonald's Plaza are obviously still a sprawling complex on some 80 acres. Forty-six years old and maybe a little grease-stained, it boasts a 700,000-square-foot, Energy Star–certified facility (Amazon has said HQ2 needs 500,000 square feet initially), plus it has two "picturesque" lakes, several miles of hiking trails, "more than 3,000" mature trees, and also Hamburger University, which could easily become Drone Operator University or whatever with a little sign paint.
The Tribune hears McDonald's is interested in pitching its massive, soon-to-be-empty campus to Amazon's executives — because if not them, then who, really? The chain wouldn't officially reply to the rumor, but if in the next couple of days corporate employees find Echoes conspicuously installed on their desks, they should assume something is probably up.