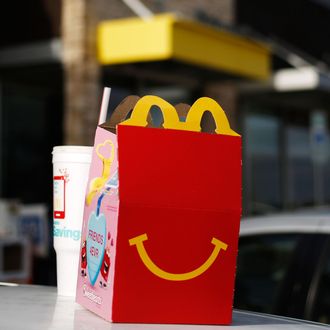 Mickey D's accountants have something to smile at.
Photo: Luke Sharrett/Bloomberg via Getty Images
McDonald's has a new trick to make Happy Meals better for kids, and it involves eliminating those incredibly unwholesome … 100 percent juice boxes. It's not as crazy as it sounds, only maybe halfway: Like most past tricks to promote healthier eating under the Golden Arches, the chain is still busy abolishing the bad stuff, not proactively adding anything nutritious just because. Over the years, the Happy Meal in particular has had its French fry portions shrunken, artificial flavors removed, and soda options banished. The beverage choices in effect since 2013 include apple juice or one of two "Milk Jugs" (either low-fat or fat-free chocolate).
Now, the juice option is changing, a move McDonald's touts as a switch to a healthier brand: Minute Maid will become Honest Tea's line for children, Honest Kids. The main difference? New juice boxes available in November won't contain 100 percent fruit juice like Minute Maid's did; instead, they'll have more water than juice. A McDonald's nutritionist tells the paper that the sugar content is lower, and that's what parents informed the company they wanted.
The new boxes of "Appley Ever After" seem misleadingly named, though, since they contain just 42 percent apple juice. This translates to ten fewer grams of sugar per juice box, half the number of calories, and a prominent "USDA Organic" label on the front. Organic or not, with 58 percent less apple involved, it has to cost less to make. As it happens, Honest Kids is a Coke-owned brand, just like Minute Maid is. (Coca-Cola has been McDonald's exclusive soda provider since 1955, when Ray Kroc convinced the company to partner with the fledgling chain.) Coke declined to provide The Wall Street Journal with a comment about "any financial effect from the switch."