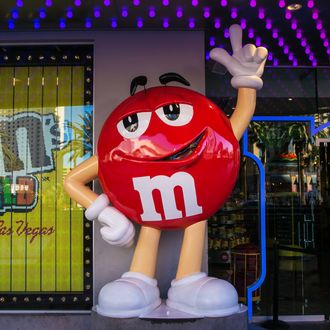 No. 1 in fighting climate change.
Photo: George Rose/Getty Images
Chocolate titan Mars, maker of dozens of candy bars and owner of Wrigley gum, is pledging to tackle climate with an amount that could cause a double take. A billion of its dollars over the "next few" years are being earmarked for a plan called "Sustainable in a Generation." The goal is reducing the M&Ms, Snickers, and Skittles maker's carbon footprint by more than 60 percent by 2050. Executives explain that they were tired of the world soft-pedaling the issues relating to climate change. "Frankly, we don't think we're getting there fast enough collectively," its chief sustainability officer said in a statement today. "We're trying to go all in here."
Continuing to sit idly by, Mars warns, is a front-row seat to "the planet warming," "more extreme weather events," "oceans rising," "crops not growing successfully," and as a result, "significant challenges and hardships" around the world. As the company explains: "We're a food business … We care about this both on a societal level but also on a business level." It's among the companies that criticized President Trump for pulling America out of the Paris climate accord back in June, although Mars denies that the move stems from fears that Trump will destroy Earth before his term ends. ("We're not interested in the politics here.")
The $1 billion include investments in renewable energy (particularly in adding more wind farms in countries like Russia, China, Australia, and India), the food-supply chain (its pet-food brands Pedigree and Whiskas aren't doing a stellar job sourcing sustainable fish right now), and farming (it's set up groups like CocoaAction, an industry coalition that aims to make cocoa farming more environmentally sound). Mars did just shy of $35 billion last year in sales, so it's not as if this pledge represents an inconsequential amount of money. It's reportedly planning to run an ad campaign featuring the M&M mascots with windmills in their hands.
"You have to completely change the way you operate your business and you have to completely change how you source your products," the company's sustainability chief Barry Parkin explained to Business Insider today. "The billion is a good start," he says, but for companies hoping to be successful for the next 100 years, "everything" has to be about becoming sustainable.