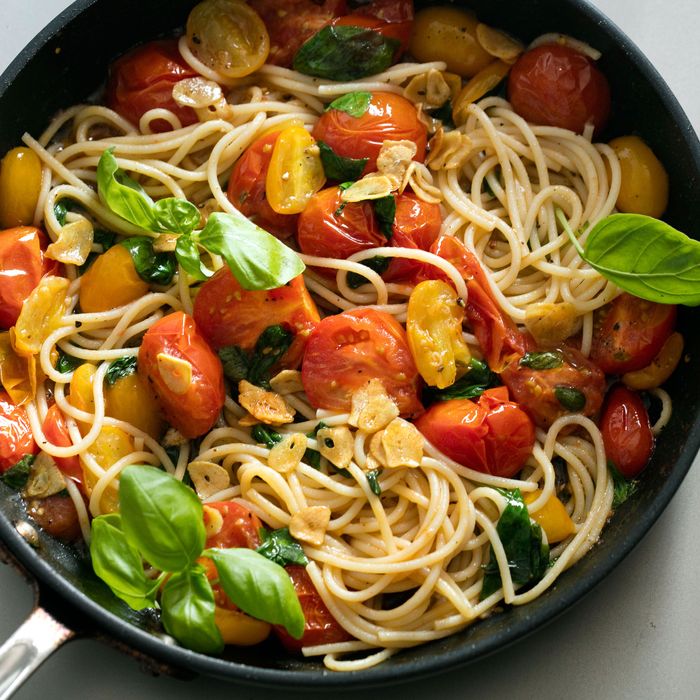 A fresh, loose sauce of sticky garlic and cherry tomatoes can be mind-blowing this time of year.
Photo: Melissa Hom
I didn't really intend to spend a recent afternoon elbow-deep in tomatoes, but the timing was right: I came into 30 or so pounds of "seconds" — organic, gorgeous, but imperfect — and quickly turned that into sauce. It was a bit of a production — that's a lot of tomatoes — and frankly, I'm not even sure it's worth it. But oh well. I cored these babies, one at a time, cut 'em up, cooked them with oil and salt and basil, and froze them. The whole process actually made me look forward to January, when it'll pay off in spades.
We think of tomatoes as summer food, and they're the best thing to eat right now. For the next couple of weeks, you can make the best late-summer pasta sauce there is, though it's probably the most ingredient-dependent pasta sauce, too. That is, if you do this with supermarket ingredients, you'll be rewarded with decent sauce. If you do it with Sun Gold cherry tomatoes; fresh-picked basil; strong, ultrasticky garlic; and top-notch olive oil (mine happened to be Californian), you'll end up with something mind-blowing.
Getting the ingredients is the hardest part — the actual prep and cooking are simple. Let's say for two servings you want 30 or 40 cherry tomatoes, cut in half. You want a couple of big cloves of garlic (or a few smaller ones), slivered, and, say, a quarter cup of oil — maybe a little more. A small fresh chile is not a bad addition.
As you start the water for the pasta, grab a medium pan and begin cooking the garlic in the oil very slowly (add the minced chile, if you're using it). By the time the water boils, the garlic should have begun to color. Add the halved tomatoes to the garlic and crank the heat a bit. A minute or two later, start the pasta. I'd use long pasta for this if you have it, but I'm not slavish about shape. A decent serving size is 75 grams, but 60 is good for a snack, and 100 if you're hungry.
When the tomatoes have broken down a bit, throw in a lot of roughly torn basil leaves — an entire supermarket-size bunch isn't too much. Add salt and pepper, of course, and toss the whole thing together. It does not need cheese; a little shredded basil on top of it all is nice.
That's of course very, very straightforward, but I've also been loving a tomato recipe that's a little more involved, and a little more surprising. My partner Kathleen had been making this peach galette, or crostata, or free-form tart, that I used to do a lot. Recently, she decided to do that with cherry tomatoes. It ends up being a kind of semi-sweet, not-quite-dessert thing that you still want to eat after the main course. I don't know how to describe it, traditionally, but it was beautiful, unusual, and fabulous.
Barring any cruelly surprising weather, there should be about a month left for tomatoes around here. I'm all in.
Kathleen's Free-form Tomato Tart
Makes: 8 servings
Time: About an hour
1¼ cups all-purpose flour
Pinch salt
2 tablespoons white sugar
8 tablespoons (1 stick) cold (frozen is okay) butter
1 egg yolk
30 to 40 cherry tomatoes, or the equivalent in other fruit
a drizzle of olive oil
a teaspoon or 2 of pesto (optional)
Combine the flour, salt, and sugar in a food processor and pulse a couple of times. Cut the butter into chunks, and add it, along with the egg yolk. Process until the butter is integrated. Transfer the mixture to a bowl; add cold water, a little at a time, until you can gather the mixture into a ball; wrap in plastic and refrigerate or freeze until cold. (You can hold this in the fridge for a day or two, or freeze until it dries out, which will be weeks later.)
Heat the oven to its maximum. Roll the dough into a well-floured peel. Do a nice job of arranging the tomatoes, or just throw them on there. Sprinkle with olive oil and dab with a little pesto. Bake until the crust is nicely browned, turning it occasionally if it's browning unevenly. This is best served after it cools enough to not burn your tongue.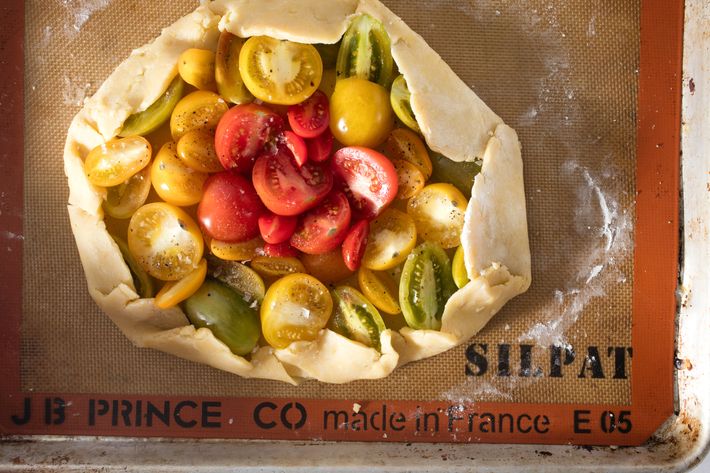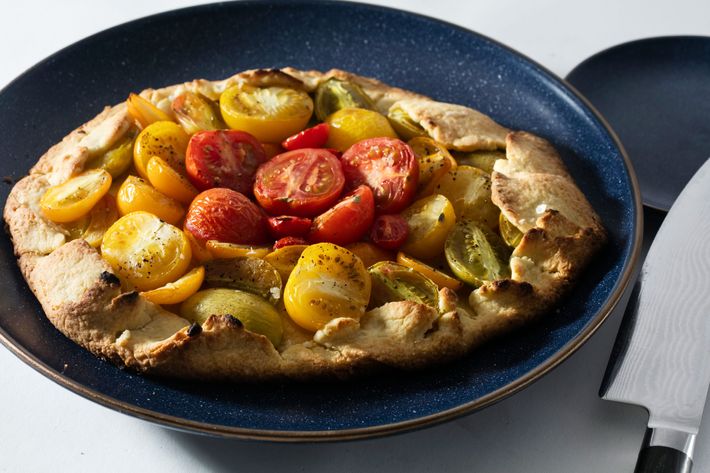 There's a backstory here. All the tomatoes I'm talking about in this little piece were grown at Glynwood — headed by my partner Kathleen —which is where I'm living.
Sometimes, I think it makes just as much sense to freeze whole or halved tomatoes in bags, then defrost and use them at will. The skins slip right off after they're frozen, and it's easy to drain off the water and start with a kind of tomato-concentrate mush.
For which I routinely get trashed by my good (Roman) friend Andrea.
I know you don't want to start weighing pasta, and I know you don't want to deal with grams, but try it. You may find that consistent amounts help you plan better, and avoid under-saucing. Or just make a boatload of sauce, and a boatload of pasta, and have leftovers.
Andrea would say, "125."
Or almost anything else, really …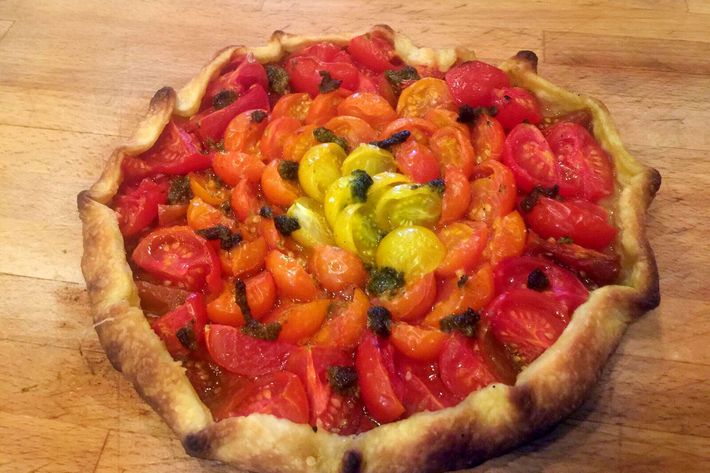 We did this with peaches (butter, brown sugar, cardamom on top) in a hot pizza oven one night; it was probably 800 degrees in there. It cooked in like 90 seconds.