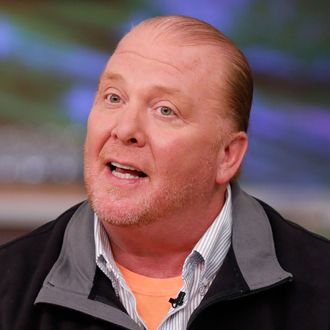 Wheee!
Photo: Heidi Gutman/ABC via Getty Images
At a New York tech conference yesterday, Molto Mario shared some interesting thoughts on how he feels about the rise of the $15 living wage. To put it succinctly, he's anti-: He said during a panel at Recode's Code Commerce that support for raising the minimum wage is an "odd thing." While it's a "fascinating way of looking at raising quality of life," he said that in practice it doesn't work — it actually backfires, because it will ultimately "raise the costs" for restaurant owners, making the higher wage untenable in the long term. "Everyone champions all these great things and these social movements," he explained, but in his mind, paying low-wage earners more money isn't one of them. "As effective as it is advancing the lives of a lot of people, it's not the fastest way of advancing a higher quality of life," he told Recode's Kara Swisher.
According to BuzzFeed, which had a reporter there, Batali argued that higher labor costs are the reason the industry's moving in a decidedly pro-robot direction. Batali suggests that you need look no further than automated chains like Eatsa that are popping up — an argument ex–Carl's Jr. CEO Andy Puzder would certainly agree with.
This hot take won't thrill Fight for $15, but Batali's always provided an interesting case study when it comes to restaurateurs and workers' pay. Back in May, he told LinkedIn that some of his Babbo and Del Posto servers earn $140,000 a year working four or five days a week. At the same time, he and business partner Joe Bastianich have had to pay workers more than $5 million in back pay. Asked to clarify his stance a little, Batali told BuzzFeed that he's got friends who had to close restaurants in San Francisco — where there's now a $15 minimum wage — after seeing their margins go into the red from as high as 10 percent. "It's a very difficult thing for restaurateurs," he said, adding: "Eventually all these things will be settled."