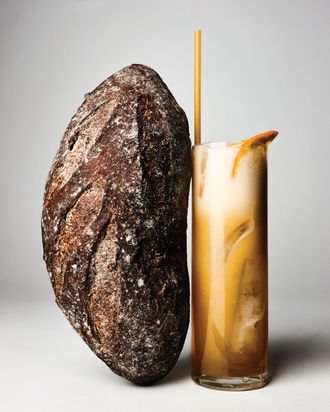 Enlightenment Wines' kvass is made from dark rye bread and served with a pasta straw.
Photo: Bobby Doherty/New York Magazine
At most bars, nonalcoholic options run to fruity mocktails and ginger ale. At Honey's in East Williamsburg, there's kvass, the ancient Russian beverage and purported health tonic fermented from rye bread. While this Slavic staple might seem an odd thing to stumble across in the wilds of artisanal Brooklyn, it's not, when you consider that Honey's is actually the tasting room of Enlightenment Wines, the adjacent meadery that has made a mission of injecting local terroir into lost-in-time elixirs.
Kvass can be found elsewhere in New York, but not on tap like at Honey's, and nowhere near as lively and refreshing. The amber, fizzy liquid, made from chunks of toasted dark sourdough rye soaked in water, lacto-fermented, sweetened with a bit of honey and keg-conditioned, is nothing like the malty soda gathering dust on Brighton Beach supermarket shelves, or even the invigorating pickle-briny beet and kraut alt-kvasses that have ridden the probiotic marketing wave. Kvass has been a decade-long obsession of Enlightenment co-owner Raphael Lyon, but not just any kvass — rather, the pre-industrial, home-brewed kind that people drank in the sixteenth century.
"What makes our kvass special is that it's alive," he says, referring to the lacto-fermentation that gives it its characteristic flavor — pleasingly tart, with a satisfying roundness. You might compare it to that other K-drink, though Lyon wishes you wouldn't: "Kombucha's filled with caffeine and sugar," he says, "which is why people become addicted to it." His kvass has an ABV of under 1 percent, but if you want something stronger, you could order a Kvass Kollins, one of the drinks on an appealingly original list created by Lyon's partner, Arley Marks, and bartender Torrey Bell-Edwards to showcase Enlightenment's repertoire. The sweet-sour cocktail combines kvass with barrel-aged Brooklyn gin and the foamy chickpea cooking liquid called aquafaba, which Honey's sometimes sources from Dizengoff. It's served with a biodegradable "straw" that's actually a strand of uncooked bucatini, and it just might be the embodiment of Brooklyn mixology today.
93 Scott Ave., at Randolph St., East Williamsburg; 401-481-9205
*A version of this article appears in the September 4, 2017, issue of New York Magazine.