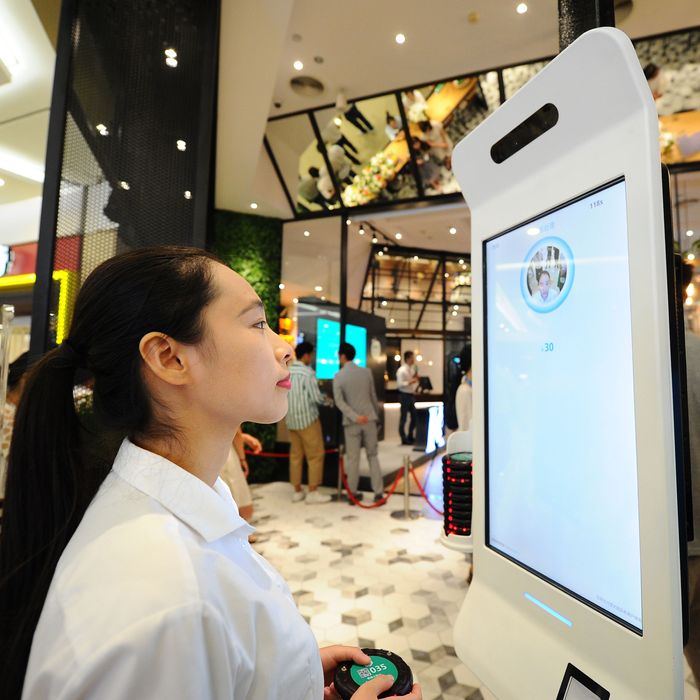 It seems the "Smile to Pay" name isn't literal.
Photo: VCG via Getty Images
A KFC in China has released a new payment method that's incredibly convenient on the one hand, and deeply alarming on the other. Say hello to the planet's first store where customers buy food with their face. "Smile to Pay," as the feature is being called, will be part of the chain's new K Pro location — its slick, very green-colored restaurant in Hangzhou specializing in "fresh," "healthy" salads and sandwiches.
Here's how it works: Order from a kiosk, then basically stand motionless while your face is run through facial-recognition software. If it matches the picture in the system, then they simply enter their phone number and stroll off with the meal's cost debited from their checking account. (What could possibly go wrong?)
The tech company that developed the device, Ant Financial, says KFC is the first place to use biometrics like this. Entering their phone number is meant as a "guard against people cheating the system," and the company says the kiosk has several other security measures. "Combined with a 3D camera and liveness detection algorithm, Smile to Pay can effectively block spoofing attempts using other people's photos or video recordings and ensure account safety," a statement reads.