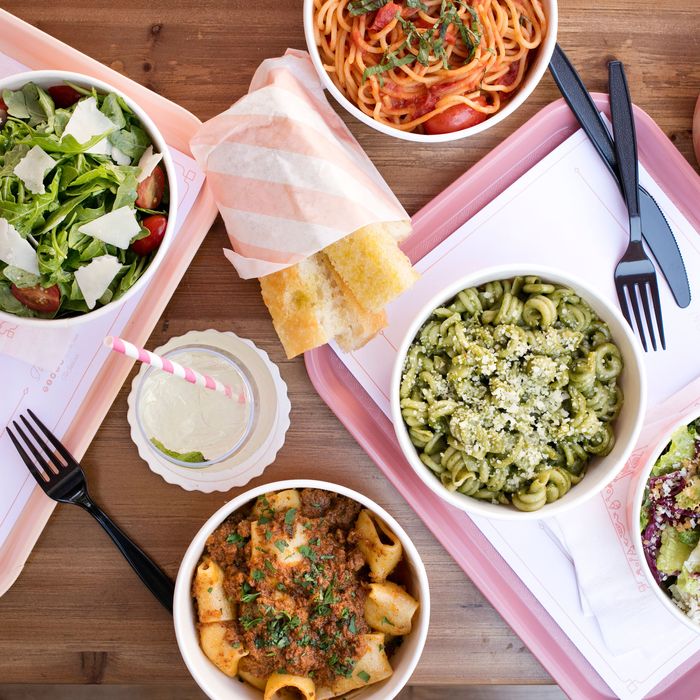 Pastas from the Sosta.
Photo: Melissa Hom
Pity Sbarro. The Brooklyn-born chain has been operating for more than half a century, but its days as a food-court mainstay might be numbered. All across the country, even as the market becomes more saturated, restaurateurs and titans of industry are gunning to create the next fast-casual behemoth — and lately, it seems lots of them have their sights set on Italian food. Specifically, "Italian food" that is all-but-guaranteed to appeal to as many Americans as possible: pasta and pizza.
For a businessperson, the appeal is clear. "Pizza and pasta, those obviously have low food costs. It's dough," Nation's Restaurant News writer Bret Thorn says. "No matter how high wheat prices get, it's still going to be an inexpensive item, so these places can be highly profitable."
Established players around the country are unveiling restaurants that strike a balance: as accessible and affordable as Sbarro (or Olive Garden), but more modern, fresh, and delicious. On the pasta front alone, New York has Sola Pasta Bar, whose chef worked at Eataly Rome and wants to open locations around the city. The Sosta comes from executive chef Ali LaRaia and ESquared Hospitality creative director Samantha Wasser, who struck fast-casual gold with the vegetable-focused by CHLOE concept. Pasta Flyer, from acclaimed chef Mark Ladner, isn't even open yet, but it's easily the most highly anticipated noodle-related project to hit Manhattan in a while. Ladner's team raised $89,300 from 450 backers on Kickstarter, and now, three years after the project was first announced, people are still tweeting at Pasta Flyer for updates on its opening. ("Very soon" seems to be the answer.)
Outside of New York, there's Porano Pasta in St. Louis, Grassa in Portland, and Barzotto in San Francisco. And in Santa Monica, Sugarfish co-founder Lele Massimini opened Uovo, hoping to do for sauced pasta what he helped do for affordable omakase.
Massimini and his team don't actually call Uovo quick-service or even fast-casual, but Sugarfish presents an interesting corollary to pasta. The sushi boom of the past few decades allowed many Americans to see what very good sushi actually tastes like. Similarly, the somewhat recent rise of regional Italian restaurants — think New York's Barbuto, Chicago's Spiaggia, Boston's Coppa, or any of Mario Batali's restaurants — means it's easier than ever for Americans to find truly great bucatini, pappardelle, or hand-cranked cavatelli. The trick for people who hope to sell it more affordably, of course, is tapping into that new taste, and vocabulary. (Just look at Shake Shack, which jumped on the mid-aughts chef-burger trend wave — making custom LaFrieda beef blends a thing in the process — and rode it to international triumph.)
The biggest problem is that, like sushi, great pasta requires high-quality ingredients and skilled cooks to prepare well. The best kitchens readily turn out just-firm noodles, covered in a sauce that clings and amplifies without overwhelming the pasta itself. These restaurateurs all need to do for pasta what Sugarfish did for sushi: crack the code of making superlative spaghetti in a fast-food environment.
"On the pasta side, there's always been the stumbling block of speed versus quality, with neither proving satisfactory (as yet) in a fast-casual format." says Michael Whiteman, of restaurant consulting company Baum + Whiteman. He points to Tony May, who once opened such a restaurant (PastaBreak) at the heavily trafficked intersection of West 42nd Street and Broadway. "He couldn't make a go out of it. Maybe Ladner has a breakthrough system." Whiteman adds that would-be fast-casual Italian operators also face the added obstacle of increased expectations. "This may not be a convincing proposition for customers who've become accustomed to seeing the likes of Chipotle or Sweetgreen actually build a meal right in front of them," he says. For Ladner, it starts with rethinking how pasta gets cooked. His solution involves parboiling the noodles, then freezing them, so that they can be reheated to order in ten seconds.
Pizza, of course, is a $30-billion-a-year industry in America. Companies have spent millions figuring out how to make, and deliver, pizza as quickly and cheaply as possible. Domino's has built a particularly successful mobile ordering app. The industry is dominated by a few major players, but they're all on the lower end of the quality spectrum.
The trick, then, is making a product that can go toe-to-toe with, or at least offer a similarly satisfying experience to, the gourmet pies now turned out all over America. The companies vying to do exactly that include the LeBron James–backed Blaze Pizza; Washington, D.C.'s &pizza; Chipotle-partnered Pizzeria Locale; Georgia's Uncle Maddio's; and the brand-new Martina, which is backed by Danny Meyer himself. (If anyone can create the Shake Shack of pizza, it's the man who created the actual Shake Shack.)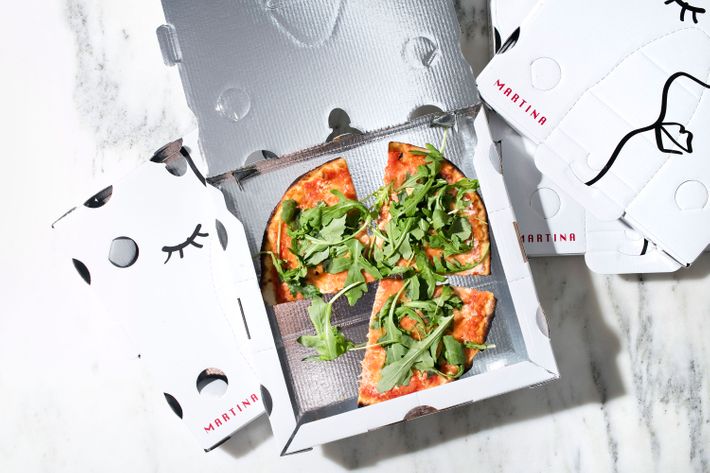 Blaze, which launched in 2012, is arguably the most successful of these companies, with 214 locations and growing nationwide. It's built for speed — pizzas bake in just three minutes — and even though the menu includes all of the gently aspirational ingredients you'd expect from an Italian restaurant in 2017 (kale, applewood-smoked bacon, "pesto drizzle," "wild baby arugula"), they also offer signature pies, like the Meat Eater — pepperoni and crumbled meatballs — that are clearly designed to mimic the mass-America appeal of Pizza Hut's offerings.
One surefire way to tell that these companies are aiming to be something more than traditional fast food is that the people running them seem to hate being compared to it. "We're a far, far cry from fast food," says Nick Anderer, the executive chef behind Martina. "Both in terms of the time it takes to execute and definitely in quality."
That's fair, and one meal at Martina will convince anyone that its pies are indeed a major step up from the neighborhood Domino's. (Martina's white pie with zucchini blossoms and anchovies is particularly nice.) But looking around the small, open dining room, a trip to Martina will also convince anyone that this place is built to scale: Counter service, a wide-open kitchen, custom logos stamped on pepper grinders, gas ovens that are more readily available than ones fired by wood or coal, and even the little buzzers that Shake Shack also employs to let customers know when their food is ready. "Hopefully," Anderer says, "what we're creating here has never been seen before."
In many ways, they have. In other ways, all of these projects all bear some striking similarities: pared-down menus that simplify operations; Spartan environments that gently encourage diners not to linger too long; and carb-heavy, affordable Italianate food that will draw in young, urbane customers while playing it safe enough to ensure that nobody feels too alienated. That is to say: These places are very appealing. They're the kind of cheap, quick restaurant anyone might want to see sprout in their neighborhood. Now, the question is: Which one will get to that neighborhood first?