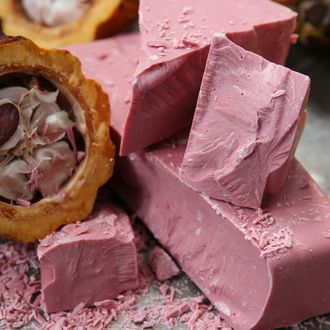 How can you beat "natural"
and
"colorful"?
Photo: Barry Callebaut
There's finally chocolate to eat with all that blue wine you're no doubt busy preordering. Barry Callebaut, technically the world's largest cocoa producer, has invented a new, supposedly all-natural hue — not brown or white, but the obvious third choice in line: Pepto-Bismol pink. It took a decade to invent, the company tells Bloomberg News, but at last the wait's over for cocoa with "a natural berry flavor" that's "sour yet sweet."
The colossal Swiss-chocolate-maker (it supplies every major candy company from Hershey to Cadbury) doesn't want everyone thinking about Valentine's Day 2018: It'd actually prefer that you call the color of its groundbreaking new product "ruby," not pink.
Barry Callebaut's R&D team apparently proposed the idea 13 years ago — and it sounds like it gave them a full plate for a while. Unlike red velvet, which is just chocolate dyed red, this stuff is from special cocoa beans from the Ivory Coast, Ecuador, and Brazil that they discovered turn an "unusual color" during the extraction process. No artificial colors or weird berries or anything have been sneaked in; it's just a bar of plain old funny-looking chocolate with, the company assumes, "higher margins."
Test markets have loved the pencil-eraser color, Barry Callebaut claims. The end goal appears to be a photogenic product that sells well with younger consumers — a group that prefers their chocolate, like everything else these days, to either be snortable or come infused with an exotic mix of Sichuan peppercorns and organic bee pollen. The company's CEO Antoine de Saint-Affrique confirmed as much to Bloomberg: "It's natural, it's colorful, it's hedonistic, there's an indulgence aspect to it, but it keeps the authenticity of chocolate," he explained, adding, "It has a nice balance that speaks a lot to millennials."