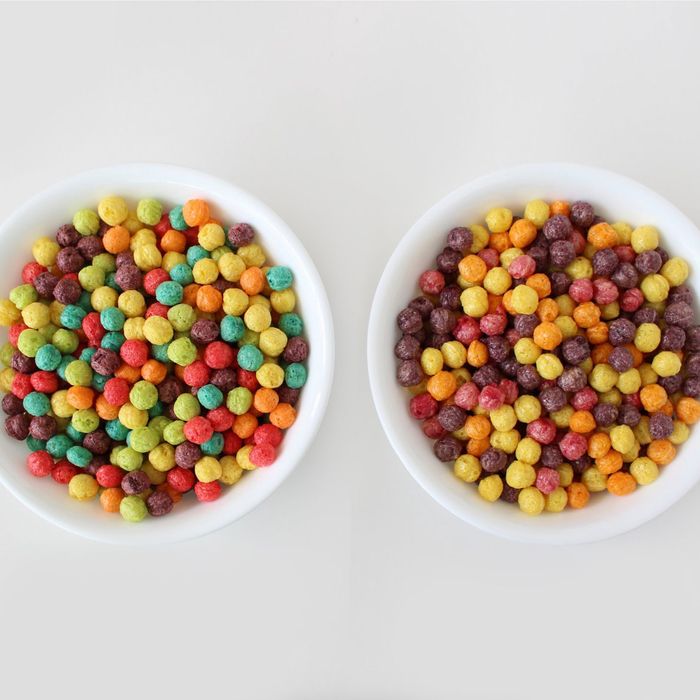 One of these does not look like the other …
Photo: General Mills
The tide may be turning against General Mills in its war on good old-fashioned cereal. Two years ago, the company announced that it was removing artificial ingredients from all of its cereals by the end of 2017. Among the first beneficiaries (or victims, depending on your cereal politics) was Trix. Last year, it was reintroduced sans fake flavors, high-fructose corn syrup, or artificial dyes like Red 40 and Blue 1. To keep it colorful, General Mills used radishes, purple carrots, and turmeric for dyes — clearly every kid in America's dream cereal. As you'd expect, the move turned out to be a royal flop, and now General Mills says it's going to bring back the old cereal (re-dubbed "Classic Trix") from the fake-ingredient-stuffed graveyard.
Starting in October, old-school Trix will be on the cereal aisle right next to all-natural Trix, a product that essentially sent parents into a rage spiral when it became the only option last year. Healthier, sure, but without artificial colors brightening it up or high-fructose corn syrup to make it sweeter, their kids' most important meal of the day was suddenly "quite depressing." Some describe Trix 2.0 as "basically a salad now." Others bash it as "disgusting," or sarcastically note they sure thought they'd purchased a beloved cereal from their childhood, "not this bullshit." Hyperbole aside, there's no denying the all-natural version doesn't look especially appetizing: In terms of color, it's four shades of earth-toned bleh, instead of the brilliant radioactive rainbow everybody grew up with — Solo-cup red, Uranus blue, Shrek green, Peeps yellow, and traffic-cone orange.
In a few weeks, nostalgic breakfasters can once again ingest that panoply of "vibrant" colors. There's probably another group celebrating Classic Trix's return, too — the food scientists whose full-time job for two years has been to rid Lucky Charms of artificial ingredients. Their effort has "stalled," but General Mills might finally let them leave the lab. After all, it says it learned a valuable lesson, that consumers "don't all want one thing." What consumers want for breakfast are grains doused in sugar.