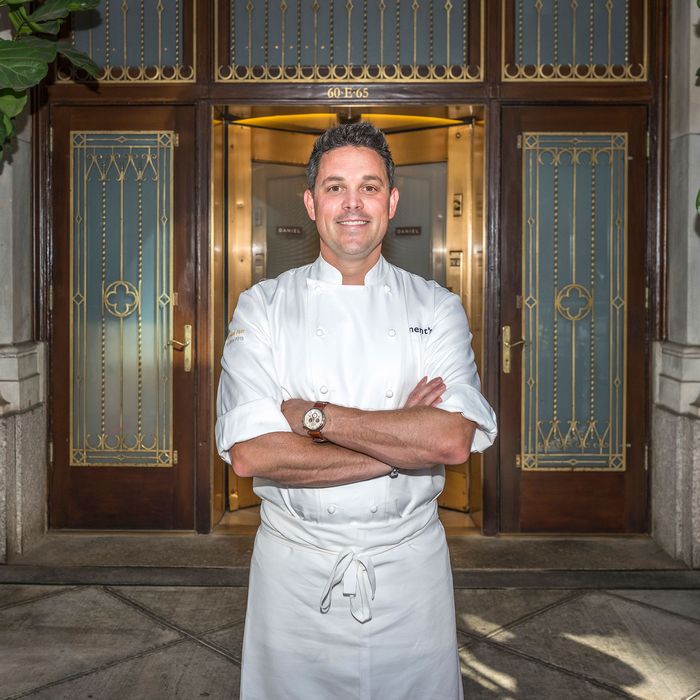 Back at Daniel.
Photo: Noah Fecks
Gavin Kaysen made a name for himself in New York, cooking for seven years at Café Boulud, before he left to move back to Minneapolis, his hometown, to open Spoon and Stable. He now owns two restaurants in the city, having opened Bellecour in March, which means Kaysen spends much of his time bouncing between the two. This week, though, he had the opportunity to come to New York for his work through the Bocuse d'Or Foundation. He returned to his old stomping grounds, Daniel, to reunite with his pals Thomas Keller and Daniel Boulud. Read all about it in this week's Grub Street Diet.
Thursday, September 21
I typically start my mornings the same. Despite how late I may be at my restaurants, I am up by 7 a.m. I like to get up early so I can walk my two boys, ages 5 and 8, to the bus stop at 7:45 a.m. After that, I dive right into my morning routine. Breakfast: two eggs, over medium, with yogurt and blueberries, and two cups of coffee. From there, I go for a run for a few miles. Not much time for it this morning, but I try to get some kind of workout in — running, lifting, anything to get my energy up.
Then I head to Bellecour. I have my chef's meeting and then a manager meeting; we are in the middle of changing the menu, so there is much for us to discuss and taste! Once my meetings conclude, I have a quick lunch: arugula salad, garbanzo beans, currants, roasted chicken. I stay at Bellecour for the remainder of the day and work service. We have about 175 covers tonight, plus a party of 30 in our private room.
I usually have a pretty early dinner, and try to make it my last meal of the day. Since I am usually tasting so much during service, it usually works out. Tonight, my dinner is seared sea bass with ratatouille made by the Bellecour cooks.
Friday, September 22
I had a late night, so I get up a bit later, at 7:30 a.m., and rush to get the boys ready for the school bus, but thankfully my wife, Linda, takes them today.
I have one cup of coffee, and I make an omelette for breakfast today with sweet potatoes, ham, and spinach. I cook breakfast for myself and for my boys often. My younger son only likes egg whites — he doesn't like the yolk. I don't know how that happened. I just try to make something that's healthy and protein-heavy.
For lunch, I am on the go today and grab two hard-boiled eggs and a banana.
Dinner is seared strip steak with broccoli at Bellecour. I usually ask the cooks to make me dinner. We put a new broccoli side dish on the menu with anchovy vinaigrette. I just wanted to taste it. And by taste it, I mean eat it for dinner.
It's kind of crazy having two restaurants — it's a lot of driving back and forth and taking a lot of calls on the road. There's a point when you realize that you can't be the chef at both restaurants, and it gets detrimental if you try. I've come to that realization, finally, after six months of Bellecour being open. Now, I'm able to float between the two.
Saturday, September 23
Breakfast is an omelette with spinach and sweet potatoes. Lunch is a chicken salad at Spoon and Stable.
Dinner is a ramen tasting. We offer a Saturday-only late-night ramen at Spoon and Stable, but only at the bar and lounge. We make limited orders and they always sell out. This time, it's with braised pork belly, Swiss chard, and turmeric-marinated egg. We cook the entire ramen not only for us to taste it, but for us to post a photo, so it's my guaranteed dinner on Saturdays. I always hide in the corner with my bowl.
Sunday, September 24
Breakfast is scrambled eggs with sweet potatoes and a banana.
I skip lunch because I'm traveling to New York for a dinner at Daniel for the Ment'or program — a culinary nonprofit that I'm a part of, along with chefs Thomas Keller, Daniel Boulud, and Jérôme Bocuse. The dinner tonight is in support of our grant program, which provides young cooks with internships at some of the best kitchens in the world. As Daniel tells Thomas, we're still glued at the hip.
I have multiple dinners. First, a small family meal with the team at Daniel, which is rotisserie chicken and Caesar salad. Then post-event, Daniel's team makes us all a dinner of braised tripe and saucisson with lentils — very classic lyonnaise food, and delicious! I could've eaten the tripe all night.
From there, we go to the Aviary to see Grant Achatz and his team. They send out a bunch of food: mussels, a volcano of shaved ham, and tempura shrimp. The whole team was recently here in Minnesota cooking with us, so it's great to reconnect with those guys. The view is epic — you're on the 35th floor overlooking Central Park. I also love the fact that it's quiet.
Monday, September 25
This morning, we have a tournament for Ment'or in New Rochelle. For breakfast, I have an omelette with bacon, spinach, and onions at the breakfast buffet. Fuel for my terrible golf game. We play all day, so there's not a chance for lunch.
We have a small reception where I nibble on some cheese, and then I go to meet my wife at Empellón in midtown for an octopus taco and the sticky-rice tamal. We finish the meal with that epic avocado dessert, one of the best desserts I have ever tasted. Oh, and they sent us the strawberry dessert, too.
Tuesday, September 26
Breakfast is two eggs, over medium, with a side of bacon as room service from the NoMad Hotel. They do such a great job there. It's where I like to stay when I'm back in New York. It's always a little strange because when I'm back here, out at events with friends, I feel like I have to get in a cab to go back to the Upper East Side, where I used to live.
I have a board meeting for Ment'or at Per Se, so Thomas and his team from Bouchon have some sandwiches for us. I have a chicken-salad one.
We fly back to Minneapolis and land around 7 p.m. My parents bring our kids home from their house. We stop at a great store nearby called France 44. I buy some bavette steak and roasted vegetables, so dinner can be quick and Linda can get the boys to bed.