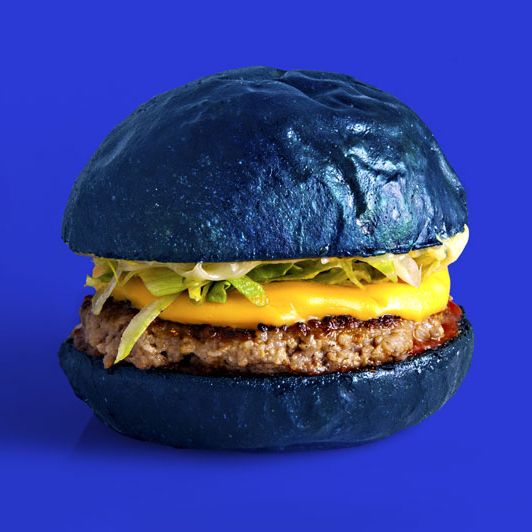 Just think what they'd do for Balenciaga.
Photo: Blend
Colette, the painfully trendy fashion mecca on Paris's Rue Saint-Honoré that's the "only shop" Karl Lagerfeld frequents, is closing its doors forever in December. To mark the occasion with something fittingly high-low, Colette is collaborating with another beloved Parisian institution, the gourmet-burger chainlet Blend. Together, they've whipped up a pair of farewell burgers that let you celebrate the shop's hugely influential run by ingesting a bun dyed Colette blue (that's Pantone 293C, the official press release notes).
The first of these burgers comes loaded with 18-month-aged Somerset cheddar, ketchup, honey mustard, and iceberg lettuce. The second gets a mound of caramelized-onion compote and blue cheese, melted Emmentaler, garlic mayo, and spinach. Both are available exclusively at Colette's Water Bar from now until December 20, the day it bids hypebeasts a final adieu. Fans looking to pay the store additional homage can also purchase a side of seasoned kale chips.
If the bun's blueness hasn't truly sunk in yet, these extra promo shots from Blend's Instagram should help do the trick: