People are calling a Florida Pizza Hut a variety of unkind names after the location casually threatened to punish staff who evacuated for Hurricane Irma. The storm isn't expected to hit Jacksonville (where the store's located) until Tuesday, but considering that it's killed at least 42 people and left communities in the Caribbean without food or power, the city's mayor, Lenny Curry, started ordering residents in certain areas to evacuate by Saturday, three days early.
But according to a notice that turned up on Reddit clarifying this particular Pizza Hut's Irma "guidelines," management felt 24 hours was more than enough time: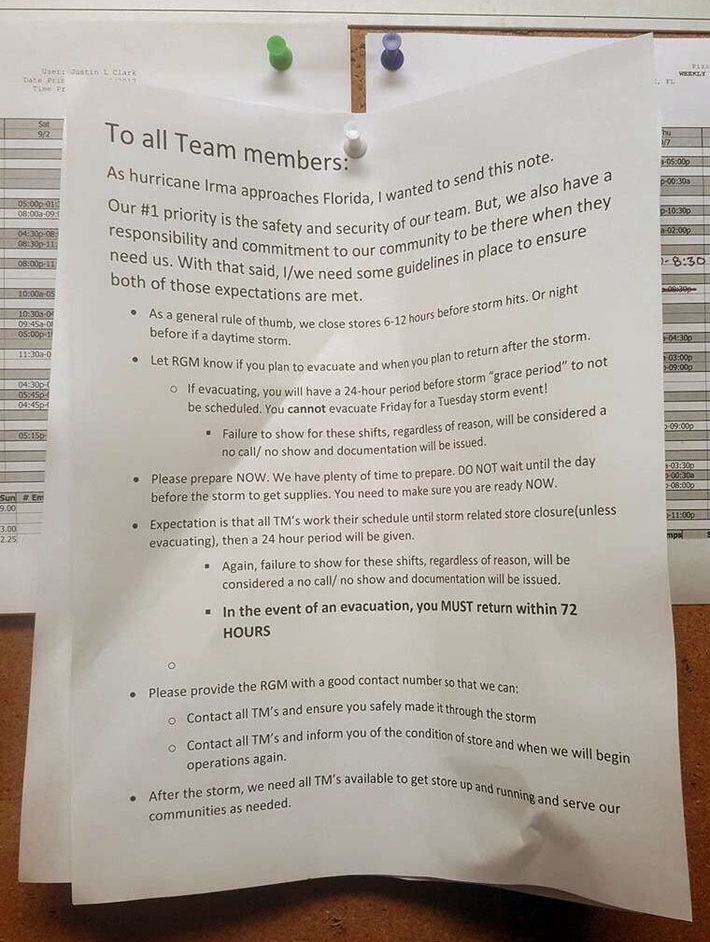 "As a general rule of thumb, we close stores 6-12 hours before storm hits," it says. "If evacuating, you will have a 24-hour period before storm 'grace period' to not be scheduled. You cannot evacuate Friday for a Tuesday storm event." It encourages employees to provide "a good contact number" so managers can ensure that everyone's safe, but also adds: "Failure to show for these shifts, regardless of reason will be considered a no call/no show and documentation will be issued." In bold all-caps, it then tells workers that they "MUST return" within 72 hours.
The store's been getting hammered on Twitter for the sign:
Understandably, Pizza Hut tried nipping this one in the bud with an official apology posted to the company's blog. "We are uncompromising in our commitment to the safety and well-being of our team members," it says, before spelling out Pizza Hut's actual corporatewide Irma policy:
All locations in the path of Irma are closed and will remain closed until local authorities deem the area safe. We absolutely do not have a policy that dictates when team members can leave or return from a disaster, and the manager who posted this letter did not follow company guidelines.
The chain also says that it has "addressed the situation" with the local franchisee and manager.