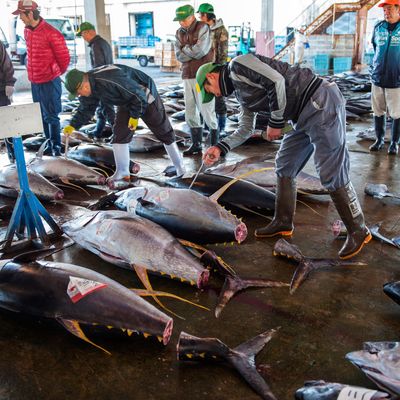 People won't stop eating bluefin tuna.
Photo: Leisa Tyler/LightRocket via Getty Images
Scientists have warned for years that Pacific-bluefin-tuna stocks are imperiled, and that the species could collapse. Last year, environmental groups including Greenpeace demanded that the fish be listed as endangered to better protect it. A few months later, the International Scientific Committee for Tuna and Tuna-Like Species in the North Pacific Ocean released a report that indicated that the fish's population was at just 2.6 percent of historic levels. This has happened in recent decades as a result of advancements in fishing technology that made catching the fish significantly easier, and it's a damning portrait of overfishing left unchecked for decades.
Despite this, many people continue to eat Pacific bluefin without a second thought, and it remains a prized ingredient flaunted by high-end restaurants (particularly sushi spots). And as was reported would happen, Japan has already exceeded its annual quota, along with Mexico. Scientists' and environmentalists' pleas to protect the fish appeared to have fallen on deaf ears, but it seems the tuna will finally catch a break. The countries that fish tuna have agreed to rebuild the stocks, with the compromise that there won't be a total moratorium.
During a weeklong meeting in South Korea, the Western and Central Pacific Fisheries Commission and the American Tropical Tuna Commission agreed on a plan to bring the fish back. Their first target is bringing stocks back to 20 percent of historic levels by 2034, which is considered the minimum necessary by scientists to ensure the species's future. If chances to meet that target fall below 60 percent, catch levels will be further reduced.
The two groups will also develop a plan for documenting catches, as a means to prevent illegal fishing, by 2020. Bluefin is prized in Japan, which is responsible for 80 percent of the world's catch, and the country's fishermen had been resistant to these measures. The election of climate-change-denying President Donald Trump was being used as a scapegoat by the fishermen, Tokyo University of Marine Science and Technology professor Toshio Katsukawa tells the Washington Post, but Japan has agreed to go along with the plan.
The problem is still far from solved. Pew Charitable Trusts global-tuna-conservation officer James Gibbons cautions that it's "only the first step." And it won't stop the fact that warming waters are threatening many species and the balance of life in the oceans.