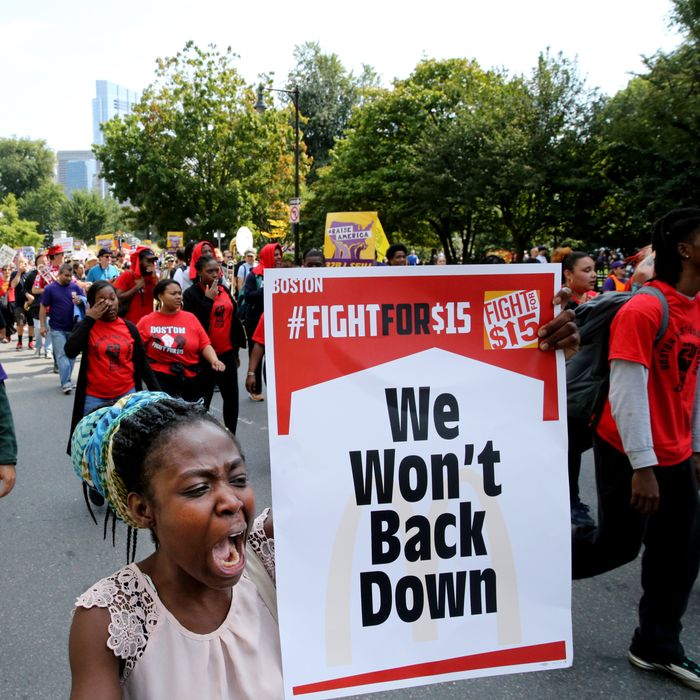 Protesters in Boston, one of many cities where workers went on strike yesterday.
Photo: Craig F. Walker/Boston Globe via Getty Images
On Labor Day, fast-food workers across the country once again went on strike for workers' rights. They were joined by teachers, hospital employees, day-care workers, and others in the latest nationwide demonstration by the Fight for $15 campaign. The last major protest was on the campaign's four-year anniversary on November 28, when hundreds of demonstrations were held across the country just weeks after Donald Trump's election. This time, protesters gathered in cities — including Boston, Chicago, Kansas City, Phoenix, Des Moines, Orlando, Detroit, Richmond, and numerous others. Many of the strikers walked out of work on a holiday ostensibly meant to celebrate the American labor movement, and the contributions of working people to the United States, but which they are seldom able to enjoy.
Since the Fight for $15 campaign began, states, including California and New York, have passed legislation to gradually raise the minimum wage to $15. Illinois governor Bruce Rauner vetoed such a bill in August, while in May House Minority Leader Nancy Pelosi promised to pass a $15 minimum wage if Democrats take the House of Representatives next year. The protests weren't just for livable wages, but for unions and against exploitation of workers. A Fight for $15 release said that workers were striking to declare unions as "the best way to fix the economic and political systems that have been rigged," an argument repeated at protests. In Des Moines, Iowa, congressional candidate Pete D'Alessandro said, "The fight for 15 … starts at $15," and that the goal is that "everyone in this country has a chance to organize in a proper union." Major political and activist figures attended once again, including Representative Keith Ellison in St. Paul, Minnesota; Reverend Dr. William Barber II in Chicago; and Representative Emanuel Cleaver in Kansas City.
In Phoenix, the shadow of recently pardoned and disgraced former Maricopa County sheriff Joe Arpaio loomed over the protest. County supervisor Steve Gallardo spoke out against Arpaio and President Trump, saying that "unless we are united, people like" them "and corporations like McDonald's will continue to use Latino workers, and not give us the decency we deserve." The sentiment that workers need to be united was echoed in Kansas City, where McDonald's employee Kenya Banks shared how her close encounter with death on the job pushed her to strike. In April, the Kansas City Star reports, Banks was rushed to the emergency room and discovered that she was bleeding from fibroid tumors in her stomach and uterus. After turning down a recommended operation because she lacked insurance, Banks bled out again in May, and doctors performed an emergency hysterectomy on her. She has been unable to pay for the bills, afford the antibiotics she was prescribed, or take the time off of work that doctors say she needs to recover because she has no paid sick time. Recognizing that she can't change these alone, Banks turned to the theme of unions, saying, "It's about getting things done together that we cannot do alone."