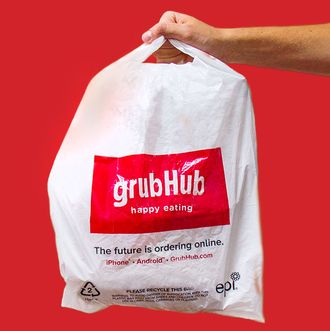 Your eyes deceive you.
Photo: GrubHub
GrubHub is currently being sued for its practice of calling its delivery people "independent contractors." The consequences of the trial, which began last week, could be big — and not for the food-ordering platform alone, but for all companies that rely on the gig economy (Uber, Lyft, Postmates, Instacart, Drizly), because a loss might force them to reclassify these on-demand workers as W-2 employees, a group afforded much wider legal protection. Also, these slighted workers would then probably all go sue their employers.
So no surprise that GrubHub's legal team has found a creative defense in hopes of averting this reclassifying business: Chief operating officer Stan Chia took the stand to explain that anybody who thinks his company is a food-delivery business is so, so wrong. GrubHub is actual the "premiere marketplace connecting diners with restaurants," he told the federal judge.
What, pray tell, does that mean? That GrubHub's job is showing you where food is, not bringing it to you. It began in 2004 as a site for restaurants looking to simplify carryout, and technically speaking, only added delivery in 2015 "at the request of restaurants." Chia added that delivery also comprises a small part of GrubHub's overall business — the service is only available in five of its 200-plus markets (albeit five large ones).
The problem is, GrubHub bought Seamless in 2013, which is, technically speaking, a delivery service, and in August it swallowed up Yelp's Eat24, another just-a-delivery-service company. To dispel the notion, though, Chia maintains that they're not "doing any of this to grow a delivery business." (After all, it's not like food delivery is a big industry right now or anything.)
The case being argued in California is just deliveryman Raef Lawson, who wants reimbursement for about $600 worth of work expenses, versus his ex-employer. But about 7,000 other GrubHub workers are filing a separate class-action lawsuit contesting their employment status, too. Lawson's attorneys argue that delivery people are a core part of GrubHub's business, so they deserve the minimum-wage guarantees, paid breaks, insurance, and other perks that W-2 employees receive.
Market research shows that GrubHub owns nearly a quarter of the digital food-delivery business, second only to Domino's, a fact its defense team probably hopes doesn't come up at trial. Apparently, Uber's legal counsel is also there in court, taking notes.