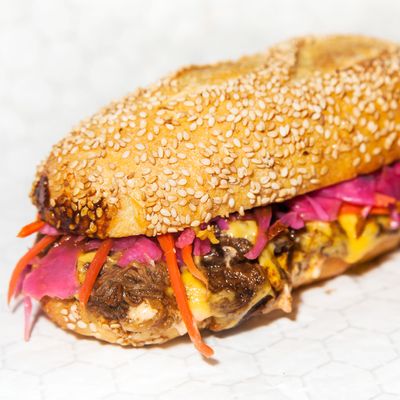 The long-awaited BYGGYBEEF sandwich.
Photo: Konstantin Sergeyev
Call in sick. Take a personal day. Tell the boss you have a family emergency. The Great Sandwich Wait is finally over on Clinton Street, where Dewey Dufresne — father of Wylie and veteran restaurateur in his own right — opens the sandwich shop he first teased us with six years ago at a Feast of San Gennaro pop-up. Construction obstacles and restaurant-opening red tape intervened, as they've been known to do, and intended purveyors came and went. But the BYGGYBEEF sandwich Dufresne debuted back then — a pomegranate-braised flavor bomb with pickled vegetables, melted American cheese, and "Xxollent sauce" (mayo, mustard, and sweet peppers) — is still the main attraction. "I hope it becomes my Big Mac," says Dufresne. The streamlined opening menu offers three more options: a triple-pork BYGGYPYGGY with cheddar, pickles, and peppers; the BYGGYBYRD (like a turducken in sandwich form), which combines chicken-liver pâté, smoked duck, and hot turkey breast; and the Tuna SOF, for south of France — like a pan bagnat, except the "bathed bread" in this case isn't rustic and French, but marble rye from a bakery in the Bronx.
After years of sandwich-making (some of them professionally, at Joe's Old Abandoned Grocery Store in Providence), Dufresne has developed a sort of sandwich-construction orthodoxy into which he's indoctrinated his chef, Landen Garcia, late of the Cannibal. These days, he's partial to arugula, but still doesn't see the point of shredded iceberg. ("Thrown out of a window as confetti, yes, but in a sandwich, it's a distraction.") Fresh tomatoes are a summer-only thing; for year-round consistency, he prefers to roast his Romas. Meat should be thinly sliced, and preferably hot from the Fresh-O-Matic, a steaming contraption "used mostly to wake up tortillas." Certain breads should be scooped to avoid the dreaded "squeeze-out factor." Condiments can make or break a sandwich ("A man is judged by the condiments he keeps"), and chips (especially the Dirty brand) are its ideal companion.
Dufresne's return to this stretch of the Lower East Side is noteworthy not only for sandwich aficionados but for local culinary historians, who might remember that he was an original partner at 71 Clinton Fresh Food, the restaurant that launched both his son's career and Clinton Street as a serious foodie destination. From 1999 through wd~50's closing in 2014, the pioneering, iconoclastic, and welcoming Dufresnian spirit distinguished the tree-lined corridor, and with the opening of BYGGYZ, something like the natural culinary order has been restored.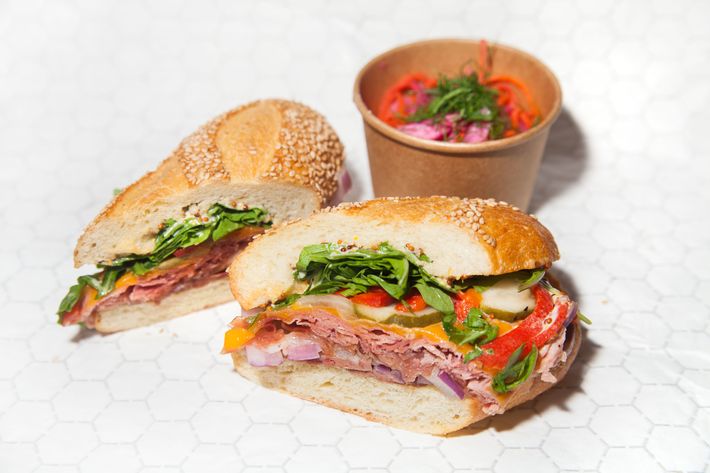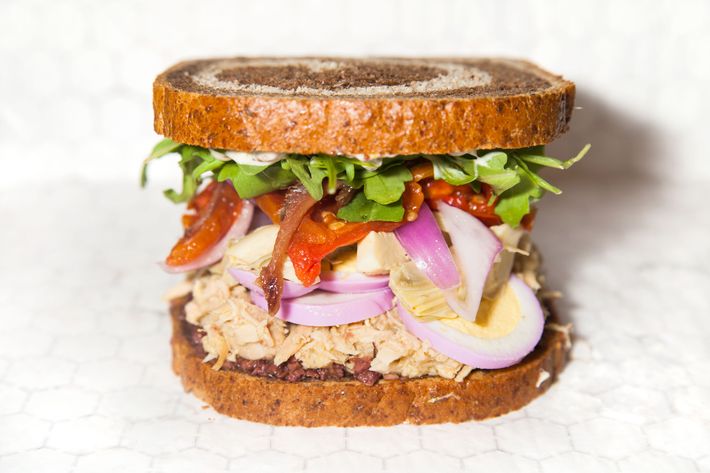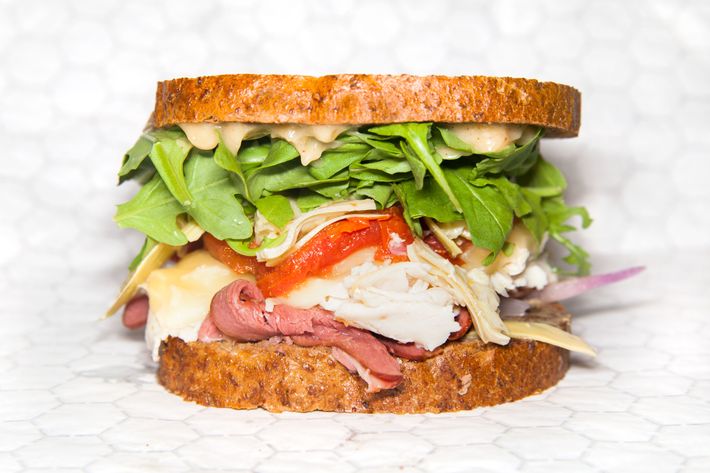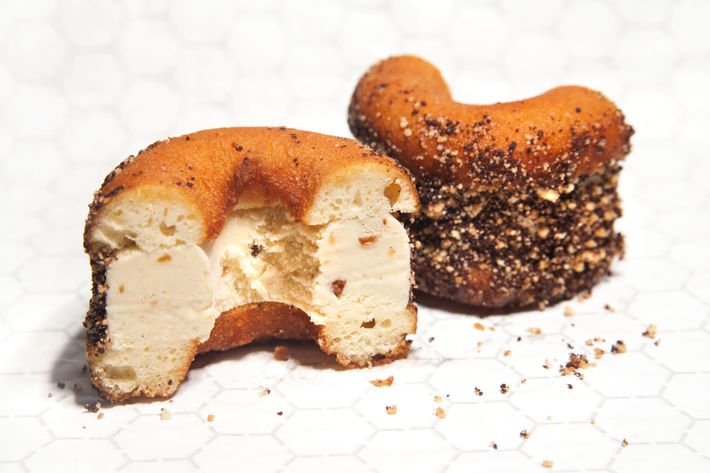 37-39 Clinton St., nr. Stanton St.; no phone yet
*A version of this article appears in the October 2, 2017, issue of New York Magazine.