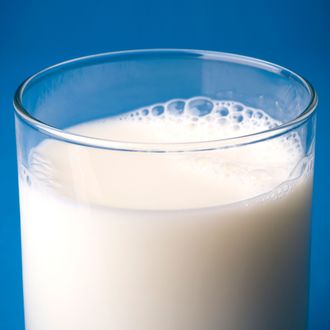 What's this missing? Froth!
Photo: Andrew Johnson/Getty Images
In today's extremely competitive beverage market, you essentially have two options to make your product succeed: add bubbles, or add booze. Carbonate some water, and people will commemorate it with works of art. Make root beer alcoholic, and it's no longer a grandpa drink. Since most people frown upon the idea of children guzzling "hard" milk, a dairy company in the U.K. has wisely gone the carbonation route, the Telegraph reports. To pump up nosediving milk sales, Arla — one of Britain's largest producers, owned by some 12,500 farmers — is going to start making the "sparkling fruit and milk" drink you've begged for since, well, never.
It will be pink, fizzy, and come in ready-to-drink bottles that will hit store shelves in England, Singapore, and the United Arab Emirates first, before eventually "being rolled out across the world," according to the company. Arla hinted at these plans last year when it announced it was going to "triple the amount of money" it makes off of milk drinks by 2020 — very high ambitions, it's safe to say, given the present market. The company said in a press release at the time that it "wants to challenge soft drinks with healthier milk-based alternatives," and has suggested that people upset that there's no booze in this fizzy milk "could use it in a cocktail in the evening."
Very little's known about the particulars of Arla's drink, outside of it being some carbonated combination of a milk by-product with no fat and fruit that won't curdle when they're mixed together. It's worth noting that other beverage makers have tried launching similar products over the years. Something called Milkis enjoys middling popularity in parts of Asia, and believe it or not, for one hot minute back in 2009, Coke tried selling a sparkling milk to wary Americans. Vio, as it was known, came in flavors like Peach Mango and Citrus Burst, and it made Time's list of the 50 worst inventions of all time, right next to leaded gasoline, pay toilets, and spam email.