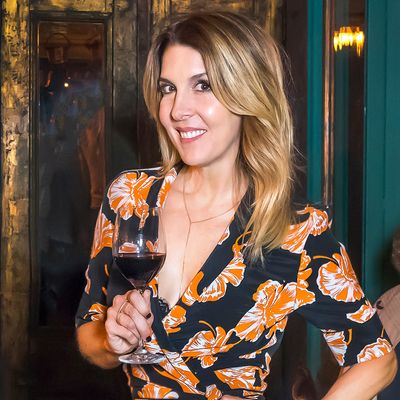 "I've been coming to Il Buco for 15 or 20 years."
Photo: Noah Fecks
Since taking the helm of Cosmopolitan almost exactly one year ago, Michele Promaulayko's days have been "kind of crazy." As the former editor-in-chief of Women's Health and Yahoo Health, Promaulayko believes in the power of kombucha and adaptogens and punishing exercise classes, but she lets her guard down at night. "I'm not as rigid at dinner — my favorite meal of the day," she says. "It may just be that it's more acceptable to have wine with it." This week, she enjoyed cacio e pepe fritters at Lilia, a "meat volcano" at the Office, and an olive-oil tasting at Il Buco. Read all about it in this week's Grub Street Diet.
Thursday, September 14
Coffee is the reason I get out of bed in the morning. (I think I even dream about it!) But before I mainline the caffeine, I force myself to down a tall glass of water with lemon squeezed into it, to rehydrate and get some vitamin C.
Then I measure out a small dose of a bespoke herbal tincture that's been mixed by my genius herbalist, Daniela Turley. Sounds bizarre (or worse, bougie), but it's a game changer. My current blend has schisandra, an adaptogen that increases energy; licorice, which is anti-inflammatory; and other herbs that ward off headaches, and boost brain, skin, and gut health. Plant pharmacology (not that kind) fascinates me — it's been practiced for thousands of years and still is in many parts of the world. A lot of it stems from the fact that I was a health editor for over seven years.
I have a workout scheduled for 7 a.m. I stop at Citizens of Chelsea on my corner to grab a large coffee before heading to Madison Square Club, a private training facility owned by my friend David Kirsch. Today, David is training me himself, which is a blessing and a curse because he's no joke (he trains J.Lo — enough said). I probably should have eaten something, but I like to work out on an empty stomach. Thinking I may pay for that.
After a bunch of late-morning meetings, (so many meetings!), I spend an inordinate amount of time trying to figure out something more inspiring to eat than a sad desk salad. I decide to go for the Greek salad with grilled chicken (with a side of dill-heavy tzatziki) from the Greek Kitchen, a few blocks away from the Hearst Tower in Hell's Kitchen. I lived above the restaurant a decade ago and treated it like it was my dining room, so it's a nostalgic order. And tasty!
Around 5 p.m., I grab a grapefruit Spindrift — it's the new LaCroix — and spend an hour working on Cosmo's cover with my creative director. Our rule: We can't call it quits until we're cracking up at a few of the cover lines or until one of us is blushing (not me, usually).
Later, I meet up with one of my BFFs, media mogul Dave Zinczenko. We head to the Office, a swanky, new "speakeasy" by Grant Achatz and Nick Kokonas that I've been hearing about. We grab seats at the bar. The stools are cushy leather and clad in cowhides. I order a glass of Austrian Grüner Veltliner. D.Z. gets a vodka Martini with a twist. We have a lot to discuss. The magazine business is never dull, but over the last few days, several veteran editors have stepped down from their posts — and the industry is buzzing about what it signals for the future of media. This convo calls for a stiffer drink. I go for a cocktail with tequila, grapefruit, ginger, horseradish, and Lapsang tea. All better.
Now, food. Their menu is limited but special. We get the crudités — not your garden-variety carrots and celery sticks. These are presented in a giant ice-filled glass bowl and have compressed watermelon squares and exotic mushrooms and greens. The dip is a sweet-pea bavarois. We also get the mussels with smoked bacon and leeks and the jamón ibérico de bellota, which comes out looking like a meat volcano, we decide. Yes, we are children.
Friday, September 15
Busy day ahead. We need to ship the last pages of our revamped November issue, so I head in early. When I get off the subway, I buy a Stumptown iced-coffee at one of the stands in the underground Turnstyle market. I've been experimenting with time-restricted eating (also called intermittent fasting), so I'm skipping breakfast … but I'm wondering if the coffee negates the fast. I Google it when I get to my desk, and yup, since I added milk, I'm technically not in a fasted state anymore. Oops.
By noon, I'm famished. I get a kale salad from Blossom du Jour — it has quinoa, black beans, corn, red pepper, and avocado, with a mustard-tahini dressing. I inhale that and head to a fashion run-through for a shoot we have coming up.
And I've been looking forward to tonight's dinner all week. The plans are to meet up with my friend Kathryn Budig, a yoga teacher, and her girlfriend Kate Fagan, a writer and commentator for ESPN, at Il Buco on Bond Street. I haven't seen them in months, and I want to hear how Kate's new book, What Made Maddy Run, is doing. We catch up over wine — effervescent Lambrusco for them, a Valpolicella Ripasso for me — and an olive-oil tasting. I get the cavolo-nero salad — basically, an elegant Caesar made with black Tuscan kale — and later, grilled pulpo, served with cauliflower, currants, capers, and mint. I've been coming to Il Buco for 15 or 20 years. When I first got to New York, it was one of the only places on Bond Street, along with a store owned by my friend Stacy. (That space is now the Smile.) The street is now lined with luxe condos, but Il Buco remains one of the most charming and consistently delicious restaurants in Manhattan.
Saturday, September 16
Sunny-weather prediction — yay! Going to head to my weekend house on Long Beach Island in New Jersey. I pick up my car from the garage and swing by La Colombe on 11th Ave for coffee. Long line; everyone is back in town post–Labor Day. I resist getting one of the carby confections beckoning from behind the glass, so I had to root around the abyss of my bag for the blueberry RXBAR I tossed in there.
The pantry and fridge at my house are pretty barren now that summer is over, and I don't feel like grocery shopping for one night. So, I open and close the cabinets like 12 times and finally realize I have everything I need to make this weird recipe I like from a book called Choosing Raw: kelp noodles and cherry tomatoes coated in a dressing with cashew butter, ginger, and basil. I've made this dish for weekend guests before, and everyone is skeptical … until they taste it. The flavors and textures just work. I can never make this in New York — I don't keep any nut butter in my apartment because I can't be trusted around the stuff.
Dinner is at a local restaurant called Yellowfin with my friend Devon, who owns a boutique fitness studio on the island. Since she burns calories for a living, she's liberated to order whatever. Dangerous for me. We drink Champagne and share the tuna pizza (more like a thin flatbread). Then I have a slow-cooked lamb shank with Moroccan spices. Winter is coming.
Sunday, September 17
I had enough Champs last night to be grateful that the cycling/barre class I signed up for isn't until 10:15. When I get home, I pound water and take a few activated-charcoal pills, which are supposed to mop up toxins. Whether or not that's true, the placebo effect is real. I feel great. Then I scramble some eggs and eat them with avocado, the last of the thyme from my herb garden, and some oregano I brought back from a recent vacation to Greece.
Back in New York. The Emmys are on, so I camp out on the couch and order from Chop-Shop: a cucumber salad with sesame oil and chiles, and the shrimp and eggplant in green curry. An hour-and-a-half later, the show is still going, and I'm craving ice cream. I didn't eat my quota this summer. I open my Postmates app and search for pistachio Halo Top. I can't believe I can actually have it delivered from the East Village. This level of convenience is bad. The foil top reads, "Don't stop until you hit bottom." Who am I to argue? It's satisfying-ish.
Monday, September 18
I French-press some Intelligentsia coffee, then make a smoothie in my NutriBullet — I live for that thing — with Sprout Living Vanilla Lacuma Epic Protein Powder, chia seeds, brain-octane oil from Bulletproof, unsweetened almond milk, and a handful of frozen blueberries.
That tides me over until late afternoon. I've sort of missed the lunch window, so I swing by the snacks-stash table, but it's all sugary packaged foods. And booze. I run down to Pressed Juicery and get the Greens 1: celery, cucumber, kale, lemon, parsley, romaine, and spinach. This one is not for juice virgins — it has no fruit, so it's not sweet. At all. Even my adjusted palate is revolting a little. I avert my eyes from Dylan's Candy Bar a few shops down and head back to the office.
I buy a bag of artisanal turkey jerky and that does the trick.
I race to a 6:30 appointment I've made with my friend Emily Fletcher at the new Soho location of Ziva Meditation. She's the owner and a gifted meditation teacher. During my time as a health editor, I got trained in Transcendental Meditation, but I've been slacking off for the last year. Emily has sweetly offered to get me back on track — and she does. Ziva's approach to meditation focuses on the performance-enhancing benefits of the practice. Still, I left blissed-out.
In the cab home, I scroll through Seamless and land on Japanese. By the time I roll up to my building, my shrimp shumai, avocado roll, and oshitashi (cold spinach with ponzu sauce) are waiting with my doorman. Food-delivery apps are beginning to rule my city life.
Tuesday, September 19
Water with lemon and herbs and coffee. I have another early-morning strength-training session at Madison Square Club. Not with David this time, praise Jesus! But still tough. I regrettably told my regular trainer, Colin, that I want to work on being able to do pull-ups, and now he won't let me off the hook.
I run home and throw myself into the shower. Today is packed. We have Public Advocate Letitia James coming to talk to the staff, and I'm preparing for an interview that I'm doing with the awesome Robin Wright as part of a U.N. dinner — it's General Assembly week. Everyone is cranky from the heinous traffic. My assistant Sophie wants to strangle me because I can't decide, ever, what to have for lunch. She picks my other favorite salad from the Greek Kitchen, the maroulosalata. It's mainly romaine lettuce and dill. She knows my deal: add grilled chicken, go light on the Feta and vinaigrette, and hold the scallions. Meanwhile, I eat the raw almonds she's placed in front of me. She's not risking hangry vibes. Not today.
I'm giddy about tonight's dinner with one of my favorite people on planet Earth — Kerry Diamond, co-founder of the biannual indie food magazine Cherry Bombe, which celebrates inspiring women. It's rad. Kerry's rad. And we're going to Lilia in Williamsburg, owned by another incredible woman, chef Missy Robbins. I order a glass of Malvasia by Salina. I've been on a white-wine kick. Apps: whole-roasted summer squash with lemon, parmigiana, and basil. It's bonkers how fucking good it is. I mean, it's only squash. Same with the slow-roasted tomatoes on grilled bread with mint. They must have a magical oven. Missy is at a party celebrating the launch of her new book, but she has someone in the kitchen send out an order of cacao e pepe fritelle for us — it's a peppery, fried cheeseball made with Pecorino and aged Asiago. Beyond. We get the grilled blowfish tails with crushed coriander, because how can you not? Kerry is ballsy, so she also orders us two pasta dishes: mafaldini with pink peppercorn and sheep's milk–cheese–filled agnolotti with saffron, dried tomato, and honey. I'm at max capacity, but they send out the blueberry crostata with crème fraîche. It's a gift from the chef. We have to eat it. All of it.
I see a lot more barre classes in my future, but this meal was worth every cramp-inducing micro leg lift — and then some.