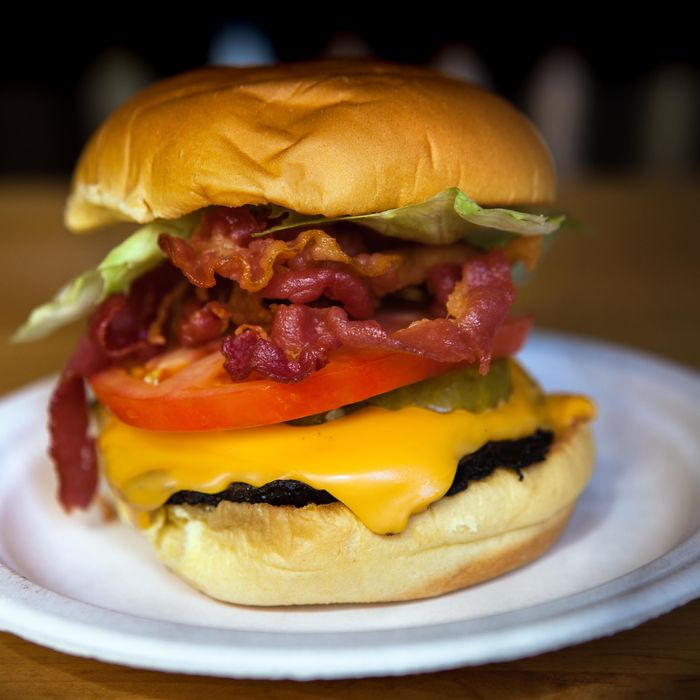 The patties are mushrooms, but don't worry: You can still order it with bacon.
Photo: Jed Egan
This week, with neither fanfare nor outrage, Corner Bistro as we know it changed forever. A flyer on the bar of the West Village stalwart urged: "Try our new 'Bistro Bello,' a portobello mushroom burger served on a potato bun with bacon, cheese, lettuce & tomato: $12.75." Alternatively, customers could "[h]old the bacon for veggie burger $11.75. Hold the bacon & cheese for a ███ burger $10.75." That's not a glitch on your screen. A thick black bar covered the heretofore verboten adjective, vegan, censored like pornography or profanity. The burger mecca has been revered as a culinary temple and a New York City institution for decades, but there it is: the first change to the menu since 1993, when adding a grilled-chicken sandwich had traditionalists crying foul.
"You're the first one!" cheered Tom, the bar's longtime legendary bartender, when I ordered the Bistro Bello. Soon enough, it arrived with two thick, hearty mushroom patties, lightly covered in melted cheese and garnished with a briar patch of curly, crisp bacon, all pinched into a Pac-Man of potato bun. It was, it should be said, simple and savory, hallmarks of the joint's food since the place opened in 1961.
Of course, that's not all that's suddenly new at Corner Bistro. That veggie burger (and a pile of ostensibly vegan fries) was served on a bar that had recently been renovated. And the order was keyed in with a touchscreen that replaced the old-school cash register. It was the same, but different. Sometimes, Old New York can vanish right in front of your eyes, not with a closing, but instead with some subtle shifts that, taken in total, seem seismic. (The timing is a bit awkward, too: Owner Bill O'Donnell died just last year, adding to the sense that these changes were snuck in away from his wary care.)
Vanishing — to borrow a phrase adopted by the city's anti-gentrification stalwart nostalgists — is no sin, but if Corner Bistro were to close this year or next without ever having changed, people might rightly criticize it for not keeping up with the times. Stubbornness is not a business model, and besides, it's 2017, not 1977 — though the place has hardly lost all of its old-time charm. As I finished up my mushroom burger, I asked Tom about the music that was playing, a catchy, jazzy tune that Shazam couldn't identify. He wrote it down for me on an old order slip: "A Whisper Away" by the N.Y. Hardbop Quintet: "You can get it on Amazon." Then, he dashed away. Another order of burgers was on the way. Long live Corner Bistro.