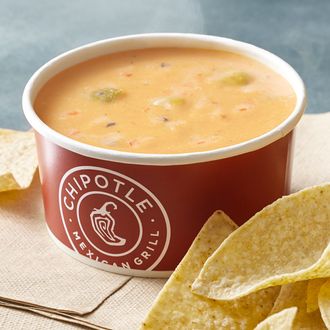 Five bucks' worth of cheese right here.
Photo: Chipotle
Chipotle is a step closer to competing with rivals like Taco Bell, Qdoba, and Moe's; its queso is finally getting an actual national release. The company says stores will start carrying the dip next Tuesday, September 12. It will come two ways — as a stand-alone side with chips (two sizes, $5.25 for the large order), or as another ingredient you can slather on burritos and tacos and bowls. Just like guac, it's not free to add, either. It will set you back an extra $1.25.
Chipotle once mocked queso as not being in line with its "whole food-with-integrity thing," but it's done a 180 since the whole E. coli crisis. The version the chain created is preservative-free, naturally, and that's quite irregular for queso, the preparation of which is maybe the only justifiable use of Velveeta. The chain brags that it's whipped up the only queso in all of fast food that relies on "simple ingredients you're likely to recognize." It's made from aged cheddar, tomatoes and tomatillos, four types of peppers, citrus, spices, vinegar, and some starch to thicken it. Funny enough, initial reviews were not so good, but the company's announcement notes that they've addressed this setback. The last few months were apparently spent adjusting the recipe "slightly" to improve its taste.