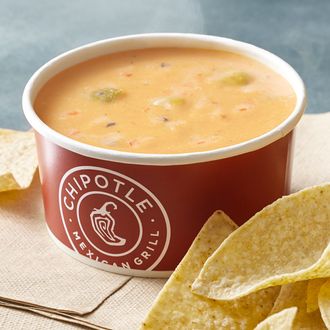 "Powdery" is one of the more positive descriptions it's gotten online.
Photo: Chipotle
Fast food's first all-natural queso was supposed to be Chipotle's big break: Customers begged for it more than any other item, so executives naturally expected the glorified glop of melted cheese to sell itself. But when the dip rolled out nationwide last week, it accomplished one thing nobody this year has been able to do: unite America against something. Reviews, whether by a local newspaper or randos on Twitter, have been pretty uniformly negative. The queso's politest critics have used words like "grainy" and "gritty," but the livelier haters out there have choicer words.
The fallout is now affecting the chain's bottom line — once investors saw the dip getting widely panned, Chipotle's stock price briefly fell to a 52-week low, which is really kind of saying something, all things considered.
Chipotle's strategic response is to … do the "I'm rubber, you're glue" thing. Bloomberg News got its hands on an internal memo penned by chief marketing officer Mark Crumpacker that essentially tells employees: No, no, no — this stuff is delicious! Crumpacker assures them that the dip will drive new foot traffic if they give it time, which he knows because of product testing. "The formal research we conducted prior to rolling out queso nationally showed very different results than what you might assume if you only looked at comments on social media," he writes. "The decision to move forward with the launch was based not on social media comments, but instead on in-depth research and the sales impact in the test markets."
Now, those angry-sounding customers will (unluckily for them) see their feeds barraged by Chipotle's "largest-ever advertising campaign." Bloomberg says those ads, which will push the dip, are set to debut next week. Chipotle probably shouldn't look to Crumpacker's own assessment, which included such surefire winners as "We have made progress in making it smoother," and "We are not going to be able to replicate the gooey consistency of the queso you might get at the ballpark or at a movie theater."
Chipotle seems unworried about the optics at play, which is amazing since its success came by championing "food with integrity." Even if the queso is as objectively great as Crumpacker claims, and all the bad reviews are just idiots bandwagoning (two big ifs), the queso's whole point was to act as a reset and generate positive buzz that made Chipotle a lunchtime must-visit again.
The chain has already rejiggered the recipe at least once, but based on Crumpacker's memo, that may be the only bone it throws naysayers for now. It's clear they're all in some sort of queso echo chamber. Even Chipotle's largest shareholder, Bill Ackman, told CNBC earlier this week that he personally hadn't tried the queso yet, but is "beginning to believe that Twitter is filled with a bunch of Chipotle short sellers."