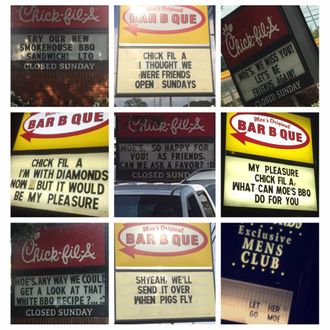 Both restaurants are milking the limelight.
Photo: Moe's Original Bar B Que/Facebook
Back in July, a Chick-fil-A in Mobile, Alabama, got excited to advertise the chain's newest sandwich. It was the company's first seasonal menu offering and its first foray into barbecue — Hawaiian-style bun with grilled chicken, Jack cheese, lettuce, bacon, and a "zesty" barbecue sauce. The store put up a marquee sign that proudly read, "Try Our New Smokehouse BBQ Sandwich!" Across the street, Moe's Original Bar B Que co-owner Ashleigh Valluzzo knew she couldn't let this stand. "Chick Fil A I Thought We Were Friends," she put on Moe's letter board, then the blow: "Open Sundays."
AL.com reports it took "weeks" for Chick-fil-A's general manager Jon Hewett to persuade his boss to let him respond, arguing that it was "an internet gold mine." That should've been plenty of time to nail down a devastating comeback. What they put up in reply was, well, a little lame ("Moe's, We Miss You! Let's Be Friends Again!"), but the insult war really hit its stride when Moe's pretended it was revenge-dating the local strip club.
Moe's: "Chick Fil A, I'm With Diamonds Now … But It Would Be My Pleasure."
Chick-fil-A: "Moe's, So Happy For You! As Friends, Can We Ask You A Favor?"
Moe's: "My Pleasure Chick Fil A, What Can Moe's BBQ Do For You."
Chick-fil-A, really pushing the envelope for a family-friendly dining destination: "Moe's, Any Way We Could Get A Look At That White BBQ Recipe?"
Moe's: "Shyeah, We'll Send It Over When Pigs Fly."
Chick-fil-A: "Mmmm … Flying Pork … Imitation Is The Best Form Of Flattery?"
They've been at it for weeks now, but the winner in the exchange is a dark horse: Diamonds Exclusive Men's Club. It's since chimed in with a sign of its own that says, "Let Her Go Moe's."