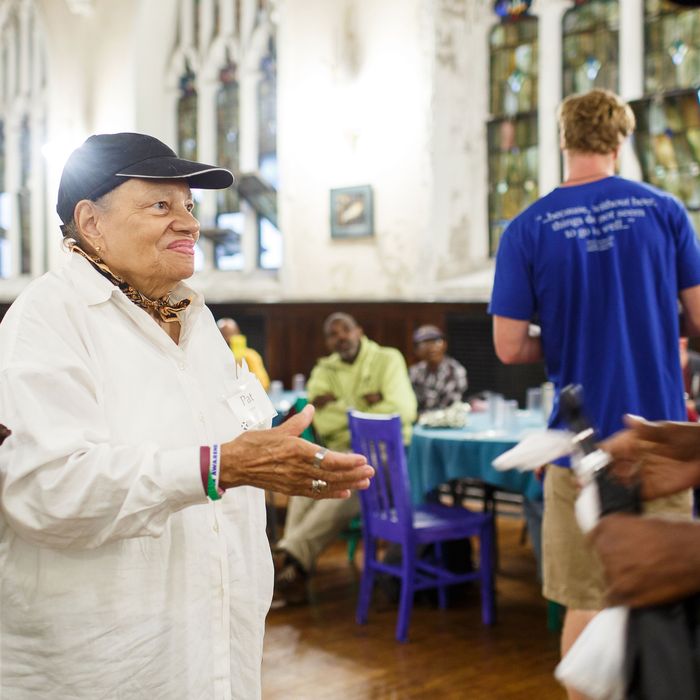 Pat Taylor, a volunteer with the dignity group, greets each guest as they arrive for dinner at the Broad Street Hospitality Collaborative.
Photo: Matt Stanley
Every day, the kitchen staff working under chef Steven Seibel prepares food for between 300 and 500 diners. The menu changes frequently, but may include dishes like hot honey fried chicken with dill-ranch sauce and pickled charred peppers, or penne cacio e pepe with parsley, shishito-pepper dust, and toasted walnuts. His goal, he says, is to provide the same thing that every chef does: "We want to feed people the best thing they have ever eaten."
The difference is that none of the people eating Seibel's food will pay a bill. The food is free because Seibel is the chef at Broad Street Hospitality Collaborative in Philadelphia, a charitable organization that practices the concept of "radical hospitality," moving beyond the idea of a soup kitchen to create an environment that is more focused on providing both nourishment and dignity.
"Belonging, connecting, being received unconditionally are as important and sometimes more important than eating the food provided," says Edd Conboy, the director of social services at the collaborative. "If you were to come to a meal," Conboy explains, "one of our staff would be at the entrance to the dining room to greet you personally, and thank you for coming. You would be invited to sit wherever you'd like. Our volunteer servers would come to your table, smile, introduce themselves, and pour you some water." Most important, Conboy points out, is that diners don't have to wait in line. "We don't believe that is hospitable — you could stay in the dining room for as long as it is open. You would not be rushed."
Broad Street employees 22 full-time employees, like chef Seibel, and also depends on help from thousands of volunteers each year. Even with so many helping hands, it's a huge job. Last year, Broad Street served more than 76,000 meals to 7,600 separate guests. In the U.S. alone, 41.2 million people were considered "food insecure" in 2016, which is the term used for people who do not have access to a sufficient amount of food. With chefs and restaurateurs being elevated to celebrity status and wielding more influence than ever, it was only a matter of time before people in the food industry started using their clout to tackle food-related issues.
In fact, Broad Street is part of a growing international movement that values the power of hospitality to create charitable dining experiences, where the act of eating is about more than simple nutrition.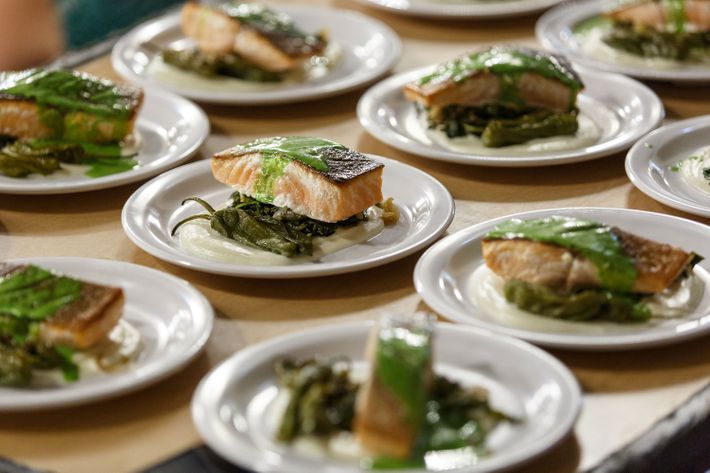 "At Osteria Francescana, I learned how powerful the value of hospitality can be," says Massimo Bottura, one of the most famous chefs in the world, talking about his three-Michelin-starred restaurant in Modena, Italy. He and his wife, Lara Gilmore, have funneled their renown and resources into Food for Soul, a nonprofit that aims to feed vulnerable populations via what Bottura describes as "community kitchens," with the support of other titans of the food world like Alain Ducasse and Daniel Boulud.
Bottura has been able to use his considerable stature in the industry and public profile to garner both big donations from private donors and hands-on help from fellow chefs, food suppliers, artists, and hospitality experts. Using his extensive international connections, the organization is able to procure high-end ingredients that are perfectly safe, but which for any number of reasons would normally be destined for the garbage dump instead of the dining room. Using that food and a veritable army of trained staffers and volunteers, Food for Soul has been able to open serious dining rooms around the world that offer a real restaurant experience: Nutritious multicourse meals, made using the best ingredients, presented in well-appointed surroundings, and served by people with strong hospitality training.
"This doesn't refer only to the food we cook, but also to the atmosphere, the quality of service, the way you get welcomed, anything that happens from the moment you walk into a restaurant from the one you step out," Bottura continues. The aim, the chef says, is to restore "a sense of dignity around the table. Make our guests feel welcomed, included, listened to. Plating the dishes, serving people at the table, and replacing a fork are all genuine and basic gestures that can give life to a dialogue."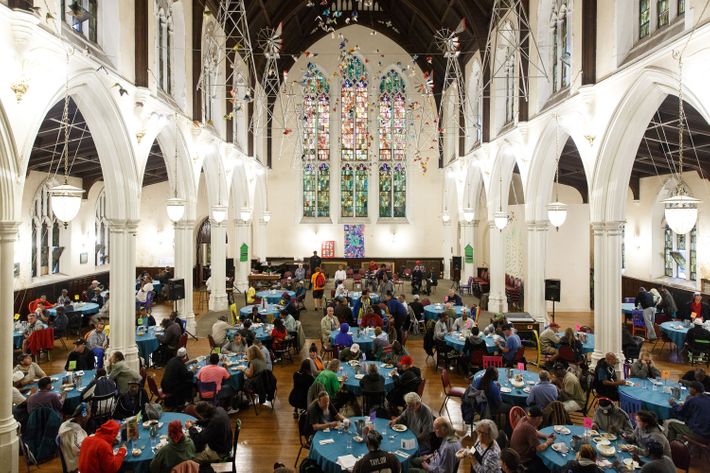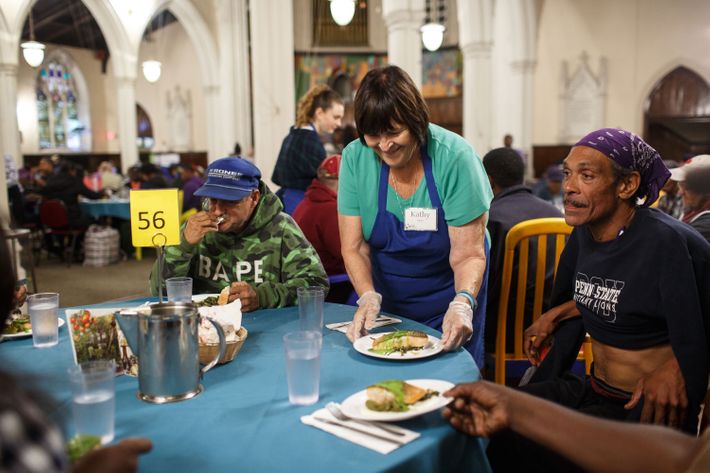 For guests, this distinct approach makes all the difference. A man named Art Land has been dining at Broad Street on and off for more than five years. For him, it is "a place one goes to when all that makes the human condition bearable has been stripped away." It's a spot to find "the company of others and find unconditional acts of mercy." For that, the people who run Broad Street "ask nothing in return."
While Broad Street and Food for Soul rely on donations, One World Everybody Eats takes a different approach. Their goal is to blur the lines between charity and hospitality so completely that OWEE–affiliated cafés — there are now almost 60 in the U.S. and one in the U.K. — are full restaurants accessible to every customer.
OWEE got its start in 2003 when Denise Cerreta, who won this year's James Beard Foundation Humanitarian of the Year award, decided to open a café next to her acupuncture studio in Salt Lake City. It struck her that she could better serve her community by allowing patrons to pay whatever they could afford for their meals, the generosity of most of her customers offsetting free meals for diners in need.
"Operating a café as a pay-what-you-can nonprofit introduces all sorts of issues to the mix of running a restaurant, so it is crucial to first have a firm handle on basic restaurant operations," explains Reverend Christina May, who serves on the OWEE board and is the founding vice-president of F.A.R.M. Cafe in Boone, North Carolina. "Our model requires that about 80 percent of café diners be people who can afford to donate the suggested price or more for a meal. Those types of diners eat out often and expect creative, well-executed cuisine."
As you'd expect, it is not always easy to make ends meet with that model, and OWEE offers its services to guide potential operators, to make sure they know the full extent of the project, and have the skills necessary to make it work. It is a mistake, May says, for well-meaning aid workers to think taking a page from the restaurant industry will guarantee success: "We explain to our start-up nonprofits that the first-year-restaurant failure rate is very high."
When the model works — and it does work, restaurants worldwide that follow the OWEE model serve up to 4,000 meals a day — May says that the feeling of hospitality shines through not only in the food and service, but also in the co-mingling of customers. "People from cultures that normally do not have direct connection with one another," she says, "are provided the opportunity to look past stereotypes and into the hearts of their neighbors."
It all speaks to the core values of these organizations. In reporting this story, nearly everyone used the same words over and over again: hospitality, dignity, and nourishment. By focusing on those tenants, they are able to create places that offer guests the same things everyone wants in a dining experience: to feel as though they've been served not out of obligation, but from a place of genuine care and concern, and to share a meal that is not just sustaining, but deeply enjoyable as well.