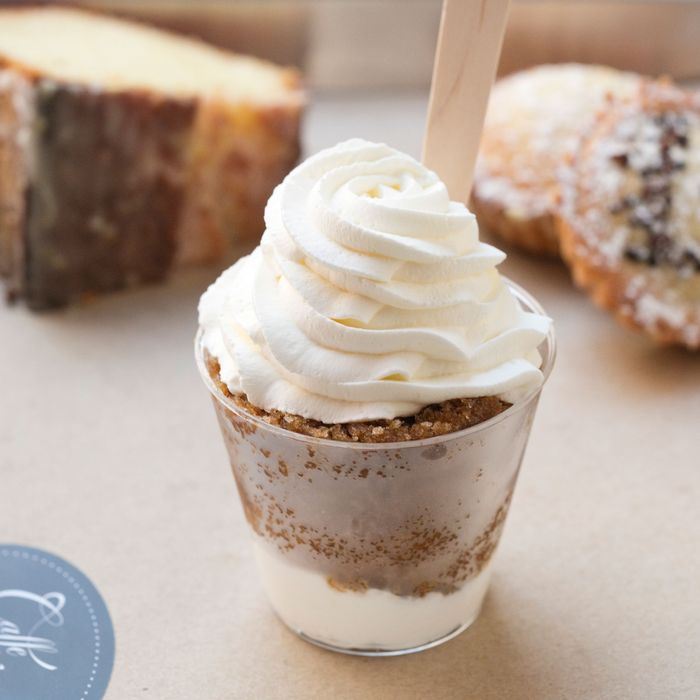 Coffee granita with whipped cream.
Photo: Melissa Hom
In Italy, iced coffee can mean something very different: espresso that's semi-frozen, so it's firm and scoopable, made into a granita that's sometimes topped with a liberal dose of whipped cream. Granitas come from Sicily, where they're a respite from ragingly hot summers, but they're found all over Italy now, including Rome, the inspiration for Danny Meyer's wood-fired Marta and its new casual neighbor Caffe Marchio. The café opens today in the Redbury New York (formerly the Martha Washington Hotel), and its straightforward, espresso-centric coffee offerings include that treat. (As well as actual iced coffee.) It's uncomplicated by nature, but also the sort of simple thing that can drive people to obsession.
The menu — check it out here — also features the shakerato, a cold drink made of espresso shaken with ice and simple syrup until the whole thing is nice and frothy (it should really be on more menus in this city). The café makes all of its drinks with a single coffee blend that's based on the heavily roasted, dark style found in Rome's coffee shops, which was expressly created for them by Joe Coffee. (You'll recall Meyer's Union Square Hospitality Group is an investor.)
As at Meyer's Daily Provisions and other all-day restaurants that have sprung up this year, the menu goes well beyond coffee-shop standards. In fact, it features a full food menu created by Marta chef Joe Tarasco and pastry chef Jess Weiss. In the mornings, expect eggs in the form of frittata panini, lighter options like a yogurt parfait (of course), and a variety of Italian pastries. Weiss serves three kinds of biscotti, for dunking, along with the Bundt cake–like ciambellone, pasticiotti, and the whipped-cream-stuffed sweet buns maritozzi.
Come lunchtime, the menu shifts to more savory flavors, but there's still plenty of bread in the form of pizza bianca with mortadella, triangular tramezzini with egg, and sandwiches like pork with tomatoes. There are also marinated vegetables and contorni to snack on. And if you want a coffeelike beverage that's not sweetened, the aperitivi section includes a caffe corretto, espresso spiked with your choice of amari.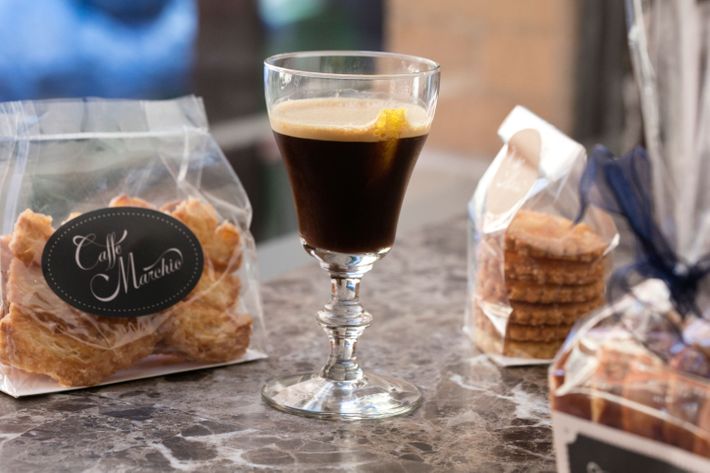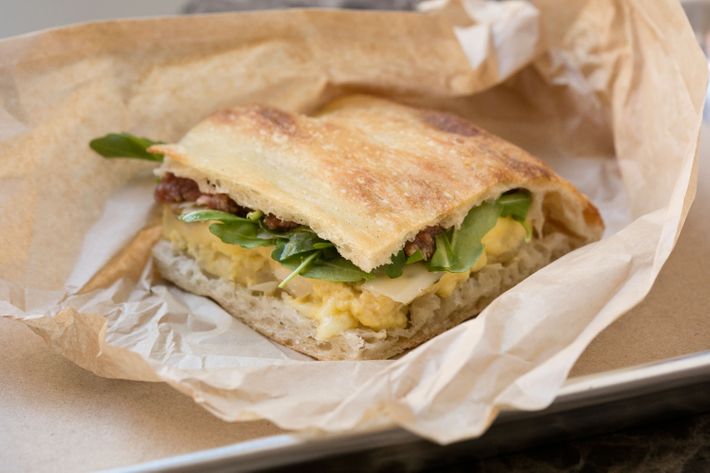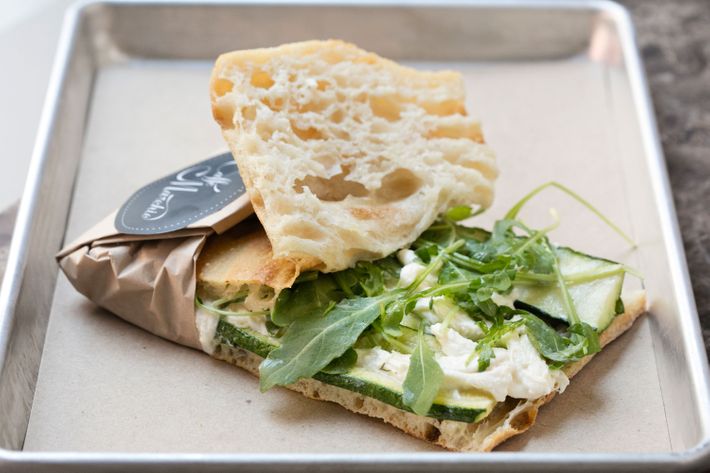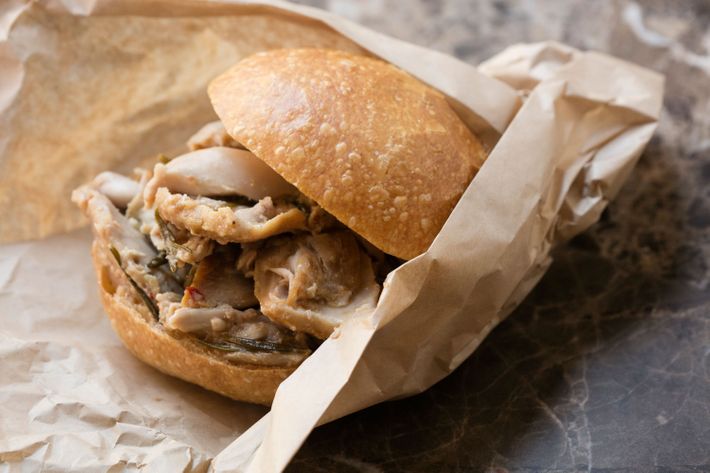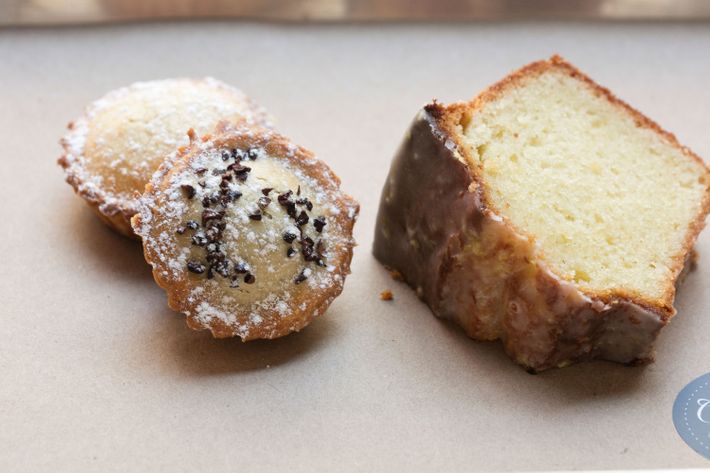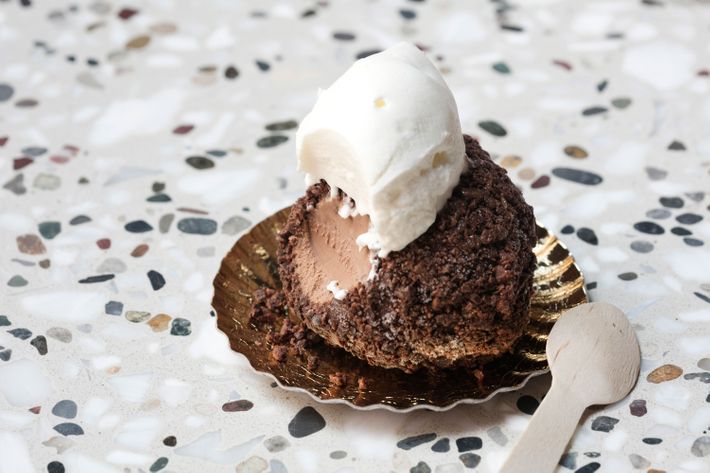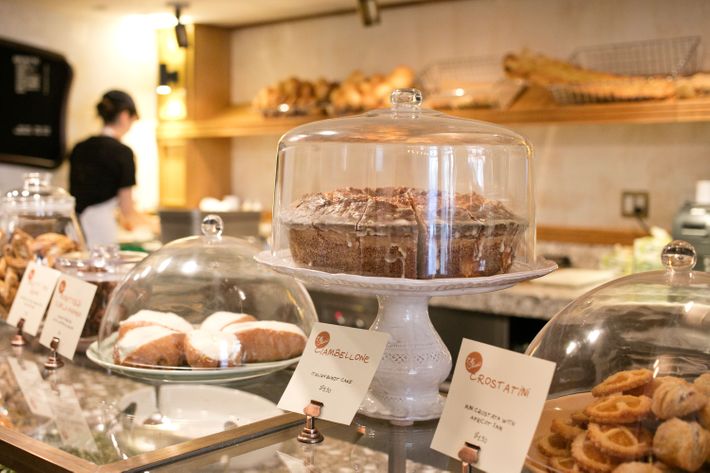 Caffe Marchio, 30 East 30th St., nr. Madison Ave., 10016