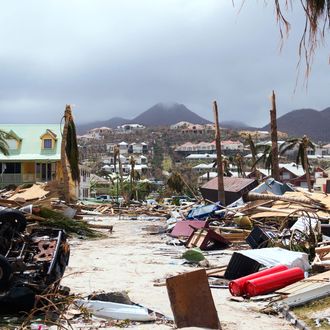 What "middle-aged," "bald" guy Goldman was up against.
Photo: Lionel Chamoiseau/AFP/Getty Images
When Hurricane Irma began destroying the Caribbean last week, Brother Jimmy's founder Jim Goldman — a 30-year veteran of the New York restaurant industry — was dry and probably pretty content in the city. But he soon learned that several friends were trapped on St. Martin, the tiny island where locals say people are now "fighting in the street" for food. Against his better judgment (he calls himself "a middle-aged, bald, bit overweight Jewish guy" who's "not exactly trained for combat"), he flew straight to Puerto Rico, and without alerting authorities, launched his own renegade helicopter rescue service.
There were apparently a few others, but the primary beneficiaries were longtime business associate Manny Almirakis and his wife and 3-year-old son. According to The Wall Street Journal's retelling, they'd planned on staying, but then had a change of heart after watching men break into a restaurant with machetes. Goldman's friend's helicopter whisked them away, but they had to stop at a hospital in Puerto Rico (their son got dehydrated, and somehow, also carbon-monoxide poisoning). The crew's reportedly fine now, though — they're recuperating with family in Connecticut.
In an interview recounting his gonzo trip, Goldman says he kept asking himself what on earth he was doing: He was there for only 30 hours, yet tells the Journal, from a Harlem sushi spot he owns, that he's still "jittery" and "shaking." At one point, he says he was walking around in search of a cell signal when he saw a pregnant woman get robbed. "These guys came up on a scooter," he explains. "They put the gun towards her belly and they grabbed the chain off her neck and ran away." Goldman actually owns a home there on St. Martin, plus several businesses, including a night club, lounge, and restaurant that he and Almirakis run together. It got destroyed by Irma, but both men say they'll be back to rebuild.