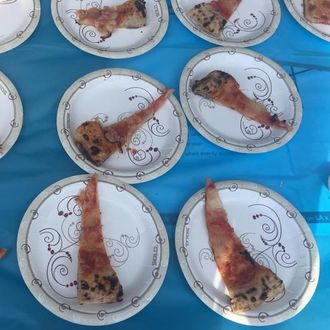 Pretty much attendees' one pizza option.
Photo: Syl Wia
Four days after enraging hungry pizza fans, and two days after New York attorney general Eric Schneiderman opened an inquiry into the event, New York City Pizza Festival's organizer has promised refunds to people who paid to go to the "total scam." A note posted on Pizza Fest's Facebook page earlier today says they'll reimburse attendees for the price of their tickets (which cost $36 to $69 each, plus $3 to $5 in fees). Unfortunately, festivalgoers will never get back the colossal time suck or their hunger pangs — those are just plain nonrefundable.
After "much back and forth about our customer's best interest," the post explains, "we have agreed on REFUNDING ALL TICKETS from the pizza and burger festivals." The statement, signed by head organizer Ishmael Osekre, adds that they haven't bothered talking to any press yet, despite no shortage of requests. One reason is that "resolving customer concerns was a priority," but the other, it seems, is because of fake news:
Few newspapers have said a lot without facts, quotes, or context. We respect their right to make claims, sometimes as clickbaits, but we also believe in the hardworking pizzerias in Brooklyn and we did not feel it was right to simply blame them or supporting partners for issues that impacted the event negatively. We wanted to resolve these issues as a team, in order to ensure that all concerns were fairly and properly addressed.
Till now, Osekre's attempts to "resolve these issues" have consisted of spreading the blame around — event curator Hangry Garden "faked" them, the pizza deliveries were "just late man," etc. But now that legal consequences are on the line, it seems he's willing to meet ticked-off attendees halfway. "As event producers," he writes, "we take full responsibility for the outcome of the experience."