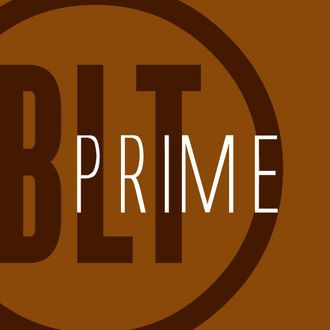 The ex-workers have since lost cars and had their electricity cut off.
Photo: BLT Prime by David Burke
There is yet another lawsuit against President Trump's D.C. hotel. Three BLT Prime employees have filed a civil complaint accusing both the steakhouse and the Trump Organization of discriminating against black workers. This puts them in the company of celebrity chefs José Andrés and Geoffrey Zakarian, the city's wine bars, and other prominent restaurateurs around town who've all hauled the one-year-old hotel into court.
The plaintiffs are seeking $14.5 million in damages, and say that the hotel's managing director, Mickael Damelincourt, "saw to it" that BLT Prime's black employees were routinely given lunch shifts. Per the Washington Post, earnings at BLT, which sells a $110 45-day-aged porterhouse for two, can be as high as $1,500 a week. Dominique Hill — the first bartender BLT Prime hired — says he ended up working almost exclusively at lunchtime, and making less than $400 a week while working 30-plus hours. "Some days I would just stand there all day long and have no customers," he tells the Post. He got fired after spilling a Bloody Mary on a baby, which the paper says he felt might have been fair — if a white employee who'd spilled Champagne on a bride's wedding dress had been punished as severely. Another plaintiff says the server manager told her when she first started that "it's good to see someone with Milano complexion," but that her whiter skin still never got her any "moneymaking" shifts.
The lawsuit adds that BLT Prime had at least 15 black employees when it opened, and that there are now just four. A third plaintiff, who still works at the steakhouse, says management did nothing about the racist comments his co-workers made. One guy allegedly informed him, "This is white America time," and added that he needed "to get used to it" or "go work somewhere else."
The restaurant group behind BLT, ESquared Hospitality, counters that the lawsuit is groundless, adding that the plaintiffs "did not previously voice or file complaints through any of the proper channels." If they had, BLT Prime would have "investigated them to the fullest extent." At least one plaintiff filed a discrimination complaint with D.C.'s Office of Human Rights this summer, but it went nowhere. The Trump Organization, meanwhile, calls the suit "nothing more than a desperate, politically-motivated publicity stunt," and says the allegations are "baseless" because "the Hotel never employed these individuals." This is because they were technically employed by ESquared. However, their lawyer argues that BLT Prime's contract gives the hotel control over its employees.
The plaintiffs are seeking $14.5 million in damages, but nobody at the hotel seems terribly concerned. Signs definitely suggest that despite the onslaught of lawsuits, business at the hotel has been brisker than even the Trump Organization expected. In fact, BLT Prime's chef David Burke has been busy lately defending his owner's steak preferences: "A lot of Americans eat well-done meat," he told Eater on Tuesday. "As far as the ketchup goes, [Trump] likes French fries, and most likely the ketchup was for his fries."