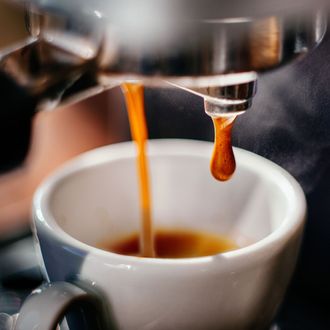 Coffee shop crawl, anyone?
Photo: Guido Mieth/Getty Images
Nobody needs an incentive to drink coffee, but today is giving you one anyway. It's marketers' beloved annual National Coffee Day, one of the few made-up food holidays you can exploit because the thing being "celebrated" is cheap enough to give away for free. (Note to organizers: That's your big hang-up with National Filet Mignon Day.) Most of the big chains have caffeinated freebies today, or at least discounts on coffee.
Dunkin' Donuts: Purchase a medium or large hot coffee, and receive a free medium-size one. Or, if you're in North Carolina, congrats — you have a better option than brewed coffee: The chain collaborated with Catawba Brewing Company on a brown ale made with pumpkin-flavored cold brew. So-called Dunkin' Punkin is at Catawba's taprooms starting today, until barrels run dry.
Peet's: All coffee beans are 25 percent off today, plus you'll get a free coffee with any bean purchase.
Tim Hortons: "Download our app, get a FREE coffee*," the chain says. This promotion runs through October 8, but gets cut off after the millionth free coffee. Also, that asterisk? It refers to the fact that you have to "activate" the app, either by loading $10 into the account or making a purchase.
Krispy Kreme: Get a free hot drip coffee in any size, or a small iced coffee. Their deal runs through October 1, and is good for one per day.
McDonald's: Help yourself to a small McCafe beverage today for $2. That's only a 40-cent discount in most markets, but it's better than nothing.
Cinnabon: Just show up and you'll get a free 12-ounce coffee, no purchase necessary.
7-Eleven: Get a free coffee, any size, by presenting a code that appears in the company's 7Rewards app.
Wawa: Get a free any-size cup of the convenience store chain's coffee all day long today.
Pilot Flying J: Get a free cup of the alleged "best coffee on the interstate," or any small hot tea or cappuccino. You'll need to show them this online coupon.
Keurig: All weekend long, "most" boxes of K-Cups are 15 percent off. But you should go for the Green Mountain Coffee recyclable kind — it's a clear win for the environment, plus Keurig is discounting those by 20 percent.
Lyft: Not even the ride-hailing industry can resist National Coffee Day's siren call anymore. Take a Lyft ride today in eight cities, and your driver will present you with a free can of High Brew cold brew. The participating cities are Seattle, Portland, San Francisco, L.A., Chicago, Austin, Dallas, and Philly.
Per usual, Starbucks is creatively boycotting the holiday. No free coffee, and definitely not even tiny discounts to subsidize that $5 PSL. Instead, participating cafés have removed their menu boards entirely today, and will use that space to lecture customers on "the role" of coffee farmers and humble-brag about the company's commitment to ethical and sustainably sourced coffee.