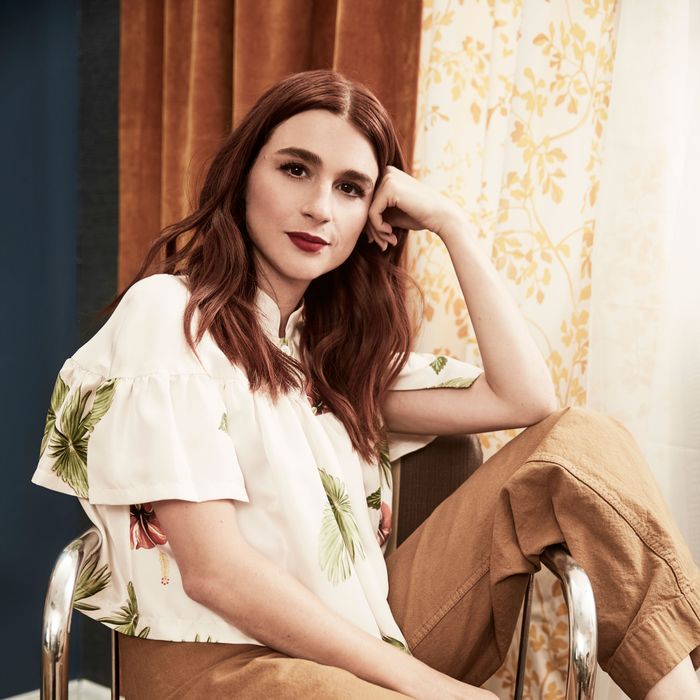 "I decided that ordering fast food that costs less than the delivery fee is my 'I make a good living now' splurge."
Photo: Maarten de Boer/Contour by Getty Images
Aya Cash films You're the Worst in Los Angeles, but she considers New York her home. "I learned to like L.A. by eating my way through Jonathan Gold's recommendations — from Jitlada to Jon & Vinny's," she says. This week, she bounced back and forth between L.A. and Toronto for TIFF, which led to eating Smartfood at the airport and a "shitload of blue cheese" in a press room. "Unfortunately, I've been working and traveling all week, so bear with me. I'm not going to pretend that I cook all the time and make gorgeous vegetable meals that are delicious, happy-face emoji, Instagram-photo hashtag, #lifestyleblogger." Read all about it in this week's Grub Street Diet.
Thursday, September 7
I wake up at 4:30 a.m. to go to work. Well, technically, I wake up at 2 a.m. for work — I probably should stop falling asleep to true-crime podcasts, considering that I am sleeping with scissors under my pillow and waking in the middle of the night convinced that I'm being burgled. I wake up again for work at 4:30.
I always grab a bar for my drive to give me a little energy. In the makeup trailer, I lie flat while a beautiful redhead named Kristina covers my '90s tramp stamp, so I can walk around in my underwear without getting sued by a random tattoo artist from Haight Street. I eat French-toast sticks made by our catering. Set coffee isn't great, but the director buys me a cup — black, no sugar, and I drink that while we shoot our first two scenes in a hotel room downtown.
Once I finish work, I run by Beverly Hills Juice Club and buy a ridiculously named but magically delicious "Green Genie Banana Manna Almond" with an "E3 Live Shot" because, you know, health. I tend to eat all day rather than big meals, so when I get home, I eat a bunch of salami and half a wedge of Sonoma Jack garlic cheese, which I can't get on the East Coast, so I stock up on here. About an hour later, I grab a Kozy Shack rice pudding and a couple handfuls of challah bread while I pack for my trip to Toronto, and then attempt to eat a "real dinner": Korean-bao leftovers I had made from Blue Apron the day before. Well, I actually rarely cook it. I've never been much of a cook besides making tacos and pasta. My husband makes it since I'm working all the time; he plays househusband, and I'll show up and it's all ready. Coffee ice cream for dessert.
Friday, September 8
I get up early for a plumber who never shows up. Eat a bar (Think Thin caramel sea salt — what a terrible name for a nutrition bar, Think Thin) and make a cup of Stumptown coffee. My favorite café in Brooklyn is Cafe Pedlar, they use Stumptown, and it's what I normally make for myself. Then off to the airport, where I run into friends also en route to TIFF.
We laugh at how many agents are there, flying in suits. I'm in a secondhand onesie. I buy snacks: pineapple, beef jerky, cheese, and yogurt, in anticipation of crappy airplane food. I always swear that I'm going to bring food, and then grumble moodily when the clerk checks me out. Shock and awe over a $3 banana. I settle in with my lines for next week's episode and a book (The Argonauts by Maggie Nelson), and immediately ignore both to watch A Fish Called Wanda on the in-flight entertainment system. I eat the roll and a bite or two of an indeterminate pasta dish from on the plane, and a chocolate cookie for dessert … I do work out. Mostly Zumba. I'm not a great dancer, but a joyful flailer.
When we land, I plan to order room service, but I rally and have dinner with friends. It's an upscale Mexican place (Los Colibris), and I'm skeptical about Mexican food in Canada, but it's wonderful. I have spicy grilled shrimp, kale salad with mango-and-pineapple dressing and some queso, and chips and guac.
Saturday, September 9
Bar, yogurt, and hotel coffee while getting hair and makeup done for the day of press and the premiere of Mary Goes Round. I did this tiny indie in Toronto last year with a first-time writer-director, and it is such a special project. I hope people recognize Molly McGlynn as the magical genius that she is. Her cinematographer, Nick Haight, is also incredible and just turned 26, which is insane and makes me feel inadequate.
Lunch is on a break at the InterContinental hotel restaurant. I order corn soup, sautéed veggies, and a smoothie, along with coffee No. 2.
There seems to be coffee at every press room, so I have an espresso about an hour after lunch. I normally don't have this much caffeine, but I'm super tired from this abnormally bougie, glamorous weekend. Another press room has appetizers, so I scarf salami, prosciutto, and a shitload of blue cheese, and grab a matcha tea. After the premiere, there's a party, and I grab a couple of spring rolls from the passed trays.
Hotel break for a standing nap, so I don't mess up my hair and makeup, since I have another event in a few hours. I munch on some of the airport-bought beef jerky. Molly, my friend Erica, and I all head to another actress's apartment and drink a glass of rosé with ice in it, which is not my normal drink. We head to the party where Molly and I hover by the sushi bar and stuff our faces, and try not to look as awkward as we feel. I go home earlyish, but am kept up by the room next door, whose occupants are either partying or fighting. I call security, and try not to feel bad by pretending I am saving someone's life … they party or fight until around 3 a.m.
Sunday, September 10
I wake up at 6:30 a.m. Bad hotel coffee. Hair and makeup. Press till 10:30, when I finally eat. We go to a diner in the Thompson, and I order half the menu. Oatmeal, fruit, apple-cinnamon French toast, and waffles. Molly laughs at me, but shares. More press, then I get to go wait at my hotel for a couple of hours before getting back on a plane to L.A. I finish the beef jerky.
At the airport, I eat a bag of Smartfood popcorn, which I am delighted to find because it's my favorite snack. I then eat some black licorice, which I know is controversial, but I love. On the plane, I eat the crappy meal of another unidentifiable pasta and a bread roll, and have fruit and a cookie for dessert. I don't fly business class unless someone else pays, and I feel like I have to take advantage.
I read a little, prep lines, then watch a show about why we love cats and dogs, and then a Grand Design show. I get home at 10:30 p.m. and eat some salami and tofu, which don't go together, but do in my life. I make a cup of turmeric tea and fall asleep around midnight.
Monday, September 11
I wake up at 4:30 a.m. and drive for an hour to Malibu. I don't eat anything because I want to sleep until the last possible moment. On set, I order a mixed juice (contents unknown) and French-toast sticks. I have a break around 10 a.m., and make phone calls and schedule moving stuff for my husband, since we just moved to New York. I just come out to L.A. to shoot for a few months. I miss New York so much this year. I eat a banana and drink some burnt coffee and fall asleep with my hands on the keyboard.
When we break for lunch, I decide to skip catering and make a PB&J and an "apple bowl," which is cut apples that I dip in peanut butter and granola. I would normally use Postmates to order Taco Bell when I am not feeling the set menu for the day, because I decided that ordering fast food that costs less than the delivery fee is my "I make a good living now" splurge. Our cinematographer and the wardrobe and hair departments also share my love of T.B., so I will often order for everyone. Unfortunately, there seems to be a lack of Postmates and Taco Bells in Malibu.
I munch on a couple of mini-Butterfingers and a strawberry Popsicle, while we shoot on top of a bluff overlooking Zuma Beach. There's a hawk hunting above us, hanging in the air like a kite. It's a blustery, warm day, and I keep thinking about how fucking lucky I am to do this for a living. Desi [Desmin Borges] and I are both big into food, but we've learned not to eat on the show. I ate all the time my first two seasons and would get sick. Six hours of eating anything is pretty gross.
We finish shooting at 6 p.m., and I add an extra half-hour to the hour commute to pick up Sugarfish sushi. I guess I didn't get enough of it on Saturday night! I order a "Trust Me Lite." It's delicious and pricey and very "L.A." For dessert, I eat some Champagne Sugarfina gummy bears that I stole from a press suite yesterday, and have my nightly cup of tea (dandelion vanilla) before passing out.
Tuesday, September 12
I'm up at 5:15 a.m. for a 6:15 call time. I am out of food at my place because I'm going back to New York this weekend and don't want to grocery shop and waste food. I head to work on an empty stomach, but I am not hungry yet anyway. On set, I have a banana and a coffee and that juice mash-up, but I basically skip breakfast. This turns out to be a horrible idea, since we are driving around on a rig all day and away from the grazing food of craft services.
I grab hummus and pita on a break and another apple bowl. It's insanely hot driving in the sun all day, so I down gallons and gallons of water. I recently heard that sparkling water is bad for you, which just depresses the hell out of me because I drink massive amounts. We end up having to skip lunch in order to finish our day, so at 5:30, I drive manically toward In-N-Out, order two cheeseburgers and fries, and eat in the car.