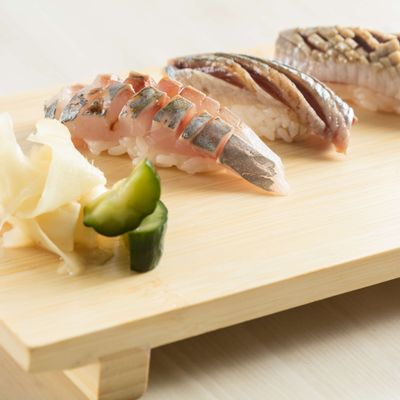 Sushi: aji (horse) mackerel, sanma (pike) mackerel, Japanese sardine.
Photo: Melissa Hom
Unlike many of the elaborately appointed Japanese-themed tasting parlors, sushi joints, and kaiseki palaces that have been blooming up all around town during this era of what your weary critic has called "peak omakase," Ato, which opened with barely a whisper several months ago in a former bespoke-shirt store on the far western fringes of lower Soho, is easy to miss. There's no double-height, chandeliered dining room for patrons to admire as they sip their bottles of extravagantly priced Champagne (as at Mifune, new in midtown). There's no private Zen rock garden on the premises (Naoki, new in Chelsea) or storied sushi master in residence (Tasuku Murakami at the Lobster Club in the Seagram Building, Toshio Suzuki at the very good Suzuki, new in midtown) to attract the attention of crowds of devoted, deep-pocketed Wall Street fanboys, not to mention members of the rabid food press.
Ato ("art" in Japanese) is so easy to miss, in fact, that your weary critic lumbered past the modest little space many times (it happens to be a block away from the office) before stopping in, randomly, on a recent temperate summer evening. The little room was mostly empty, except for the chef and co-owner William Shen, who was behind the counter prepping for dinner with his two cooks. There was a white cuckoo clock on the wall next to the four-seat omakase counter, and below it, on the floor, were a couple of worn basketballs ("We like to play after serving lunch," one of the cooks said). Aside from the small state-of-the-art kitchen, the most elaborate feature of the room is the bank of floor-to-ceiling windows, which separates the simple wood tables from the street and gives you the impression, as evening falls, that you're dining in a translucent, brightly lit box.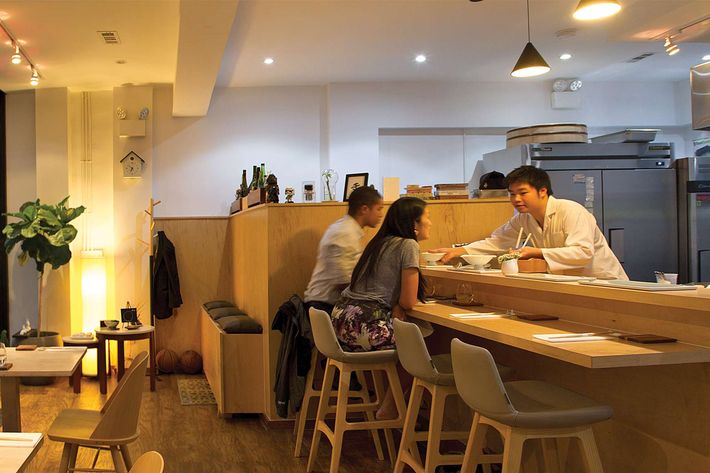 Shen's parents are Japanese, but he grew up in Oregon and is a veteran of a series of top-notch kitchens around town, including Masa and Jean-Georges. He describes Ato as a French-Japanese fusion restaurant ("Where French delicacy meets the Japanese emphasis on fresh and quality ingredients" is how the website describes it), but the combination of focused sensibility and small-scale, homespun style makes the cooking feel like something you'd encounter down one of the more stylish culinary backstreets of Tokyo. The first thing I tasted was a cool, dissolving portion of uni, which was marinated in a soy reduction, sprinkled with crushed sesame seeds, and placed at the bottom of a clay-fired bowl chosen to match the color of the uni. A bite of gently cooked lobster came after that, followed by a pair of sweet scallops that I popped happily in my mouth, and then muttered, to no one in particular, "I'm coming back to this place for lunch."
These scallops are dressed with just a touch of sea salt, and each one is aged for a few days ("One for three days, the other for eight days," our merry server said) to deepen its flavor. They're part of the $125 omakase menu, although if you want the chef's full attention, you can plunk down $160 for a classic Japanese-style tasting extravaganza at the counter. Scallops also appeared later in my first non-counter omakase, wrapped like some savory form of seaside candy in a lightly toasted slip of seaweed. Included in this blur of unexpected pleasures was a tiny, inventive bouillabaisse (made with sea bream, a classic Provençal shellfish reduction, and a warm square of potato dauphinoise); a pair of whiskery, perfectly grilled prawns flown in from Hokkaido; and some of the best nigiri sushi (sardines, silvery pike, slips of finely carved gizzard shad) that I've tasted all year.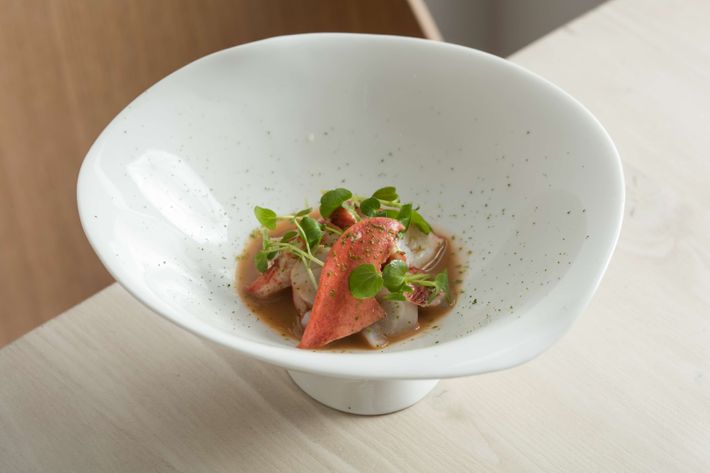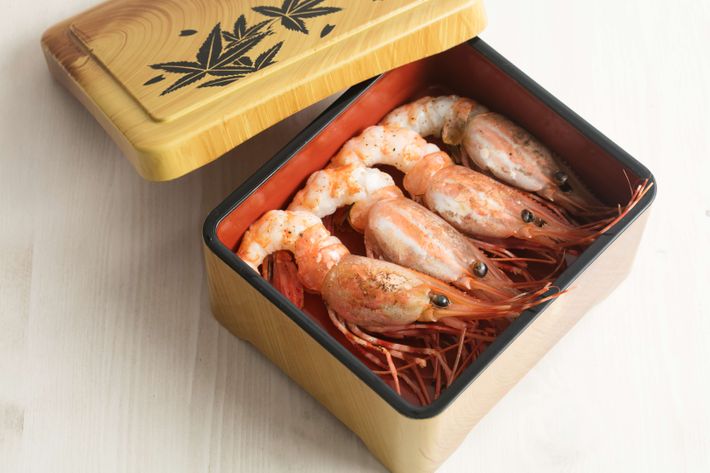 It pains me a little to report that this sushi portion of the omakase is not available on the modestly sized à la carte portion of the menu, but if you choose wisely, it's possible to dine well without shelling out the usual treasure (and time) for the ritual tasting experience. You can get a more substantial order of the aforementioned marinated uni for $18, and if you're feeling hungry, it's also available over a bed of shiso-infused rice in a traditional lacquer box ("uni don," for $25). I counted three other bento-style don options on the menu (if you want to sample the day's selection of sashimi, call for the "kaisen don," loaded with slices of tuna and Hokkaido prawn), which you can complement with a medley of sautéed mushrooms (chanterelles and king oysters on my visit), or raw oysters that the chef gets from Coos Bay, back in Oregon, and serves with wasabi and a spritzing of yuzu in a great pearly-white shell.
You can enjoy a robust selection of sakes to go with your dinner at this neighborly establishment (there are 21 bottles on the list) and a handful of mostly French wines (six bottles, each available by the glass). If you happen to visit the spare little dining room at lunch, you'll find Shen and his team behind the counter brushing slices of maguro tuna with soy and grilling fat slices of freshwater eel (unaju), which are served, like all the lunch dishes, with steamed rice, a bowl of rich egg-drop-miso soup, and pickles on the side. Like most things on this semi-fusion menu, dessert skews less in the direction of France than Japan, which means sticky balls of sweet-rice-paste omochi appear after the savory dishes are cleared away, along with a green version of panna cotta colored with matcha tea, and a kind of Proustian sugar cookie made by a company in Hokkaido, which the chef of this interesting little restaurant grew up eating as a boy.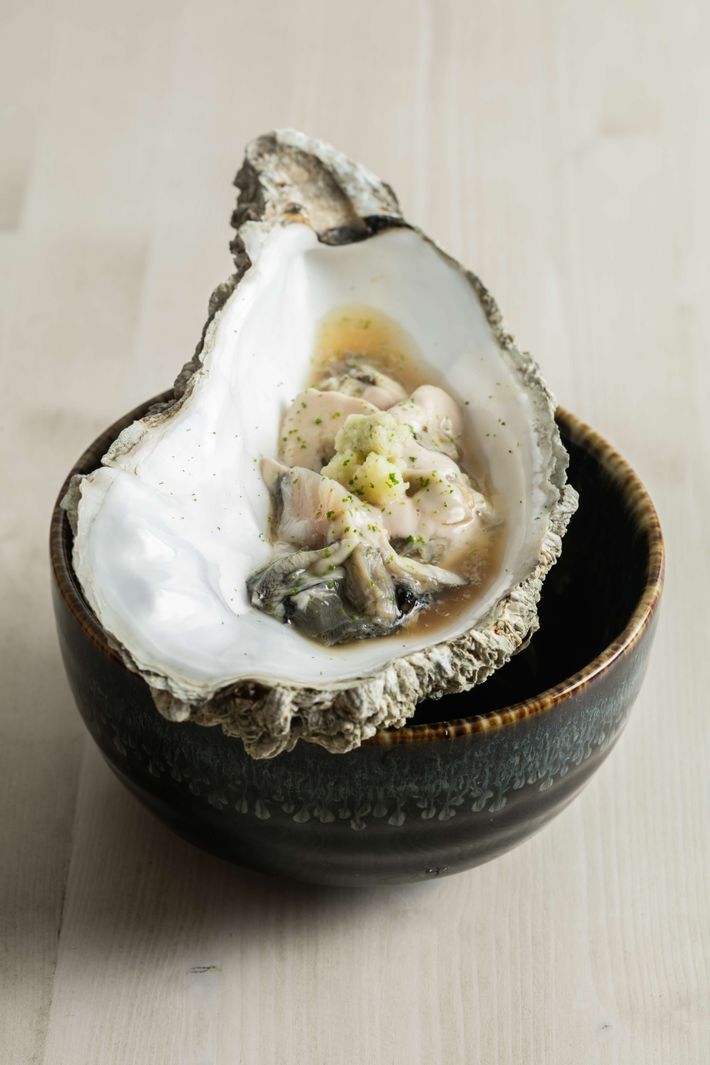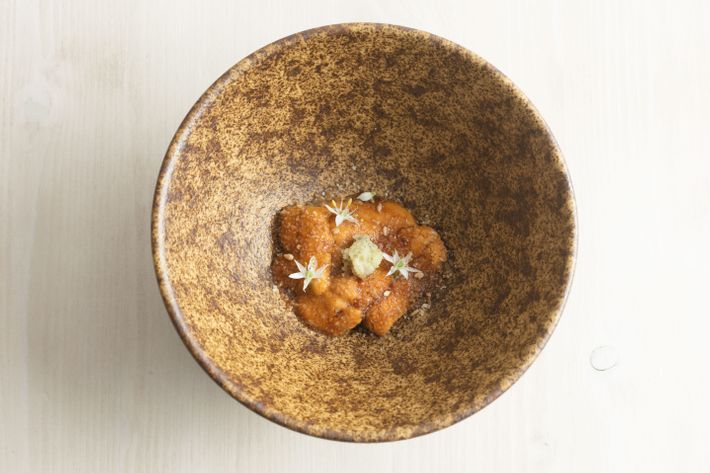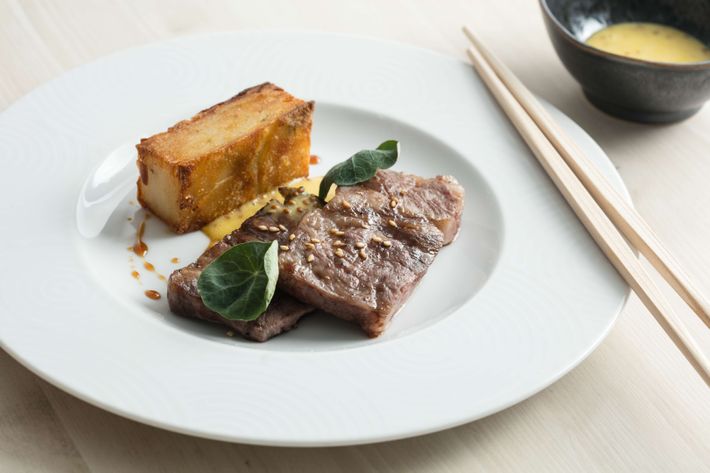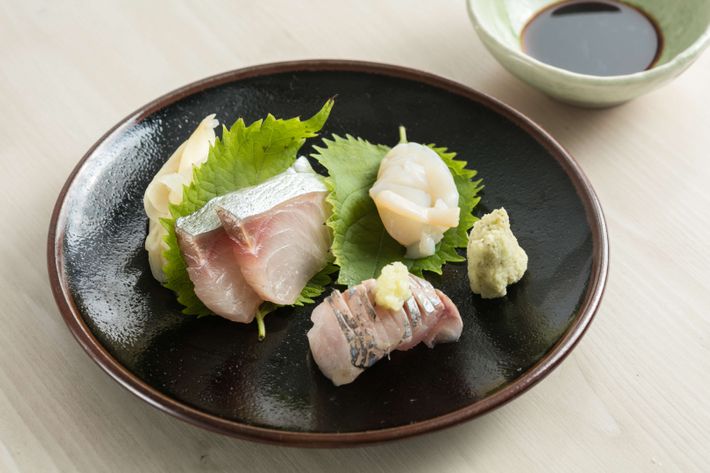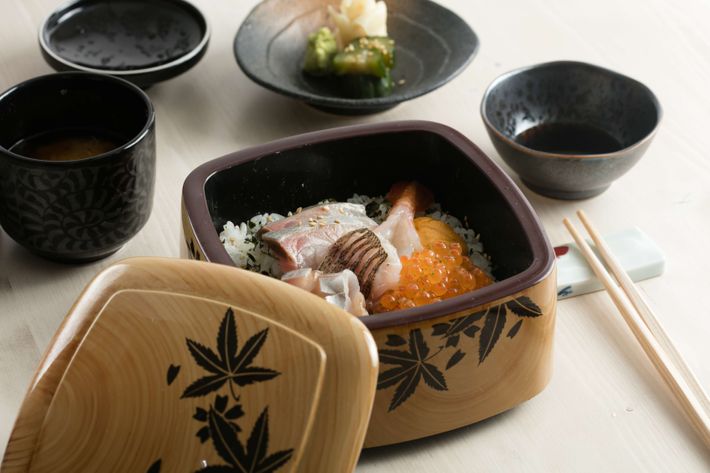 Ato
28 Grand St., nr. Sixth Ave.; 646-838-9392; atosoho.com
Open: Lunch Tuesday to Friday; dinner Tuesday to Sunday.
Prices: Set menus, $55 to $160; $15 to $90 à la carte.
Ideal Meal: The $125 omakase tasting menu, or, if you're dining à la carte, the grilled botan prawns, the ikura uni rice box, and oysters.
Note: The $55 six-course prix fixe dinner is a good option for more frugal diners, but if you're living large, call for the grade-five Wagyu for $90, with potato dauphinoise and a whipped mustard sauce on the side.
Scratchpad: Two stars for ingredients and technique and another for innovation and originality.
*This article appears in the September 18, 2017, issue of New York Magazine.