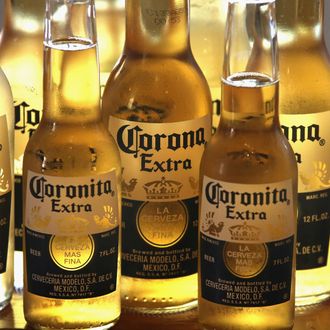 Make the "American Dream" Mexico's again, AB InBev pleads.
Photo: Scott Olson/Getty Images
President Trump won't need that big, beautiful wall if everyone in Mexico just follows Anheuser-Busch InBev's brilliant new business plan. The world's largest beer company has released an ad urging Mexicans who plan to work illegally in the U.S. to instead consider opening a store that sells its beers. It's part of a push to open more locations of Modelorama, a small convenience chain in Mexico that's run by Grupo Modelo, the AB InBev–owned brewery that makes Modelo, Corona, and Pacífico, and controls 63 percent of Mexico's beer market.
The ad strikes a very serious tone. Its format is a four-minute-long mini doc shot by Mexican filmmaker Juan Carlos Rulfo. "The lack of economic opportunities in Mexico," he explains as dramatic music plays, "is why a lot of people emigrate from Mexico and abandon their families to go in search of the 'American Dream.'" News stories flash on the screen about how the cost to smuggle yourself into America has now jumped by 130 percent. Enter Grupo Modelo, apparently: It might now set you back "between $3,000 and $20,000" to cross the U.S. border illegally, but it takes just $5,000 to start your own Modelorama store, and there's no fence-hopping.
"It isn't just a convenience store that sells alcohol," the video says — it's more like having a money tree, since "the beer moves on its own." ("If it was up to me," one happy Modelorama owner adds, "I would already have like five!") Right now, Grupo Modelo operates about 8,000 of these across Mexico, and an executive tells Ad Age they open another two or three every day — 900 so far this year alone. Modelorama's business model, he explains, just requires a little upfront investment; the company then gives you the space, outfits it with refrigerators, and delivers the beers you'll be selling. They'll even let about 10 percent of the store's products be things A-B InBev doesn't make, like Cokes or chips.
As it turns out, the U.S. government won't let AB InBev sell Corona or Grupo Modelo's other beers in America for antitrust reasons (those brews are owned by a different megacompany, Constellation Brands). AB InBev's Mexican portfolio, however, includes all of Grupo Modelo's beers, plus Budweiser, Bud Light, Stella Artois, and others.