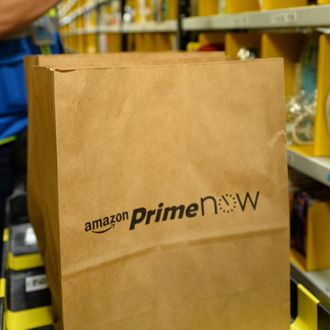 Fill 'er up.
Photo: Eric Piermont/AFP/Getty Images
Amazon's tentacles are extending even further into booze delivery, a realm known for giving almost every would-be "disrupter" a headache, thanks to all the legal and logistical problems associated with shipping alcohol. Just to scratch the surface: USPS won't deliver at all, and UPS and FedEx will, but only if specific requirements are met. Then there are other issues like IDing package recipients, mailing bottles across state lines, and the annoying little catch that America's three-tier distribution system prevents certain beers from being distributed everywhere in the country. (There's a running joke that the only person who made money off Wine.com is the person who sold the domain.)
But "if anybody can apply pressure and creativity to the problem," it's Amazon, people in the industry tell CNBC. Back in August, the company very quietly added a handful more cities where Prime members can pay $8 for one-hour beer, wine, and spirits delivery (or get it for free, if they'll wait two hours). This service is now available in a total of 12 cities: Cincinnati, Chicago, Columbus, L.A., Minneapolis, New York, Phoenix, Portland, Richmond, San Diego, San Francisco, and Seattle. Another 20 are supposed to be added soon. Alexa also does alcohol voice-orders in some areas, and earlier this year, MillerCoors created an Amazon Dash button specifically for beer.
Back in June, MillerCoors celebrated the Whole Foods deal as a very good thing for the beer company's "strong interest in home delivery of beer," predicting that Amazon might let shoppers "click and collect" beer at their local Whole Foods. The old Whole Foods didn't stock Coors Light, but the old Whole Foods didn't sell "Farm Fresh" Echos or contemplate stocking organic Doritos, either, so the beer-maker has reason to be excited.
Amazon's muscle is even better for smaller craft breweries, meanwhile, that normally have several obstacles to clear before their beers get onto grocery shelves. Some involve retailers, others involve distributors — but now, Amazon can handle all of that for them in one fell swoop. Ohio's Great Lakes Brewing Company tells CNBC that now Whole Foods handles everything with "both distributors and Amazon to coordinate online beer sales." The brewery says it's too early to have "any real insight as to how it's going," but probably don't expect them to come back in a year and say, "This Amazon one-click-ordering thing isn't really working for us."