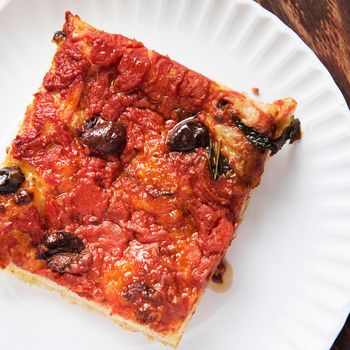 This dough is soaked in sauce for hours before baking.
Photo: Liz Clayman
The chef Roberto Aita took a trip to his childhood home in Calabria in August with a mission: learn everything he could about the simple-but-delicious pizza his "nonna" used to make, baked in a deep pan with chili and freshly squeezed tomatoes, surrounded by olive oil so it tastes almost fried. What he learned after going back is that the pizza hasn't changed one bit.
During his trip in Southern Italy, he ended up being an apprentice to an old pizza guru in a Calabrian bakery, and Aita is now taking that recipe to Aita Pizzeria, a small, mostly takeout space he's opening this week in Clinton Hill, his fourth spot in Brooklyn. It starts with a three-day proofing process for the dough. On the third day, Aita presses Calabrian chili powder into the dough, then covers it with a simple sauce of tomato, garlic, and basil. The dressed dough absorbs the sauce for seven or more hours, before getting topped with more tomato sauce and Kalamata olives before it's baked.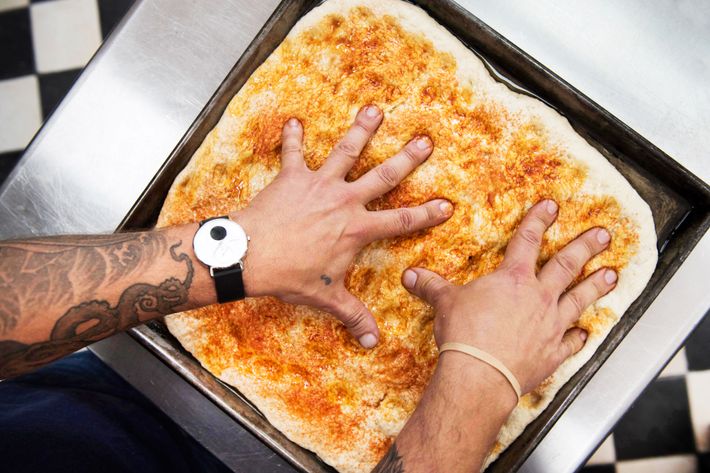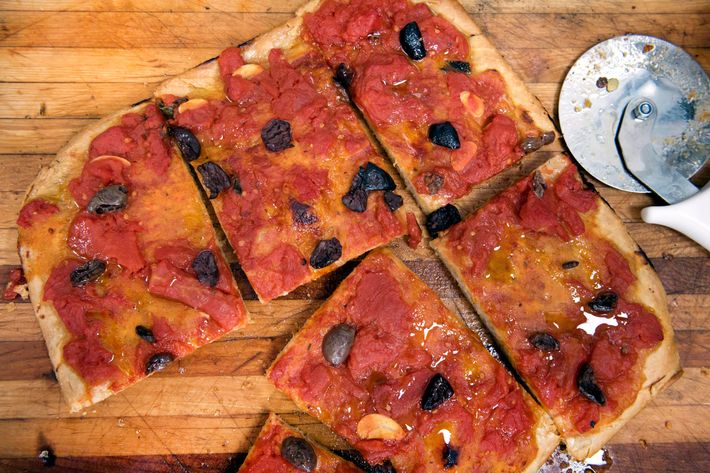 The cheeseless pizza — $2.50 per slice or $18 for a large pie — emerges from the oven with an airy crust, a hint of spice from Calabrian chili, and the distinct brightness of San Marzano tomatoes. While it looks a bit like a traditional grandma pie, it's hard not to also compare the pie to crunchy, tomato-covered focaccia.
As for whether "Calabrese" is an actual, recognized style of pizza is something of a matter of debate. Aita says Italians do acknowledge it, and that it's just never caught on in America. Now, he'd like to help put it on the map. However, his fellow Brooklyn pizza expert Nino Coniglio — who owns Williamsburg Pizza and was crowned Pizza Maker of the Year at the 2016 International Pizza Expo — says that in Italy, "Calabrese" pizza is not a distinct style, but instead a reference to toppings that are associated with the region, such as olives, onion, chili, or sausage. To Coniglio, Aita's pizza sounds more like a version of what Italian grandmas would make in their homes — Aita's nonna included, apparently.
Authentic or not, it's the definite star at the new spot, where you'll also find more traditional American offerings like classic New York slices, pizza rolls, calzones, and lasagna. And, to warm people to a new style of pizza, Aita's offering a "Calabrese with cheese," which just might be as inauthentic as it gets, even if the end result will be familiar to New Yorkers who love a good Sicilian slice.
Aita Pizzeria, 373 Waverly Ave., Clinton Hill; 718-789-1520