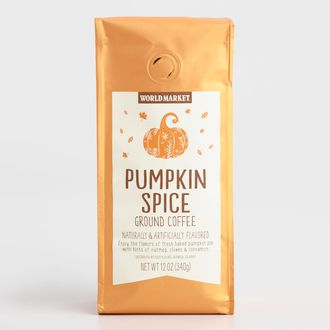 Designed to fit perfectly inside your beach tote.
Photo: World Market
From a marketing perspective, the downside of fall, better known as Pumpkin-Spice Time in America, is getting your harvest-themed product to really stand out. The sea of orange has not only flooded every mediocre coffee brand on the planet — it's also infiltrated hummus, seltzer, kale chips, butter, vodka, fettuccine, Peeps, and pretty much everything at Trader Joe's. Nothing's left to spice, so companies trying to edge out the competition have only one tactic at their disposal — get their thing to market first. This year's prize goes to World Market, that Bed Bath & Beyond–owned home-décor retailer that sells a hodgepodge of candies, jams, pastas, oils, and beer next to its papasan chairs and ottomans. You can buy 12-ounce bags of its annual pre-ground coffee infused with "the flavors of fresh baked pumpkin pie" starting today, which, once again, is the first day of the month of August.
The company feels its release date is doubly timely: On top of carving out a sort of pumpkin-spice first-mover advantage, it also allows World Market to "celebrate" National Coffee Month with special-edition bags. National Coffee Month is a made-up observance that Grub is going to assume, by deductive reasoning, occurs in August. World Market sent out an email blast today announcing both momentous occasions, and is also tweeting the exciting news:
In past years, the first pumpkin-spice perpetrator has often been Starbucks, which generally has the decency to at least wait until after Labor Day.