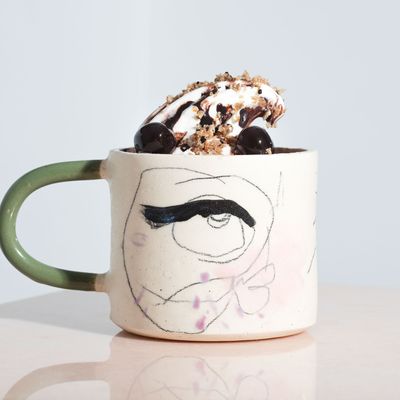 Salted-caramel and fior di latte soft-serve with bran streusel, black cocoa sauce, and Amarena cherries.
Photo: Melissa Hom
All chefs must balance their creative impulses with the harsh reality of doing business in New York, which starts with finding a space and paying astronomical rent. A pop-up gallery meets café in Park Slope, named Wifey, aims to shine a light on that struggle for the city's creative class, while also making sure its patrons are well-fed.
Owners Simone Shubuck and Janine Foeller met through the art world. Foeller owned Wallspace, a gallery in Chelsea, for over a decade, and Shubuck is a contemporary artist and floral designer; her art is on display at Wifey. Shubuck, though, has close ties to the food industry. She worked as a server and a florist at Gramercy Tavern and Babbo, and she's married to Adam Rapoport, the editor-in-chief of Bon Appétit. "People were like, 'Why would you open a food place? Are you insane?'" Shubuck jokes. But as Foeller notes, "This allows chefs to do things that extend beyond their structures."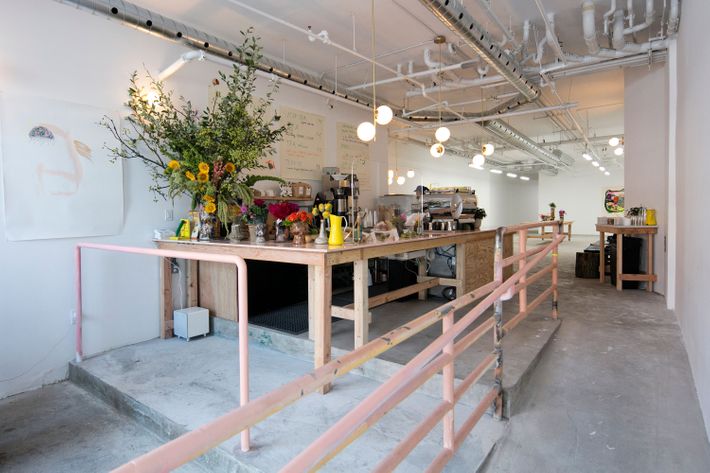 Shubuck made a list of 40 chefs and bakers she wanted to bring on as collaborators, drawing from her longstanding relationships. Ignacio Mattos (Estela, Cafe Altro Paradiso, Flora Bar) and his pastry chef Natasha Pickowicz are making sandwiches, vanilla-tequila sponge cake, wild-huckleberry preserves, and soft-serve. Shubuck tracked down Pam Yung, the former Semilla owner who's staging around the world this year, to make whole-grain focaccia; since she's traveling, she taught Mattos (her former boss at Isa) and Pickowicz her recipe. Bon Appétit's Brad Leone supplies the cultured butter and tepache. "I ran into Marco Canora at yoga — I worked with him at Gramercy Tavern in the early '90s — and he was like, 'I want to get involved,'" Shubuck says. He and DeMasco, now the pastry chef at Hearth, will make cranberry-oatmeal muffins, rye-chocolate scones, apple-cider doughnuts, savory granola, grain salads, and bone broth for Wifey this fall. Claudia Fleming's cookies will likely hit the menu, too, if Shubuck can figure out how to get them from the North Fork to Brooklyn.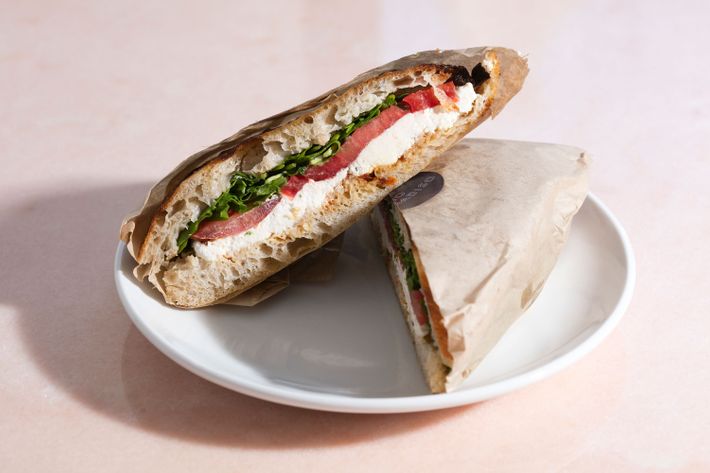 The whole point is that the food will change frequently during Wifey's run through the end of October. "We want to disrupt the predictability of what an art experience is or what a food experience is," Shubuck says. They also want to draw attention to how challenging it's become for New York artists — chefs included — to afford a physical space. Wifey only became possible after an art collector proposed that they move into his vacant space and temporarily "activate it," rent-free, before a permanent tenant moves in. "Who feels super secure in what they're doing?" Shubuck asks. "Who can kind of afford their rent? Who doesn't feel anxious that they're losing their jobs? I'm talking about chefs who are like, fuck, yeah, flip the table."
Shubuck realizes that for these contributors, though, "there's not much profit happening." Chefs have been eager to sign on precisely because the commitment is temporary — they can try out new recipes and also reach a different audience (Mattos and Canora had no prior presence in Brooklyn). Plus, Wifey is certainly less of a commitment for chefs than pioneering their own pop-up. "Balancing Wifey with my work at Flora Bar and Altro is challenging but not impossible — I'm definitely devoting a lot of time personally to Wifey," Pickowicz says. "I see this as a way of interacting with new techniques and ingredients. The focaccia was a huge learning curve because it's 100 percent naturally fermented. I learned how to use a soft-serve machine! These are the fun kinds of opportunities I'm happy to fold into my life. And because we both knew that the collaboration would only last for a season, it was possible to commit to a special menu that I had to test and adjust."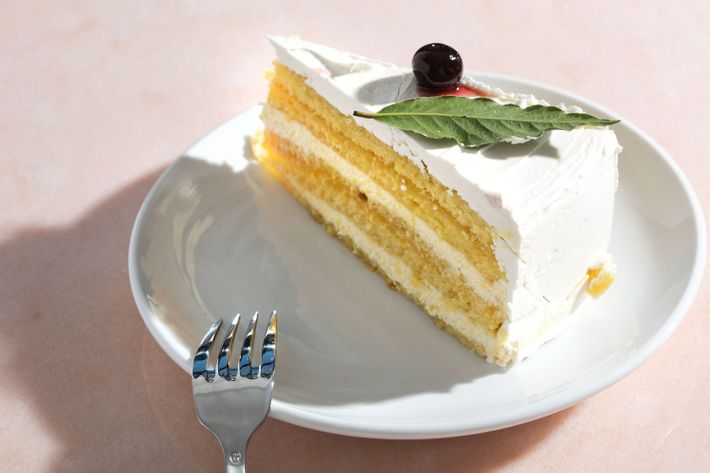 DeMasco echoes the sentiment: "The idea of mixing art and flowers and food in this cool space was really appealing … but the limited commitment of a pop up is really what made it possible for us," she says. "At Hearth, we're planning to open for breakfast and lunch at the beginning of next year, so this project gives us the chance to play around with some of the food we want to serve — to get a feel for what people like and what we enjoy making."
After the end of this run in October, Shubuck and Foeller aren't sure what shape Wifey will take, but they're open-minded. "I see it as this moving, organic thing that's always changing," Foeller says. "We're not necessarily stuck on sort of the concreteness of it." They want to afford themselves the same freedom they're giving chefs. "You just don't really have the opportunities to experiment in the capacity that we're trying to do right now," Shubuck adds.