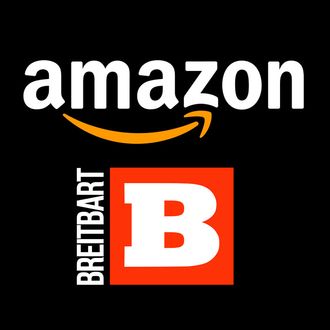 Not a connection lots of shoppers want to see.
Today's the dawn of the new regime at Whole Foods — a 365 Everyday Value page on Amazon.com, and cheaper avocados plus "Farm Fresh" Amazon Echos at kiosks inside stores. But Amazon's successful buyout does come with one downside, and that's the baggage of Jeff Bezos's refusal to yank any of his company's advertising from Breitbart News, which ex–Trump chief strategist Steve Bannon rejoined as executive chairman practically on his way out of the White House door. The push to drop Breitbart, stronghold for lots of racist alt-righters, picked up in earnest after the election: Kellogg's and several big corporations announced they were pulling all of their ads from the site, and the number of companies that followed suit has grown to more than 2,600.
Amazon is not one of those, however, and angry groups like Grab Your Wallet are calling on people to punish the tech giant's newest acquisition as extra leverage:
A Sum of Us petition demanding Amazon and Whole Foods both "stop investing in hate" has more than 590,000 signatures. Whole Foods' CEO John Mackey is a complicated man ideologically (very anti-Obamacare, strangely pro–climate change, yet describes himself as an "ethical vegan"), but the corporate values Whole Foods espouses seemingly conflict with Breitbart's, regardless. As Sum of Us's petition puts it, "Whole Foods claims its brand is all about altruism, sustainability and being good to farmers and the planet. Given this merger with Amazon, it's even more important to uphold that brand." Groups that are pressuring Amazon to cut ties with Breitbart have had trouble demonstrating their anger (it's tough to physically picket an e-retailer, though people have stood in the parking lot outside Amazon's shareholder meetings). With Whole Foods now fair game, the optics of waving "Breitbart = Fascism" signs in front of America's trendiest organic grocery store are considerably better.