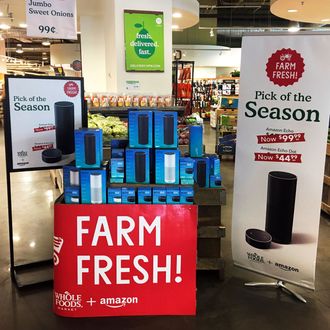 Short "season," apparently.
Photo: Joseph Pisani/AP
A lot of crazy things happened yesterday when Whole Foods opened under its new overlord. Prices on some grocery staples dropped by almost 50 percent. A meat department out in L.A. apparently went rogue and sculpted an Amazon logo out of ground beef. But what got the most attention were the Amazon Echos that mysteriously appeared in the middle of stores' produce sections. The displays where these smart speakers were being hawked nationwide, for $99 instead of the usual $179 retail price, carried big signs that said (groan) "Farm Fresh!" and "Pick of the Season."
Now, Jeff Bezos didn't make a nearly trillion-dollar company by doing anything naïvely. No shocker, then, that most of yesterday's moves were strategic. (For instance, most of the discounts were for Whole Foods' own 365 Everyday Value brand.) So, what if the reason all those Echos showed up was to help Amazon get rid of them? TechCrunch noticed a few hours ago that the device, curiously, is no longer for sale on Amazon's website, a discovery that coincides with recent news that the company's highly important personal assistant is due for an upgrade "later this year" anyhow.
Who knows, maybe Whole Foods shoppers impulse-bought a lot, like a lot, of Echos, even though Amazon was selling them for the same price online with free Prime shipping? Another possibility: Amazon — a company built around masterfully shipping products — did very poor planning and didn't keep enough Echos at fulfillment centers to meet ordinary demand. There are also probably a few other excellent explanations.
Grub Street has reached out to ensure it's not that Amazon is choosing to hose Whole Foods shoppers, and will update when it hears back.