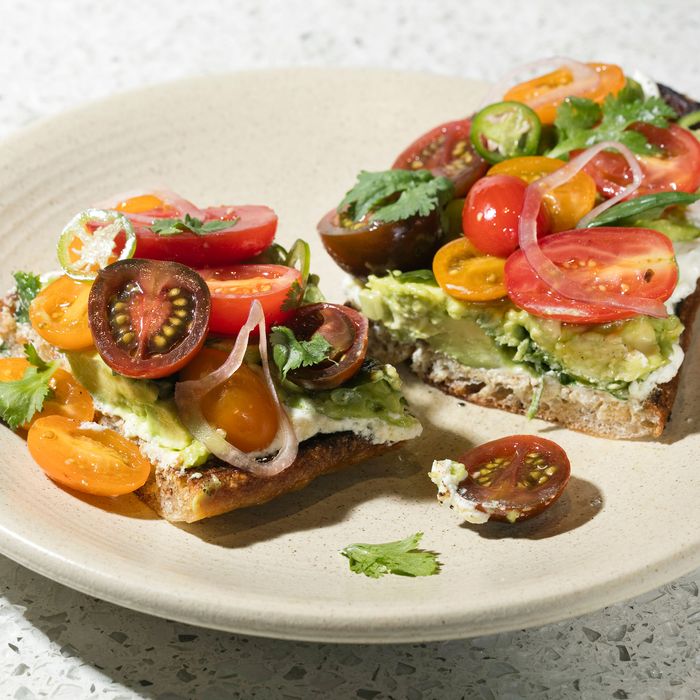 Atla is a good place to spend one of summer's last days or nights.
Photo: Melissa Hom
This time of year, the city is as empty as it gets, which means the city's dining rooms are, too. Take advantage of the slow season by finally having a meal at that place you've been meaning to go (or get back) to. Reservations open at hot spots and its often easier to just waltz in. Here, a dozen spots that are all popular, but maybe have been too popular for you. Whether they're walk-in-only or have easier reservations, they're places worth checking out before the crowds come back.
Atla
The all-day Mexican restaurant is, the Underground Gourmet wrote, "pretty much a perfect restaurant." Those enormous windows also make right now the perfect time to eat here during the day, so head over for guacamole-goat-cheese toast, café de olla, and (why not?) a mezcal.
Atoboy
Junghyun Park cooks a style of modern Korean cuisine that's expert, but for a very reasonable price ($39 for three dishes and rice). That combination of accessibility and originality has made it a top ticket, but there are lots of tables available the rest of this month, and especially during weekends.
Augustine
Keith McNally places are always a buzzy production when they open — or two decades after, as at Balthazar — and his latest has been no exception. If you've been daydreaming of vacations in Paris, but weren't able to spring for the trip, head here to finish off summer with steak-frites and baba au rhum.
Cote
The idea behind this restaurant is Korean barbecue for investment bankers. The meat is exceptionally good, and there's a more than likely chance that you lack a backyard, so where else are you going to grill a dry-aged rib eye yourself? You're not going to the suburbs, which is why you're here, so here's your spot.
Flora Bar
Are you uptown, really like Estela, but really don't feel like traveling? Then just head to its newer sibling in the Met Breuer, where you can eat lobster and crab dumplings before polishing off desserts from one of New York's rising pastry stars, Natasha Pickowicz.
The Grill & the Pool
The crowd that these two Major Food Group restaurants angle for is the type that migrates to the Hamptons during the summer. They're still hot spots, but certainly it'll be easier to get that prime rib with deviled bone, or lobster with coconut-and-orange vinaigrette, before the flocks migrate back for the winter.
Hanoi House
The St. Marks Vietnamese spot has maybe been the year's biggest surprise hit. It's been a boon for a city short on quality pho, but kind of a tease: The small size and big crowds have made it very difficult to get into. Those crowds should relent a little as summer winds down, so it's a good time to test your luck if you've been waiting it out.
Hao Noodle and Tea
New Yorkers fell hard for this West Village spot's take on cosmopolitan Chinese cuisine. After a quiet opening, it's been perpetually busy, thanks to word of mouth and a slew of good reviews. It looks easier to book a table right now than it has been in some time, so go and eat some of the city's very best dumplings.
Italienne
You can snag a table at the Flatiron restaurant no problem right now, so why not treat yourself to bigoli pasta with tomato or ocean trout with blood orange?
Lalito
The restaurant formerly as Lalo has a dedicated following, first cultivated by chef Gerardo Gonzalez at El Rey, and a California-leaning mind-set that'll at least encourage your escapist fantasies. Tables are plentiful right now, so have a mini-splurge on a dry-aged "baby steak."
Public Kitchen
Jean-Georges Vongerichten's new restaurant in Lower East Side's sceney Public Hotel is the new spot for Office magazine types and aspiring socialites. But early one recent Friday night when Grub stopped by, you would've had no problem popping up, grabbing a table, and kicking off your night with popcorn-cheddar fricco. (There's also its sister restaurant abcV, Vongerichten's all-vegetables-all-the-time restaurant.)
White Gold Butchers
April Bloomfield's butcher shop–restaurant is the biggest thing in Upper West Side dining since Telepan and the Nuevo Latino chefs arrived. If you're looking to have a summery, meat-centric feast, you could do a lot worse than pork with peaches and mustard greens. Oh, and don't forget to order the crispy potato cooked in beef fat.