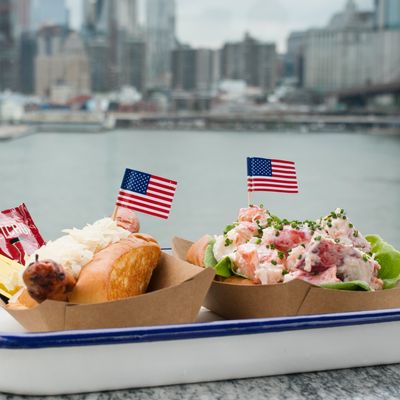 Why not a lobster roll up in the sky?
Photo: Melissa Hom
Every month in New York, there's a bewildering number of new dishes to eat, drinks to imbibe, and food-themed events to attend. Often, the hardest part is just figuring out what's really worth your limited time. So Grub kicks off each month with a curated collection of dishes, drinks, and events that should absolutely be on your agenda. Make your plans now.
1. Go to a party with all-you-can-eat Malaysian food and kegs of craft beer.
This is not your typical backyard barbecue. Joshua Bernstein, New York's king of the beer nerds (and occasional New York contributer), has organized an afternoon party with one of his favorite new breweries, Interboro Spirits and Ales, and Auria Abraham of Auria's Malaysian Kitchen. Reggae, satay, and IPAs (tickets are $45) goes down on August 13 from 2 p.m. to 5 p.m. at Abraham and musician Jeremy "Mush1" Mushlin's house in Ditmas Park. She'll cook an all-you-can-eat meal of spinach-and-chickpea fritters; the fruit-and-vegetable salad rojak (with fried tofu, green papaya, guava, and so on); chicken, beef, and tofu satay; and more. Interboro brewer Jesse Ferguson will bring kegs of IPAs and pilsners, and Mushlin (who also hosts WNYU Radio's Tunnel One) will DJ.
2. Check out one of the city's many exciting new brunches.
Are you the type who, even during peak beach season, plots at least one weekend day around brunch? Consider this your guide to your next month of weekend meals. Start with the Vietnamese hit Hanoi House. If you've been unable to get (back) in at night, the new morning menu looks very promising. There's a breakfast bánh xèo, made here with a fried-egg-and-dill crème fraîche, and egg coffee, a Hanoi speciality made with beaten egg. Over in Alphabet City, seafood restaurant Out East has brought on a new chef in Jon Bignelli (Alder, Grand Army) and introduced its own brunch. Expect fishier options like fritto misto ($19), along with crowd-pleasing, eggier dishes like a pizza bagel with marinara, mozzarella, and fried eggs ($15). Those inclined toward Southern food will want to head west, where the under-the-radar 33 Greenwich now serves pimento cheese with crudités ($17), Bananas Foster French Toast ($16), and short-rib hash ($17) during the pancake hours. Finally, the excellent cocktail bar Suffolk Arms has gotten in on the action with a menu inspired by the city's disappearing lunch counters. Think burgers, Hawaiian pancakes with dulce de leche syrup, plenty of eggs, and a mix of brunch-friendly and caffeinated cocktails like the Irish Coffee. Plus, everything is $5 or $10 — a relative steal for the neighborhood.
3. Drop by Elmhurst's newest Thai restaurant for papaya salad.
Elmhurst is ground zero for Thai food in New York. It's the center of Queens's Thai Town, with some of the city's most consistently delicious places to eat the cuisine. There's still room for more, clearly, as the neighborhood has added yet another spot to its roster. Hug Esan specializes in the Isaan region's fiery, pork-centric cuisine. Papaya salad ($15) and laarb ($7; with beef, pork, pork liver, and bamboo shoots) make their requisite appearances on the menu, which is rounded out by dishes like dill soup ($7), marinated fried pork ($7), and tum Thai poo with raw crab ($9).
4. Dig into Guilin-style noodles in the East Village.
More good news for those who can't get enough rice noodles. Yuan Noodle has opened in the former Biang space, with mi fen as the centerpiece of the menu. The approach here is more traditional than nearby Little Tong, where the noodles are loosely inspired by Yunnan's, and come in variations like Singapore-style stir-fried ($13) and braised beef ($14). The signature is the gui lin mi fen ($10 or $12 with broth), which comes with sliced beef, grilled pork, pickled long bean, crunchy fried soy beans, and chili flakes. A variety of dim sum, rice dishes, and larger dishes like a half crispy duck ($23) are also available.
5. Drink beer to support a dog-adoption organization.
Whatever your feelings about the current state of the world, there are two things you still know to be true: Beer is good, and dogs are better. On August 12 from noon to 3 p.m., Coney Island Brewery will host Puppies n' Pints, an organization that uses beer to connect people with local rescue dogs available for adoption. Go, drink some beers, pet some puppies. For every pilsner sold, the brewery will donate $1 to the organization — so drink as much beer as possible. If you can't make it this time, Puppies n' Pints will also drop by Ditmas Park's Sycamore from 1 p.m. to 3 p.m. on August 19.
6. Take advantage of all that summer produce.
As any greenmarket devotee will tell you, summer (and especially August) is the best time of year to eat in New York. That's especially true if you're a fan of tomatoes — go make some BLTs! — and is often the case at some of the city's better restaurants. Take Prospect Heights' Olmsted, which has recently introduced summer-squash fajitas ($15) with salsa verde, salsa roja crema, and blue-corn tortillas from El Atoradero; a BLT bowl ($17) with crispy pork belly; and pudding cake ($7) with fresh berries. At nearby Faun, they're serving sunny dishes like a watermelon salad ($15) with ricotta salad, pepita, and herbs; and raw scallop ($19) with 'nduja, cucumber, chickpea panisse, and yogurt.
7. Eat a lobster roll while gawking at great views of Manhattan.
Rooftop bars, it's true, can be a scene. If you're willing to battle the scrum for primo seats, though, the combination of views and booze can be intoxicating. Those who like lounging up in the sky will want to take note of the 1 Rooftop at 1 Hotel Brooklyn Bridge, which has just opened its pool to the public. The 3,475-square-foot space has unobstructed views of the Manhattan skyline and food from an alum of Andrew Carmellini's Noho Hospitality Group. Think grilling season (guacamole, $14; lobster rolls, $25; and hot dogs, $8) served alongside four straightforward cocktails (all $17), including a Dark and Stormy.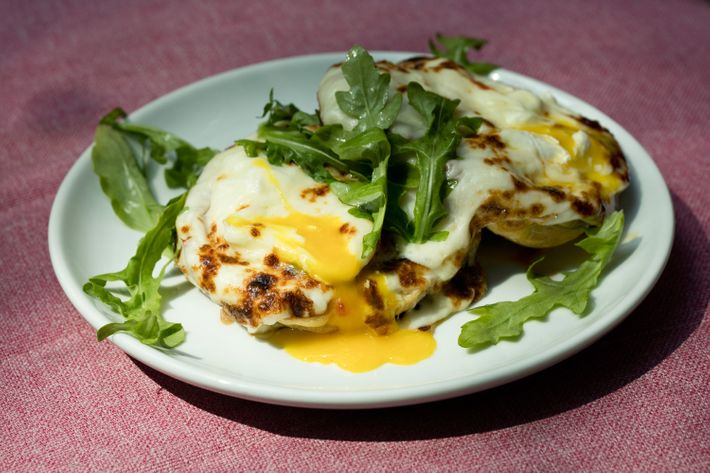 8. Watch short documentaries from a series about New York's dynamic food scene.
In his One Minute Meal series, James Boo has painted a compelling and humanizing portrait of the people behind New York's sprawling food world. Through September 3, Williamsburg's Museum of Food and Drink will show eight of his short documentaries (which are as long as the series's title suggests).
9. Get in as many frozen drinks as possible before it gets cold again
August is here. In other words, there are only so many days left before someone tries and fails again to convince you that you like hot toddies. Maybe, though, you've had the same frozen daiquiri for the last four weeks and are itching for something different. In midtown, the new Mexican restaurant and bar Vida Verde has opened with a duet of frozens ($13) including the Viva La Frida, which pairs tequila with orange curaçao, mango purée, chamoy, and roasted red pepper. Down on the Lower East Side, Nitecap — one of the city's better cocktail bars — introduced slushies ($15) for the first time this summer. On the menu? The Outer Limits is made with rum, Ancho Reyes, mango, pineapple, lemon juices, and grated coffee; while the Cloud Control amps up fortified wine with Grand Marnier, strawberry, orange, and lemon juices.
10. Drink tiki cocktails with a twist — they're made with food waste — at Mission Chinese Food.
They're bringing new meaning to trash drinks. It's true that Grub needs no excuse to drop by a tiki party, but how about one where the bartenders repurpose would-be food waste? That's the idea behind Trash Tiki, a partnership between Fords Gin and London bartenders Iain Griffiths and Kelsey Ramage. As part of a ten-city "tour," the duo (who made drinks for Dan Barber's wastED pop-up when it came to London) will drop by the New York Mission Chinese Food on August 13 and 14. There they'll take unused ingredients, by-products, and more to create tiki drinks, and conduct an afternoon seminar for industry professionals on August 14.
11. Head to Franny's one last time. And Fung Tu. And everywhere else that's closing soon.
At the end of August, New York's restaurant scene will feel, well, a little different to food geeks. Not because of any major openings, but because of a slew of significant closings. Franny's, one of New York's best pizzerias and a place that typified the brownstone Brooklyn restaurant of the 2000s, will close its doors on August 20. Short-lived retro diner Mr. Donahue's is done after August 5; mezcal bar and margarita destination Mayahuel will shutter on August 8; McNally bar Schiller's will be no more after August 13; and Fung Tu, one of the city's best spots for Chinese food, will be gone after August 31. Restaurants and bars close all the time in New York. But collectively these were some of the city's finer places to drink and dine, and it feels a bit like a "when it rains, it pours" moment. If you were a fan of any or all of them, don't wait to get in one last meal.
12. Eat pupusas while sipping on mezcal cocktails.
Madre Mezcaleria, Grub has noted, is a good place to drink. It's even better now that they're serving pupusas, the stuffed masa cakes from El Salvador. Chef Denisse Lina Chavez served the dish at her bodega in the Bronx, but here she's making them ($4 for one, $7 for two) with the blue corn nixtamalized in-house and stuffed with traditional fillings like cheese and beans; cheese and chicharrón; and cheese and the edible flower loroco. There are few better bar snacks, really.