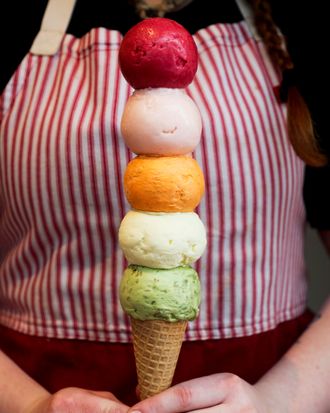 Lesson one: Invest in a good freezer.
Photo: Katie June Burton/Courtesy of Oddfellows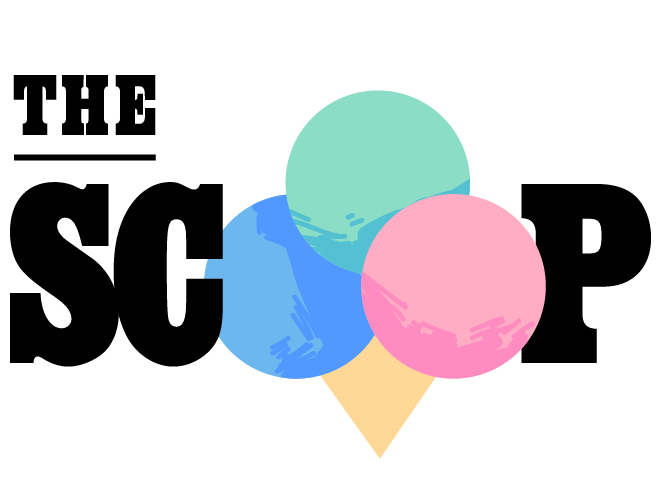 A weeklong series dedicated to exploring everything that's happening in the world of ice cream right now.
"You make one thing, how hard could it be?" OddFellows's Sam Mason recalls thinking. The former wd~50 pastry chef was definitely not a restaurant novice in 2013 when he went into the ice-cream business with partners Mohan and Holiday Kumar. "It seemed like a very easy day-to-day thing to do," he says, "but it just turned out to be a lot more moving parts than I ever thought it would be." In the end, the shop was "as difficult" as a full-service restaurant. "I guess there are new problems, and you kind of dodge some of the old problems, but at the end of the day," Mason muses, "they're still problems."
Everyone loves ice cream. Everyone loves the idea of ice cream, the reality of ice cream. They love thinking about ice cream, and talking about ice cream, and eating ice cream. And it's not just the ice cream itself, but the old-timey experience of ice cream, which is the ultimate comfort food, the pasta of desserts. "You're selling nostalgia," says Nicholas Morgenstern, of Morgenstern's Finest Ice Cream on the Lower East Side. It's not just a food; it's a feeling. But actually running an ice-cream shop? That's a business. "It's not what you think it is," Morgenstern adds. "If anyone has a fantasy about it, they're not aware of what it takes to do it."
For customers, ice cream is a transportive experience, an indulgence, a budget escape. For operators, running a New York ice-cream shop is a cutthroat, low-margin food business where vanilla costs $400 a gallon, rent is skyrocketing, and half your business disappears when the weather gets cold. In other words, loving ice cream isn't enough to make a go of it in the ice-cream business. It requires a very different set of skills to run a solvent business where the only product costs $5 and easily melts into nothing. In addition to the general New York City small-business problems — finding a space to lease, turning enough profit on waffle cones and sundaes to pay the rent — there are also ice-cream-specific challenges, issues you don't necessarily anticipate, until you're tasked with making sure 300 gallons of ice cream don't melt.
"If I ever have a little block of time out of work," Mason says, "I'm going to freezer school." If a freezer conks out — and it happened once to Mason, which was one time too many — it's like "starting a brand-new ice-cream shop." Now, he says, ice-cream-store business lesson No. 1 is don't skimp on freezers. "That's where you invest," Mason explains. In the next year, OddFellows — which currently runs two full-time locations — is planning to open a larger production facility, for which they'll spend "more than six figures" on walk-in freezers. And we have not even touched on the high-stakes drama that is transporting ice cream in a van. "It's a ticking time bomb," says David Yoo, of Davey's Ice Cream. "You have an hour." (To talk to ice-cream people is to find yourself exceedingly concerned with the logistics of temperature control.)
Freezers aside, the ice-cold reality of the ice-cream biz is this: In order to succeed, you have to make and sell truly staggering amounts of the stuff. On a really nice weekend day in June — 80 degrees, no humidity, nice breeze — Yoo will serve 2,000 customers across all the shops (with about a 50:50 cup-to-cone order ratio). At his LES shop, Morgenstern serves between 1,000 and 1,500 people each day. During peak season, OddFellows goes through ten pounds of sprinkles per day, 100 gallons of ice cream, and 400 homemade waffle cones, which can go bad within the hour if it's humid enough. ("We'd rather run out of waffle cones in a day than have them sit overnight and spoil and get soft," Mohan Kumar says.)
Of course, selling a lot of ice cream means making a lot of ice cream (Yoo: "A lot. A loooooot."), which can be difficult to do in a 600-square-foot space. As such, Davey's, OddFellows, and Morgenstern's are all in the process of expanding their footprints. "We're at the point where we're having production issues because there's just too much going on," says Yoo, who is moving production for Davey's out of his East Village flagship to a bigger space in Greenpoint. (Mason and Morgenstern, meanwhile, are both looking for spaces.)
Once you figure out where to make (and store) that ice cream, you're presented with what might be the great schism of the ice-cream-shop business: How often do you update the menu? Some owners subscribe to the theory that you can swap out flavors as often as you like: Sell out of one, swap in a new one! Do it multiple times a day, even! Others try to keep things consistent, on the principled belief that if a customer has made an actual trip for your green-tea-pistachio, they should be able to get it. (The world, after all, has enough uncertainty as it is.)
Davey's keeps eight to ten classics on the menu — cookies and cream ("I make it legit"), French vanilla, strong coffee — plus a rotating cast of seasonal flavors. Yoo also has notebooks full of white-whale recipes ("so many freakin' recipes"), ideas he's chasing but hasn't figured out how to make work because they're too expensive, too laborious, or too complicated. Those flavors include "brunch" ice cream with French toast and coffee-glazed bacon, as well as "ultrababka," which requires custom-made babkas. Not, to be clear, that he's giving up on any of it. "It's all like a game to me," Yoo says. "I really want to figure out how we can do it."
At OddFellows, which has a roster of more than 300 flavors ("We lost count after 200," Kumar says, "but we've definitely made at least 100 since then."), the menu is constantly in flux, as ice creams run out and are replaced by different ice creams — chorizo-caramel swirl, prosciutto and melon, lemon-meringue pie. "You kind of throw something out there, and then all of a sudden, it's gone," Kumar says. (Anything posted to the shop's Instagram account, which Kumar runs himself, goes even faster.) "We've never thrown away ice cream because it didn't sell."
At Morgenstern's, the printed menu changes only once a year, and it's always fraught with the potential for heartbreak. "Invariably," Morgenstern says, "we take away something that somebody loved." Right now, his team can do 50 flavors at a time — salt-and-pepper pine nut, vegan-coconut espresso, black-walnut fernet — and he's planning to double that to 100, or 80, just as soon as he's got the space to produce it.
Davey's, OddFellows, and Morgenstern's represent a fraction of the city's ever-expanding roster of top-flight ice-cream shops (don't forget Ample Hills, Ice & Vice, Blue Marble, and Big Gay Ice Cream, to name an arbitrary handful). It might seem like the market is saturated — how much ice cream can one city eat? But demand isn't slowing down, even if the business itself is inherently inconsistent. In the depths of winter, the numbers can easily drop by half, or more. At Davey's, Yoo says, January traffic is "maybe a quarter" of what it is in peak season. "That's being devastatingly negative, but it feels like that."
In some ways, running a shop in a city with seasons can be a bit like running two shops: the high-volume summer version, and the slightly slower winter version. Yet some owners don't subscribe to the theory that you should adjust your business too much. "I question it when I see a place that's closed on Sunday or something like that," Morgenstern says. "You pay rent every day. You pay taxes every day. You should be open for business as much as you can be." He doesn't want to say it's a public service, exactly, but if you want his legendary eggless Philadelphia-style ice cream at 9 a.m. in February, then, you know: He wants to be there for you.
So, it's kind of a headache to run an ice-cream shop. But make no mistake, for the people who do it, they really are living the dream — the high-stakes, high-stress, incredibly labor-intensive dream. "I'm all in," says Yoo, as though the smiling-cone tattoo on his forearm didn't make that abundantly clear. And, the more you talk to successful people in the ice-cream business, the more you realize this isn't so much a job as much as a calling. You don't choose ice cream; ice cream chooses you. "It's just my thing. I don't know," Morgenstern says, when I ask him what draws him to devote his life to the stuff. "Like," he adds, "why music for Bon Jovi?"